This was the final match out of a traditional series of 3 fished every year on the first 3 Sundays in September on the Upper Thames. Drennan Oxford were looking to keep up their run of good form on the venue but could they do it…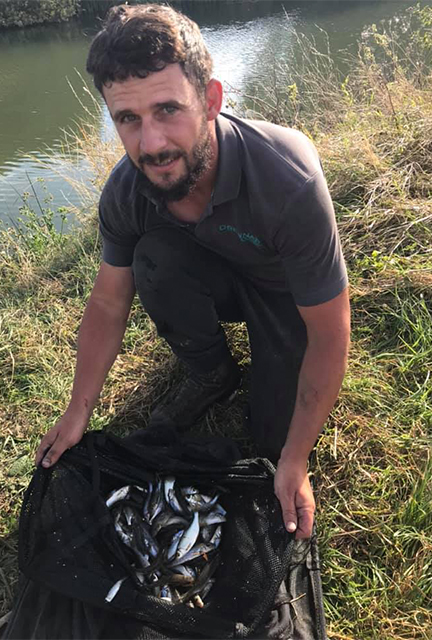 Darren Scott from Drennan Oxford displays a typical small fish catch from the Upper Thames 
The 2019 Thames championship was fished by 23 teams of 6 on the upper Thames from Grafton lock through to Tadpole bridge. Drennan Oxford had 2 teams entered and were looking to continue their impressive run of good form on the upper Thames series of matches.
The Drennan Oxford Aqua team drew what they thought was an unimpressive set of pegs. Steve Harwood was pegged upstream at Radcot where he put together a very good 8lb but the pegs at the top end of the section below Grafton lock produced higher weights. This gave Steve a very respectable 20 points. Dan Varney was at Radcot down where he had 7lb 2oz of small fish for another 20 points. Paul Glenfield drew at the top section of Clanfied where he was really struggling until he snared a 5lb Chub on worm to give him 7lb and 22 points. Darren Scott drew the middle section at Clanfield and once again had a good small fish bag of 4lb 12oz to once again get 20 points. Tom Hobbs drew the bottom section at Clanfield and scrapped together 3lb 5oz of small fish on bloodworm in a very hard section and got 17 points. Steve Townsend was on the unusually very hard Rushey section and his 3lb 11oz was worth 12 points.
In the end the Drennan Oxford Aqua team finished with 109 points which was equal on points with Daiwa Gordon league for 1st. However, Drennan Oxford agonisingly loosing out on weight but still coming a very respectable 2nd with Garbolino Blackmore Vale 3rd on 104 points. The Blue team ended with 89 points and were 6th overall.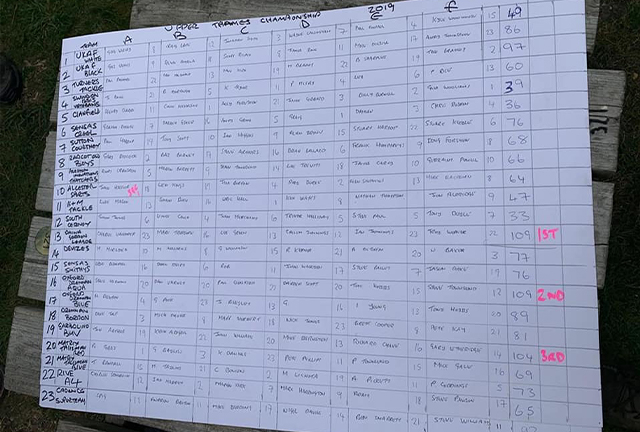 Thames Championships team points results 2019
On the individual front new Drennan Oxford signing Gary Pook, fishing for the blue team, drew B21 Radcot down which was in the bottom field. This was a noted peg and Gary very much fancied his chances.
5 balls of groundbait and soil mixed 50/50 with dead joker, dead pinkies and a few casters went in at 11metres. Then at 16metres he fed a pint of chopped worm & casters. Starting at 11metres he caught some nice Roach and some hand size Skimmers early. After fishing this for about an hour & 10 minutes he had a quick look on the chop line and it was solid with Perch. He made the decision to come off his 11metre line as it had started to slow up and stay on his chop line for a good hour and half. When this line finally slowed up he simply kept alternating between the two lines nicking odd fish until the end of the match.
He was surprised when he weighed 16lb and that was good enough to win the Thames Championships for the second time which is a very rare feat. Another new Drennan Oxford signing Paul Passmore finished 3rd with 13lb of Roach from the top end of Radcot up.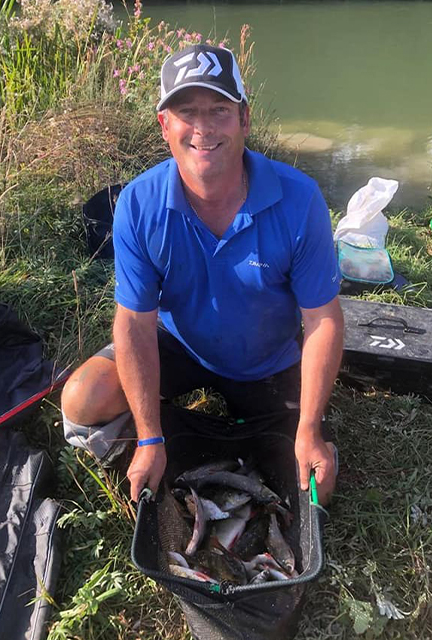 Gary Pook with his 16lb catch of Perch and Skimmers from Radcot down 
This finishes the 3 traditional Upper Thames matches fished on the 1st 3 Sundays in September. The results from the Drennan Oxford squad are pretty impressive with results from all 3 matches including…
Turner 400 (25 teams of 4) – Teams 1st and 5th with Individual winner Tom Hobbs
Swan Open (43 peg individual) – 1st Darren Scott
Thames Championship (23 teams of 6) – Teams 2nd (equal 1st on points) and 6th. individual winner Gary Pook, 3rd Paul Passmore