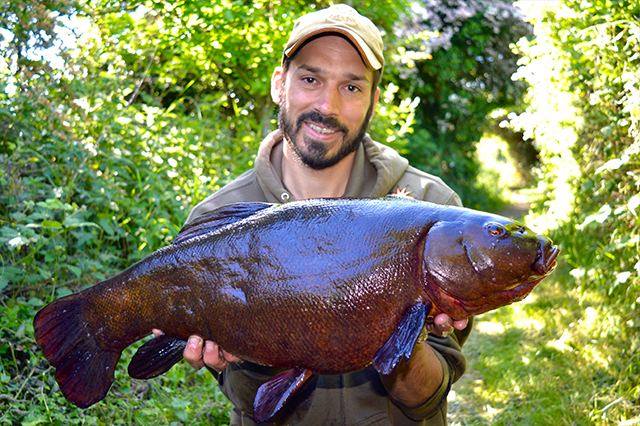 ---
NAME: Daniel Woolcott
AGE: 36
LIVES: Kent
OCCUPATION:Building Surveyor
BIGGEST FISH: 
Barbel 17lb 2oz
Chub 7lb 10oz
Tench 12lb 6oz
Rudd 3lb 10oz
Roach 4lb 2oz
Eel 6lb 4oz
Perch 4lb 1oz
Grayling 3lb
Crucian carp 3lb 7oz
Bream 14lb 2oz
Carp 30lb+
Zander 14lb 4oz
Pike 21lb 11oz
BEST CATCH:Catching a brace of tench going 10lb 12oz & 11lb 11oz & another brace the following year going 10lb 2oz and 12lb 6oz from a southern gravel pit. Another memorable moment was catching a 3lb 1oz & 3lb 10oz brace of rudd from a tough low stock venue.
FAVOURITE METHODS: I don't think you can beat trotting a float down a crystal clear chalk stream. Seeing that float disappear and then your rod in full bend is very exciting.
FAVOURITE VENUES: The River Thames. Every session on the Thames is exciting as it throws up a number of big fish each year of all species and your next bite could be a very special fish.
ANGLING AMBITIONS: To enjoy every moment, Britain's wildlife and catch some lovely fish along the way.
FAVOURITE ITEM OF TACKLE: Supplex Flurocarbon Hooklink. I am a huge fan of Supplex hooklink and use it regularly in my angling for a number of species.

ABOUT: I have been fishing since I was six years old catching small gudgeon from a tiny tributary of the River Medway and I have loved the sport ever since. I enjoy fishing for all species on a number of different venues across the country and consider myself an all-round angler. Big fish hunting is something I have a real passion for and a lot of my fishing is on large low stock gravel pits. I also have two amazing children and really enjoy spending time with my family in Kent.