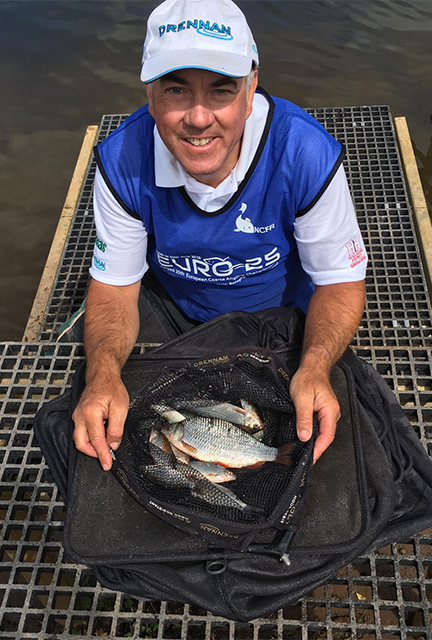 Although there wasn't an abundance of fish there were still some lovely Irish roach caught
I would like to be reporting on an emphatic win on the River Bann in Northern Ireland but instead we came a very disappointing 8th out of the seventeen teams that took part. We expected that the fishing would be good and on the Tuesday of practice it did look as if though we where on track for a great match. With Steve Hemingrey catching 5kilos of good size Roach and all of the team chipping in with some reasonable weights it looked like the venue would improve every day. This was just the opposite and it got worse from that point every day with conditions that where just perfect for fishing in.
When I tell you this that on the second day match our Team had a top weight with William Raison on the down stream end peg of D section with 2 kilos for a section second. Myself 730grams, 500grams from James Dent and Steve and Matt Derry had a little over 250grams and finished 5th on the day that tells you how difficult the fishing really was! We did miss out on a few small fish short but never really caught on this inside line in practice. Slider was a nonstarter down the middle and this just left us with a Bloodworm approach on a Thirteen-meter pole line. For me this was a very difficult first day approach with a big snag on this line that I lost rigs on and countless hooks to finish with just five small fish for a very poor 15th in the section. Cameron Hughes suffered a similar fate in B section finishing 16th out of 17 to leave us with no chance of a medal with one day gone. Lithuania put in a great team performance to win fishing with just maggots and pinkies in Groundbait catching just the odd very big Roach to steal the lime light from the French team that went down the Bloodworm approach as we did. Congratulations to them with what I think is there first team medal in international fishing. " Well done lads on a great performance"
I do feel that we are up against it in the future to win medals with no funding. The big problem is we were just a team of eight with Mark Downes and Steve Sanders at the helm. The French team were fifteen strong and the Italians similar having more eyes on the bank to spot small things that can make a big difference come the day of the race. This is essential now especially as the majority of teams are making vast improvements to get to the top! We need some funding from our sport and let's face it, we are representing the Angling Trust that should be working to keep us at the top of the tree where we belong. They work hard to get young people into the sport but once they work up through the ranks like Matt Godfrey has done, he has little reward. Only to relieve himself of a couple of grand to represent his country at top level. The Angling Trust are cash rich but none of this money is available to the international teams that have possibly helped generate this cash by being successful in our sport. 
Looking forward, I am currently preparing to go to Croatia with my Drennan Barnsley team for the World Club Champs. This years event will be taking place on a very fast flowing channel off the river Drava where we expect to catch mainly Barbel and vimba on flat floats. We managed third a few years ago in Slovakia on a similar type of venue and we are looking to improve on this using our experience and research.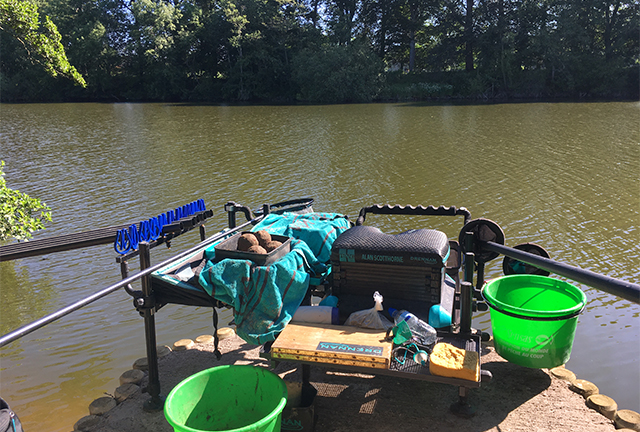 Alan's setup and bait ready for the 10 minute feeding period