A difficult and moody Thames with little roach showing but the bream and skimmers are still on the feed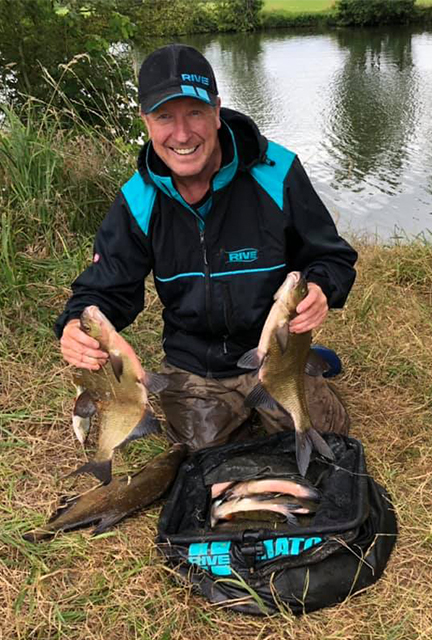 Dave Self with his winning bag of bream from F section caught on the feeder
The 4th round of the Oxford Summer League was fished by 7 teams of 6 on a very moody Thames at Abingdon and Culham. The roach were noticeable by their absence and it meant the match was dominated by bream.
Individual
1st Dave Self – Drennan Bordon – 32lb 8oz. Dave drew the favoured bottom end peg at Culham and caught bream on the feeder and worm.
2nd Steve Townsend – Drennan Oxford Aqua – 27lb 8oz. Steve was top weight at Abingdon with bream again on the feeder and worm opposite the rowing club.
3rd Liam Page Smith – Rive A4 Black – 15lb 13oz. Liam was also in F section and caught 3 bream on the long pole fishing over groundbait.
4th Ian Stainer – Devizes – 14lb 13oz.
Team
1st Rive A4 Black – 31
2nd Drennan Bordon – 30
3rd Devizes – 28
League
1st Drennan Oxford Aqua – 115
2nd Drennan Bordon – 110
3rd Rive A4 Black – 107