Alan Scotthorne fished two league matches over the weekend and despite the low temperatures, they both fished well.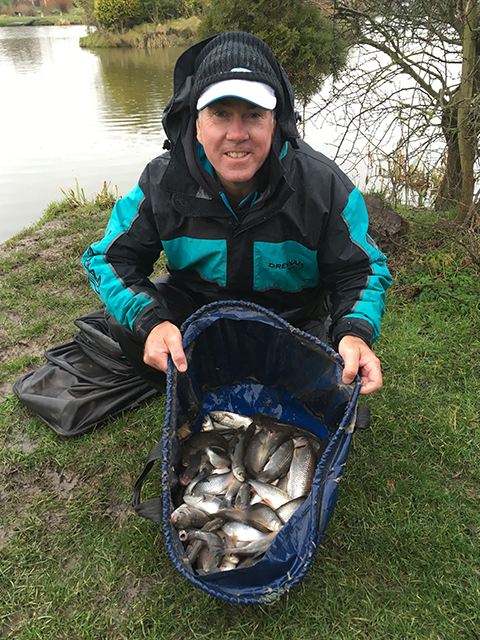 Alan reports on his weekends fishing:
On the coldest of days, every point and ounce makes a huge difference to the end result. At Saturday's match at Lindholme, the only baits that were allowed were maggots, casters, pinkies and worms, plus groundbait. With carp only counting as one-pound you need to target F1s and the vast shoals of silvers to get good points.
At the draw, I pulled out peg 41 on Bonsai Lake. I must admit, I did fancy it for a possible section win. With Steve cook on peg 48 in my section, I knew I needed to be on the top of my game to beat him, this peg had been on form in previous rounds.
I had drawn peg 39 on a match the week prior to this and caught 30lb of mainly chub fishing short at five joints of my Acolyte Pro Pole. Although I was going to feed this line with maggots, I did feel in the colder conditions that the fish may stay long and I elected a nice line at 15-meters were I could comfortably lose feed maggots via a catapult in the calm conditions. This was a simple approach catapulting just six or seven maggots every 60 seconds long and feeding around 20 maggots on my short line where I hope the fish may arrive in the latter stages of the match. Lots of anglers tend to feed this long line with a kinder type pot but this I feel is much slower and catapulting bait does spread a little more accumulating more fish in the swim. I also mixed up a bag of Sensas 3000 Fishmeal magic just in case I needed to target skimmers if the chub didn't respond.
I set up four rigs, too identical 0.2g Drennan SF1 floats for the short line with a string of No.12 shots 30cm from the hook and two No.12 shot droppers spaced bellow. The bulk was at 5mm intervals to create a soft fall to target the fish on the drop. Mainline was 0.12mm X-Tough with a 0.09mm Double Strength hook length. My hook choice was a size 18 Carp Maggot. I just love these hooks for this type of aggressive fishing, and being red, they match the red maggot hookbait brilliantly. For the long line, I employed two rigs, again the same but in 0.3gr size floats and all the rigs were connected to a number 6 elastic through two sections of the pole.
I had a slow start but eventually, I started to catch chub, with a bite coming every put in on the long pole line. This was turned out to be a very productive and busy line. Apart from five F1s and just five fish from the short line, I spent much of the day fishing this 15meter line catching mainly chub up to 8oz.
One thing that did help during the day was to keep a tight line to the float to help the hook bait fall slower. Another tip was to feed a little short of the float, this helped to prevent liners as there was a lot of fish present.
My final weight of 44lb was easily enough to win the section and with one match remaining, I still have a chance to make the frame. This really has been a great competition with lots of bites to be had, just what you need for a good winter match!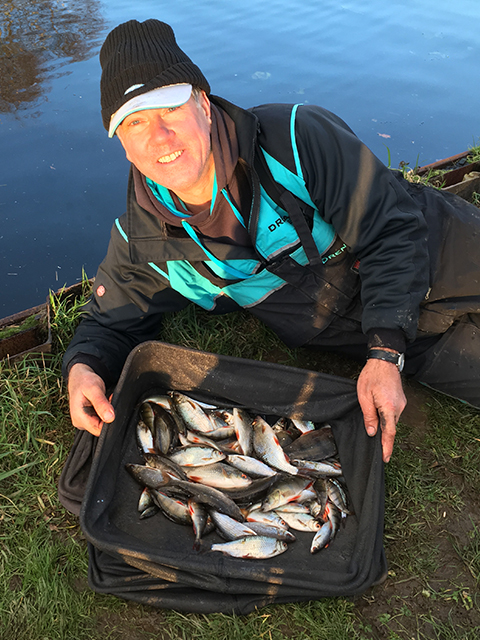 I reported last week on the Bait-Tech sponsored Thorne Canal Pairs League where myself and my son Oliver were lying in second with one match to go. I wish I was writing to say we had won, but despite a section win from Oliver and myself winning the match on the day. We didn't claw back enough to overturn the lead of Lee Kerry and his partner Frankie Gianoncelli who fished brilliantly to win the league. I had a nice match catching with the same short tactics as the week before with a few bonus fish on casters on a long pole line. My 9lb was a low winning weight for the canal, but as I said before, this is probably the most even canal in the country with most pegs capable of winning the match.
Thank you to Bait-Tech for sponsoring this league, and I look forward to next years event.