Former barbel record holder, Martin Bowler, is amongst the most respected and consistently successful of barbel anglers, and specified the exact semi-through action and makeup of this rod.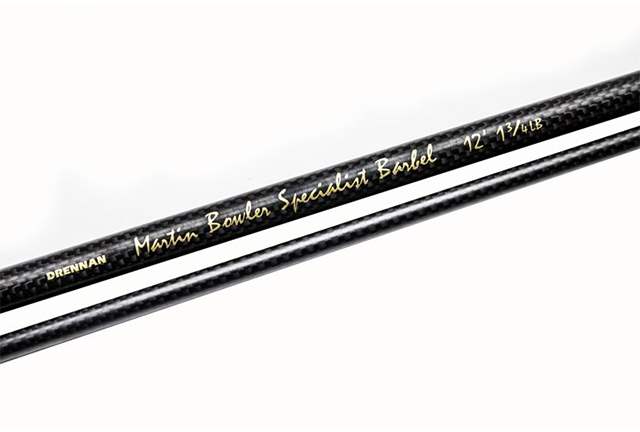 His extensive testing programme on a variety of rivers proved that this particular high modulus carbon blank was the most efficient and versatile, handling anything from precise presentation at close range through a variety of feeder work to far-bank fishing on rivers like the Kennet and Hampshire Avon.
With a powerful semi-through action it is ideally suited to modern barbel tactics where the capture of a double figure fish is a real prospect on almost all British rivers.
It is suited to main lines of 10lb to 12lb and will comfortably cope with leads of up to 3oz.
The high-modulus carbon blank has a dark platinum finish with a chequered weave pattern, plus a 22in full cork handle with screw-down reel seat and engraved butt cap.
Eight quality SiC line guides comprise just one 20mm internal-diameter line guide on the butt section through to a 6mm tip ring, allowing stop knots and debris to pass freely. The top six inches (15cm) of the tip section are painted reflective white for easier visibility in low light conditions, and the rod is fitted with a single Drennan Isotope.
Complete with padded an embroidered rod sleeve and Velcro fasteners for easy transportation.