Martin Bowler has been a pioneer of big river barbel fishing, so it is only natural that he would design a Barbel rod that would cope with such conditions.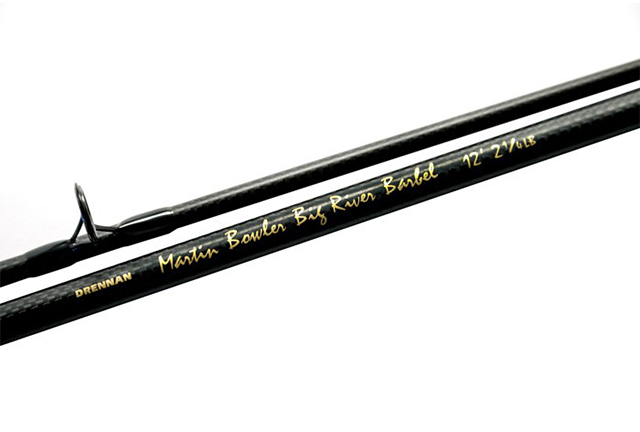 In dictating the exact capabilities and action, Martin needed this rod to cope with extreme conditions. It needed to be capable of extracting fish from flooded water, launching a huge feeder across rivers such as the Trent or Severn, have sufficient reserves of power to handle big fish in snaggy swims and yet be forgiving enough to avoid hook pulls. This exceptional blank has all those capabilities and is powerful enough to be used with mainlines up to 15lb, and will comfortably handle the leads needed to hold bottom in extreme currents.
The high-modulus carbon blank has a dark platinum finish with a chequered weave pattern. The long 26in cork handle with screw-down reel seat and engraved butt cap facilitates double-handed overhead casting – often necessary to reach far bank features.
The blank has been fitted with seven SiC line guides, with just one 25mm internal-diameter line guide on the butt through to a 9mm tip ring, allowing stop knots, line debris etc to pass freely. The top six inches (15cm) of the tip section are painted reflective white for easier visibility in low light conditions, and the rod is fitted with a single Drennan Isotope.
Complete with padded and embroidered rod sleeve and Velcro fasteners for easy transportation.