"It was the most hectic fishing I've ever experienced and at times I struggled to keep a single rod in the water. Total carnage!"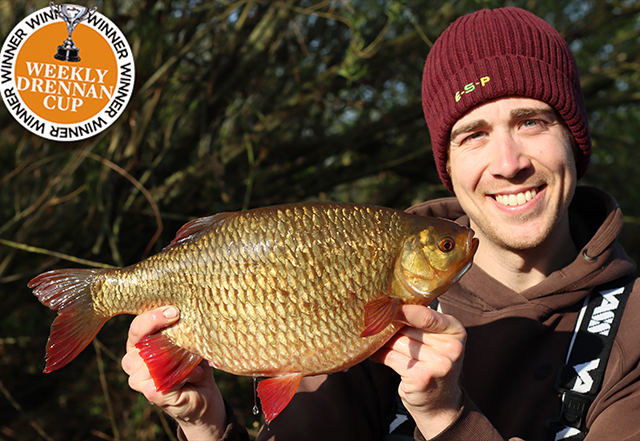 James Champkin took a catch which will certainly be remembered for a very long time when he banked a staggering 11 rudd haul, topped by this 4lb 5oz monster
The Milton Keynes-based angler returned to the northern venue where he banked a fish of 3lb 9oz several weeks back, determined to capitalise on the good spring sport on offer. But nothing could have prepared him for what happened next.
Over three nights, James hooked 15 huge rudd, and although four were lost during the fight, he still managed to land 10 weighing between 3lb and 3lb 12oz, on top of the unbelievable four-pounder.
"The proportions of that fish were just incredible," said James about his 4lb 5oz new personal best "It was wide across the back, with a huge frame. Completely immaculate, except for a tiny split in one pectoral fin."
In addition to the rudd, James also landed 35 tench during the same trip, and returned a few days later and landed two more rudd of 3lb 8oz and 3lb 10oz, alongside another 20 tench.
"It was the most hectic fishing I've ever experienced and at times I struggled to keep a single rod in the water. Total carnage!"
James caught the fish on maggot feeders fished helicopter-style over a bed of hemp containing lots of sweet tiger nut liquid which he used to create a cloud in the water column.
But the remarkable session almost didn't happen, with James' revealing that his car had to go into the garage for repairs.
"I was so determined to fish that I hired a car for a few days just so I could make the long journey north to the special lake," he told us. "I was moaning to a friend of mine that week, complaining that I had to shell out for a hire car just to go fishing. He jokingly said, 'well, if you catch a 4lb rudd it's not a bad investment.' Turns out he was spot on!"