New and improved for 2016, Drennan Loaded Insert Crystals are slim, semi-loaded wagglers with a sensitive insert.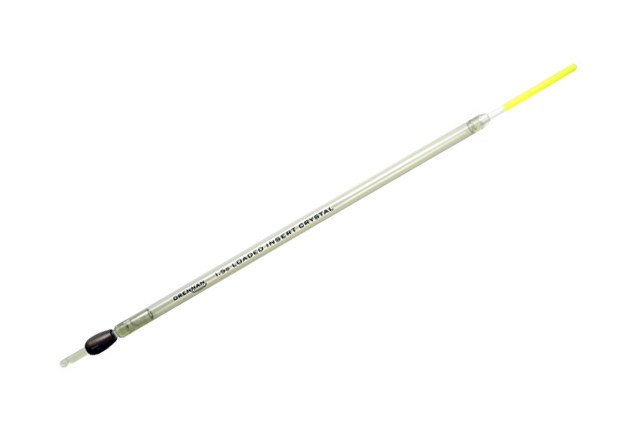 These floats are similar to Insert Crystals but also include a removable base weight that conveniently interchanges between floats if required. Being loaded allows you to use rubber float stops or much smaller locking shot to fix the float in position.
They have a 2.3mm insert for optimum bite detection, which is also swappable between floats. These also feature our latest ultra-bright Glow Tip paint finish for enhanced visibility in all light conditions.
A green-tinted transparent Crystal® body ensures the float is much more discreet in clear water.
These floats are designed to be attached via the base eye or with a Float Attachment. They can be used for all manner of species and cast like a dream.
---
The Crystal® Trademark

The original Crystal® trademark dates back to 1983. Drennan were the first company to develop clear plastic floats after Peter Drennan saw large tench spooking under dark painted peacock floats in the clear water of an Oxfordshire gravel pit.

All of our Crystal® float components are produced in our own factories, involving extrusion and injection moulding of plastic parts, automated milling, turning, finishing and individual engraving of bomb weights and hand assembly.

The company has successfully maintained manufacturing tolerances over more than 30 years of Crystal® float production, so antennae and bomb weights remain interchangeable.

New and improved for 2016, Insert and Giant Crystals feature our highly visible Glow Tips, subtle tinted bodies for added camouflage in coloured waters, and the unloaded models are now sequenced in grams.
The Range:
Features:
Loaded waggler
4.75mm body
2.3mm insert
Tinted Crystal® body
Highly buoyant
Ultra tough construction
Extra bright Glow Tips
Red, orange or yellow tips
Interchangeable tips
Interchangeable base weights
Engineered and built in Drennan's own factories
1g, 1.5g, 2g, 2.5g and 3g sizes