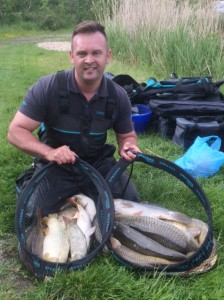 Steve Winter has qualified for the Rookery Waters £1,000 Final after scoring an impressive 190lb match win at the Cambridgeshire venue.
After a slow first three hours on Peg 25 on  Magpie Lake the Drennan and Bait-Tech angler persevered with his left-hand margin to bag up late on maggots over dead reds and krill groundbait. His 190lb 4oz return saw him through to the big-money Final in August, just ahead of second-placed Richard Bond who managed 171b 2oz from Peg 2.
Rookery Waters is at Fen Road, Pidley, Cambridgeshire, PE28 3DF and has a cafe plus an on-site tackle shop called Tackle & Bates. For up-to-date information on this excellent venue, contact the tackle shop owner Alex Bates on 07824 878492.