Lee Klimczuk and Chris Vandervleit were in match winning form at the weekend. The former Essex County team mates both managed to win their respective winter leagues with quality bags of silverfish.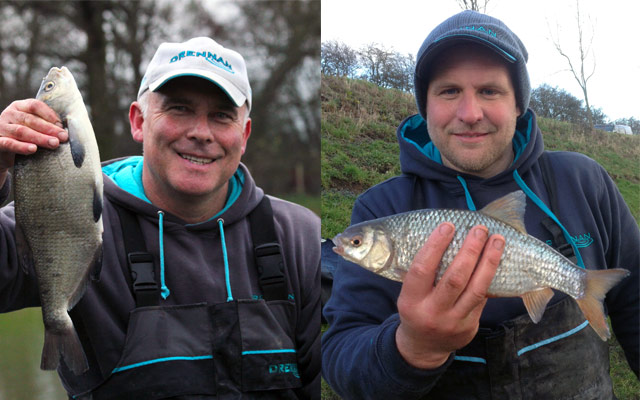 Lee was on the Meadowlands Silverfish League near Coventry and won the match with a bag of roach and skimmers on Warren Pool. After a slow start he chose to attack the swim quite heavily with loose fed casters and it paid off handsomely in the shape of a 19lb winning catch.
"I had a really slow start with Darren Cox and Darren Davies catching really well either side of me from the start," Lee explained. "They both had over 6lb after two hours while I had a pound or so! I thought it could have perhaps been a carp in my swim. I just kept my head and stuck with it and eventually the roach turned up with five or six skimmers mixed in.
"All the fish were caught with loose fed casters on the long pole. I fished a size 20 Silverfish Match and a 0.07mm bottom with 0.1g and 0.2g AS3 floats. The most important thing was to work out where the fish were in the tow, which was changing all the time."
Chris Vandervleit was fishing much further south at Lake John fishery in Essex and made no mistakes off fancied Peg 13 to win the latest Drennan-backed Winter League.
"I decided to fish a waggler at 25 metres and the 'tea bag' two metres off the island," he explained. "On the waggler line in open water I loose fed Bait-Tech 4mm expander pellets with a 4mm or 6mm on the hook. For the island swim, my PVA 'tea bags' were filled with 2mm pellets with a banded 6mm on the hook.
"The first hour was spent on the tea bag and I caught five skimmers for about 10lb. The next four enjoyable hours were spent on the waggler, nicking odd skimmers and bream to win the match with 28lb, just beating waggler expert Michael Scanlan by 8oz.
"For tackle, I used my Acolyte Ultra 13ft with a straight 2+ Peacock Waggler. Hook was a size 16 Silverfish Pellet to 0.12mm Supplex."