Three styles of Crystal pole floats are now available. Here's a guide to some of the situations you might choose each of these award-winning designs.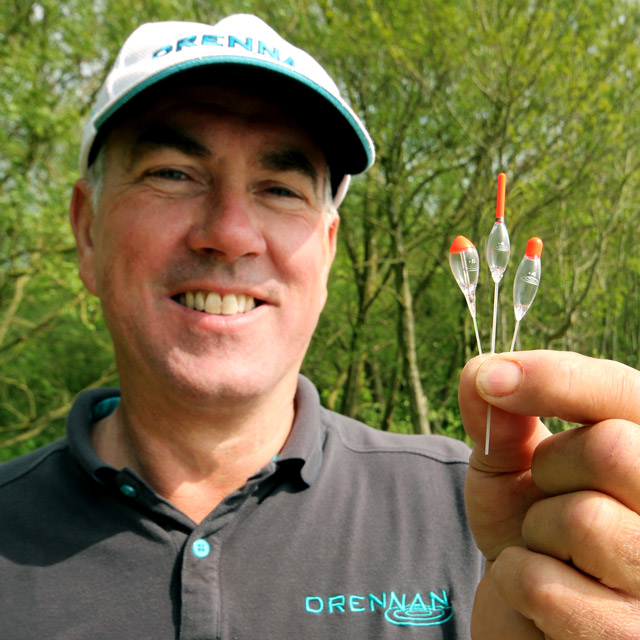 Crystal Dibber (0.2g, 0.3g, 0.4g)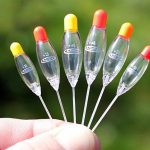 The original Crystal Dibber is arguably the fastest selling pole float of all time. This short and super strong float is almost indestructible in normal use and its transparent body makes it much harder for a fish to detect. These properties are tailor-made for catching fish in shallow water. Fishing shallow in open water, down the margins or across to an island is all possible with the Crystal Dibber. These floats really score well in depths from just inches of water to around 2ft (60cm) deep.
The medium-diameter domed tip will support both large and small hook baits, from casters and maggots to pellets and meat. This float is not just for carp and F1s, either. Top match anglers use Crystal Dibbers for roach, chub and ide when they are feeding aggressively up in the water.
Simplicity is key with the Crystal Dibber. Try fishing it with a single bulk of shot just above a short 4in to 6in (10cm to 15cm) hooklength. Alternatively, try placing all of the shot immediately below the float's stem to give your hook bait a nice, slow and natural fall.
Also available pre-tied as Crystal Dibber Rigs!
---
In-Line Crystal Dibber (0.2g, 0.4g, 0.6g)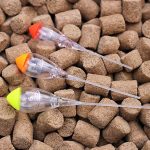 The clever design of the In-Line Crystal Dibber allows the line to pass through the centre of its body. This greatly reduces the frequency of wrap-over tangles, which is a common problem when shipping a pole rig in and out. This makes the In-Line Crystal Dibber a great choice when using a very short length of line between the float and pole tip; a very effective style of fishing that can help the fish hook themselves, but also one where tangles are often encountered.
This float is a great choice for 'slapping', which is a popular technique of repeatedly flicking the rig onto the surface. This clever trick mimics the noise made by your loose feed hitting the water and really helps to induce a quick bite.
The in-line design is also less likely to foul underwater obstructions – a very useful property when hooked fish plough through snags such as reeds and roots!
Its domed top is proportionately larger than the standard Crystal Dibber, making it even more visible at range and on windy days. Extra buoyancy also makes it ideal for suspending larger pellets, cubes of meat and Bandit Dumbells. It's a great choice for bigger baits, quality fish and snaggy swims.
---
Margin Crystal (0.2g, 0.3g, 0.4g, 0.5g)
As the name suggests, our team of experts have designed the Margin Crystal for catching carp and quality fish down the edge – but it is far more versatile than this!
This medium-length pole float has a sensible 2mm diameter Glow Tip and is available in sizes right up to 0.5g. This ensures it is equally at home for fishing on the bottom in open water and in depths up to around 6ft (2m).
A highly visible tip, combined with a stable 1mm glass stem creates excellent stability. It's a good option for shallow fishing whenever there is a strong ripple on the water. It is equally at home fished to far-bank islands and features, as the chunky tip is easy to pick out amongst reeds and vegetation.
A great way to fish a Margin Crystal is with a simple bulk of shot 6in to 12in (15cm to 30cm) from the hook. However, it is also worth experimenting with other permutations, including stringing the shot out 'shirt-button style' for a more natural fall.
Some top anglers also think nothing of using a relatively heavy 0.4g or even 0.5g Margin Crystal in depths as shallow as 2ft (60cm). The extra shot down the line can really help to steady your hook bait in position when large fish are competing down the edge.
---
A Terrific Trio!
So there you have it; three very versatile floats! Crystal pole floats can be fished with all kinds of baits and for all kinds of species. Give them a go on your local venue and you won't be disappointed!