River ace Wayne Swinscoe looks back on two recent matches on a stretch of the Trent he hadn't fished for some time.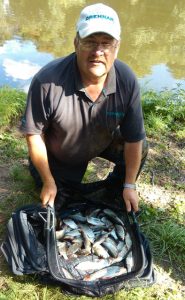 When I heard they were going to start running some Wednesday matches at Branston Golf Course I was intrigued. It's been a long time since I fished this stretch and  it's more of a running line than pole fishing venue, which makes a nice change. I've now fished three matches there in the last five weeks, winning two and third in the other, all on running line.
The first time I went I drew peg 30. I was told it was good and it looked it. The sitting was a bit high off the water but the river in front of it looked gorgeous!
I set up two Acolyte float rods; one 15ft Ultra for stick float and a 14ft Plus for waggler. After plumbing the stick swim I wasn't too optimistic about catching on that line as it was barely 3ft deep. The waggler line was about 4ft.

After catching a few roach on the stick it was time to switch to the waggler further out. I'd been priming this line with bronze maggots and hemp. After a 3oz roach on my first run down things looked promising, but things weren't easy. I was missing bites and bumping fish.
I'd got my 3AAA straight waggler dotted right down but decided to swap it for an insert version. When I cast out I realised I was slightly under shotted as there was over an inch of the insert showing. I still let it trundle down the peg, it dipped a couple of times before slowly dragging under. I struck and there was a nice roach plopping into the net! It was interesting that when the sun was out it was harder to catch. When it clouded over it went solid.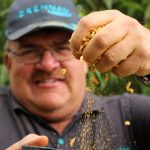 Loose feeding around a dozen bronze maggots and 20 grains of hemp every cast kept the roach coming until the final whistle. Around 90 fish went into the weigh net for 18lb 6oz and a nice win. Having that extra bit of insert actually made a massive difference and I barely missed a bite!
Last Wednesday I was back at Branston, this time on peg 16. It's quite a fast and boily peg on the stick float line but a lot smoother but quicker down the middle on the waggler line. Again, the same two Acolyte rods were set up; the 15ft with a 6 No4 alloy-stemmed stick, the waggler rod again with a 3AAA straight waggler, but this time a little thicker and dumpier version because of the nature of the flow. The stick line about three rods out was around 4ft feet deep and the waggler around 6ft.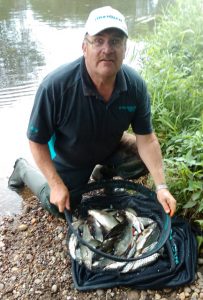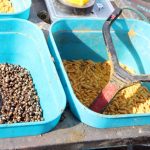 l started on the stick and was catching immediately, loose feeding maggots and hemp, but the fish were on the small side. I was getting roach and dace with the odd perch and decided to feed heavier in the hope of bringing in some quality fish. After 90 minutes nothing much had changed, still a fish a chuck but only the odd stamper.
I had to try and get some better fish, but 30 minutes on I was only getting the odd roach. I was still feeding heavy but I did lose a good fish. A couple of quality dace came to the net before I had a run of four barbel. They were not big, around the 1lb mark, but welcome. After that it was a case of chopping and changing for the odd quality dace.
The waggler line died with 45 minutes to go. Back on the stick float and it was still a small fish a chuck. I placed 14lb 10oz on the scales for another win and a lovely day's fishing!