This year's festival took place on Tuesday, Wednesday and Thursday, the 9th, 10th and 11th of October 2018 in the town of Shrewsbury.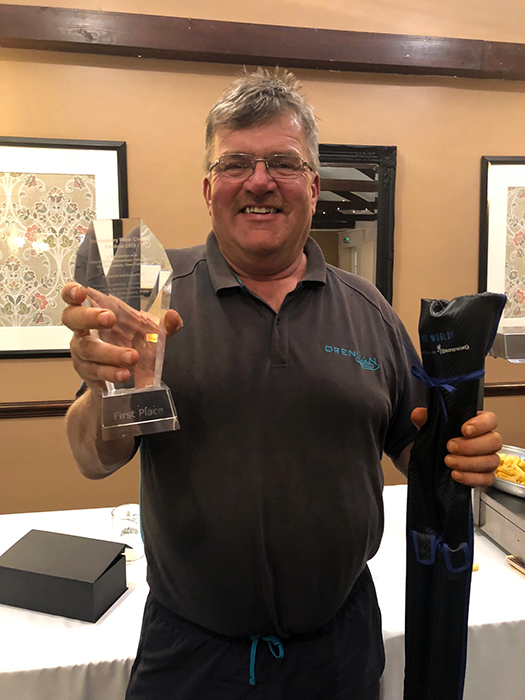 Wayne reports on his three-day festival:
It's quite a few years since I last fished the Shrewsbury reaches of the River Severn but after a late entry,  just a few days prior to the festival  I couldn't wait to get there.
My first draw put me on peg 30 in the county ground length, in A section. On arriving at the river I couldn't believe how low it was, probably some 18 inches below normal summer level with very little flow. The peg was awkward to fish, it was down a steep bank and surrounded by overhanging trees. I managed to plumb the middle of the river to find 15ft of water and about 12ft at 13m on the pole line.
I started on the pole, balling in six balls of groundbait containing plenty of hemp and a good hand full of casters. I also opted to lose feed bronze maggots over the top and I fished a light 1g rig with the ollivette well up the line, some 4ft away from a size 18 Drennan Fine Match hook.
Things were slow to start, a few chunky roach and dace, then after an hour, I switched to the waggler line which I'd been priming, loose feeding casters and hemp. I fished a big bodied three swan waggler with a bulk and two No.9 droppers.  Almost immediately I began to catch some quality roach. The fish were right under the loose feed and by coming up and down in the water column I managed to keep fish coming to the end of the match.
I ended up with 35 fish for 13lb 2oz and the all-important section win. I'd really enjoyed it, the weather was hot and it was more like fishing the North bank of the River Nene than the mighty Severn!
---
Day 2 put me on the Quarry length, peg 65. Looking back at the previous day's results it didn't look a good area, but I've fished enough of these river festivals to know that things can change. Talking to other anglers over a pint the previous night I'd convinced myself my tattics were pretty much spot on.
After plumbing up, I'd got around 11ft of water down the middle and 9ft on the pole line. I set up the same big waggler and pole set up, there was a blustery upstream wind, I also set up a big waggler with strung out shots to try to catch on the drop.
I started exactly as the day before and was catching decent dace from the off. Before long one or two nice roach started to show. I hooked a good one about a pound which kited towards the middle but unfortunately, it was taken by a large pike! Things then slowed on the pole after that. Switching to the big waggler with casters wasn't working so I started to feed maggots as well, there was a little more flow on these pegs and the big waggler was picking it up nicely despite the wind after a while I started catching good roach on bronze maggots alternating between pole and waggler I managed to keep fish coming till the end. I weighed in 13lb 10oz for yet another section win and also a match win! I now had a perfect 2 points, but incredibly, I was tying with Ian Hughes! Always the man to beat at Shrewsbury.
---
On the final day after seeing where Ian had drawn I knew I had to draw a flyer as he had a good chance of a section win from his area. As I opened the draw ticket it revealed the end peg of the match which gave me great chance, but I still had to do the business!
The weather was totally different from previous days and was wet and very windy. Again my swim was around 15ft down the middle and 12ft on the pole line, but virtually no flow. It was going to be the same approach but this time,  no casters. It would be maggots and hemp and a heavier pole float of 1.5g.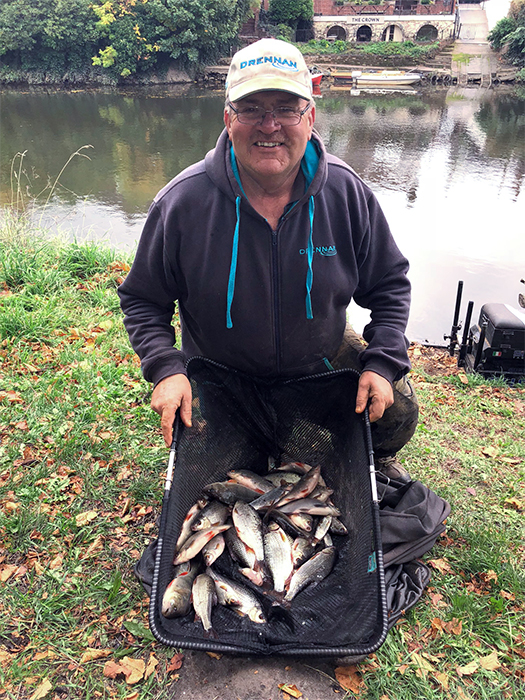 The pole line had been getting better every day and this was my best start. After the first hour I probably had nearly 5lb of roach and perch and even a 10oz skimmer. As it died, I switched to the waggler line. Switching between the two big wagglers I started catching nice roach especially on the strung-out rig fishing off the bottom.
As the match drew to close, I knew I'd got a decent weight. While waiting for the scales I had heard Ian won his section.  I wasn't too worried until a 14lb weight was recorded in our section. I wasn't sure if I'd got enough, but as lifted my fish our I knew I had good weight. 17lb 2oz was recorded, I'd won the section, the match, and the festival!
This was probably the best-organised river festival I have been on and it is a credit to Andy Jones and his team's hard work.
All my big waggler work was done with 15ft Acolyte Plus rods, they are absolutely perfect for the job! Click here to find out more information on the rod Wayne used to help him win the festival.