Deciding to concentrate on the river Trent at the start of the year Steve has done exceptionally well in such a short amount of time to get to grips with the river.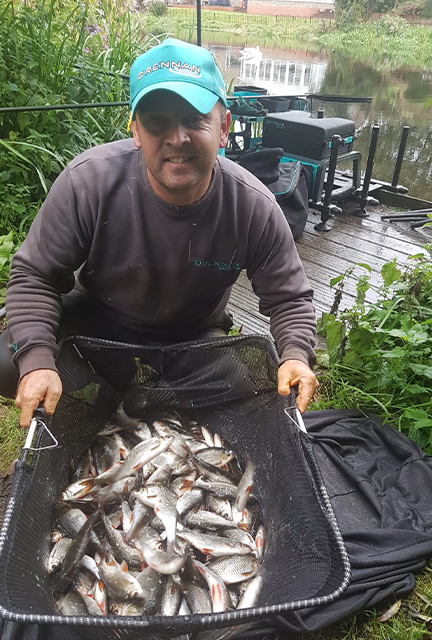 A stunning haul of red fins from the river Trent going 29lb 10oz
Steve talks us through his match…
Sunday saw me at Burton on Trent for the Drennan Coors final. I had been looking forward to this match since I qualified back in July. At the draw no one could predict where the winner would come from although the municipal section seemed to be most peoples proffered area due to this section having plenty of bonus fish. I drew peg 18 on the Baileys section, which didn't mean anything to me as I had never fished this section before.
After plumbing up carefully settled on 4 lines. A chop worm swim for small Perch at 4 metres, another chop worm swim at 13 metres but down my peg under an inviting looking overhanging tree a Roach line at 13.5 metres. Finally a waggler line set to fish a couple of metres past my Roach line. The match started well with me catching a dozen Perch at 4 metres on small pieces of red worm in the first 20 minutes. I then had a quick look on my 13 metre chopped worm line but this only produced 1 small Perch all day!
I had been lose feeding maggots on my 13.5 metre line from the start and with 30 minutes of the match gone it felt the right time to go on this line. I had a Roach first run down and soon settled into a rhythm. By feeding 20 to 30 maggots every run down I was managing to get regular bites. Although the bites were finicky, by slightly slowing the float down in the flow and shotting my float down to just a pimple, I was managing to connect with most bites. As the match went on, if I endured a slow spell, a quick switch to the waggler had me catching again whilst the roach on the pole line regained their confidence.
Unlike all the qualifying matches running up to this years final you had to be careful with the amount of feed you introduced into your swim, today, the more maggots I fed the quicker I got a bite! I ended the match having fed 3 pints of maggots. At the weigh in I put 29lb 10oz of mostly roach on the scales to not only win the Bailey's section but also the whole match!
My best rig was a 0.3 Drennan SF1 float shotted strung out, I fished 0.075 Drennan Supplex Fluorocarbon hooklengths stepping up to a 0.095 in the last hour and on a size 20 Drennan Fine Match hook which I also stepped up to a size 18.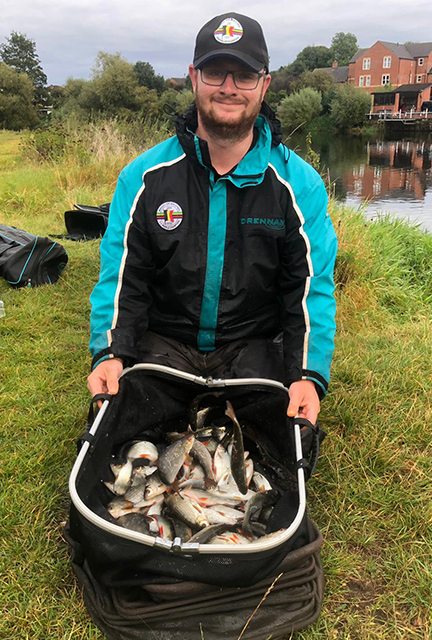 Robert Casterton from Drennan Leicester secured 3rd place 
On the all in Robert balled 8 balls with casters, dead maggots and hemp in with two separate full cups of hemp over the top. He then bait dropped worm and caster at 5 metres on his Acolyte Pro Whip to try and catch some early Perch.
Robert only caught 20 fish in the first hour and half mainly Perch on his 5 metre line. By upping the loose feed of maggots and hemp he started to get some bites on his 13 metre pole line. Making regular changes between rigs he was able to keep the fish coming. He had also setup a 14ft Ultra Waggler rod for running down past his feed area but he found the roach were right on top of where he had been loose feeding. In the last hour the fish finally properly settled and Robert was catching stamp fish up to 12oz on the hemp. This gave Robert 19lb 10oz and put him 3rd overall.
Rigs were AS8 floats with a bulk and droppers for on the long pole on the bottom. An SF3 .4gr rig with a strung bulk for the hemp and a .5gr AS pencil for the whip. All rigs were matched down to .08 and .10 Supplex line with Carbon Match hooks in sizes 16 and 18.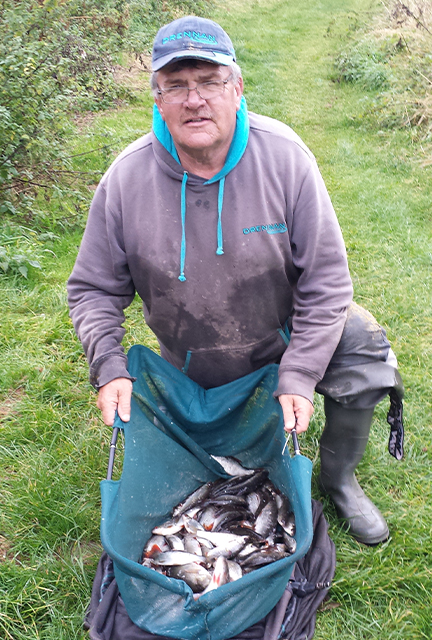 Trent regular Wayne Swinscoe managed a section win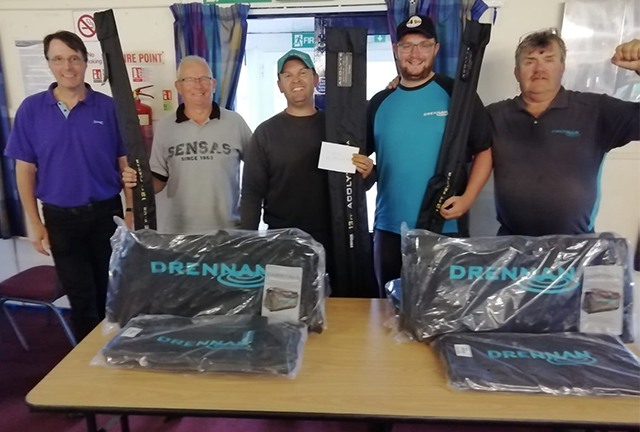 (Left to Right) Coors ambassador, Nigel Bull, Steve Winter, Robert Casterson and Wayne Swinscoe