Team England and Drennan Barnsley Blacks star Matt Godfrey has been putting the Acolyte and Acolyte Carp poles through their paces for well over a year now, but are they holding up to the pressure? Here's his 'used and abused' report, which originally featured in Match Fishing magazine: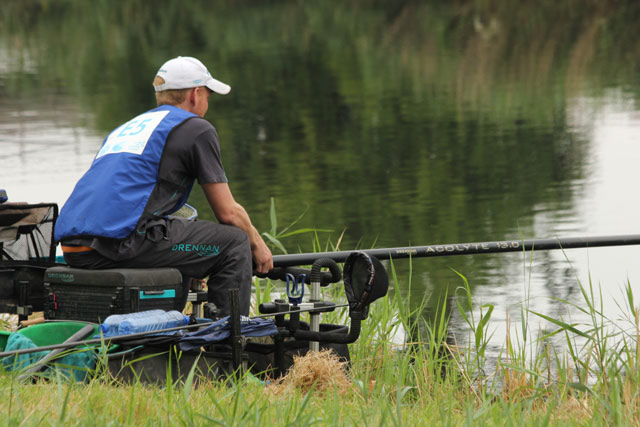 The Acolytes… after 14 months of hammer!
I dare say that there aren't many people who'll put a pole through its paces in a year in the same way I will. At the start of September last year I got myself kitted out with a pole combo – the Drennan Acolyte and Acolyte Carp – and so far they've not only travelled the country with me, but in fact the world!
The First Workout…
I really did drop my Acolyte in at the deep end when it made its debut on Scotland's Loch Ken. The fishing up there was fast and furious, catching large numbers of roach and hybrids. My first impressions of the pole were that it was super-slick. I noticed the Acolyte was very thin, and this was the perfect chance to see the benefits of this. When shipping large numbers of small fish, the thin profile and low-friction finish on the pole helps you get into a very smooth rhythm. Using the Match kits, fitted with No6 Preston Slip elastic, the pole's performance was exceptional. Even at 14.5 and 16 metres, when a Match kit is fitted the pole is stunning.
A very useful feature on the pole that I immediately noticed and have used from the start is the Cupping No3 section that is provided with it. One thing I've always been very wary of is feeding heavy balls of groundbait. Poles arch over and sections can break. Having a reinforced sturdy cupping kit AND Cupping No3 (the same as a No4 on most poles) section helps. Its debut couldn't have gone any better, in all honesty… I went on to catch over 20lb of roach in the two matches I fished, winning both of them.
Match Kits
It wasn't all plain sailing, however, and being an honest review I think it's significant to mention this. On the second day I was having some pike trouble. Getting a little impatient with it, I decided to give a fish-grabbing pike some grief. Quickly shipping back to my top four and piling on the side strain, I bottomed out the elastic. Seconds later, however, there was crack and the top section of the Match kit had smashed. It was certainly my fault, and a key lesson learnt. The Match or 'A' kits for the Acolyte are MATCH kits. They are light, and make the pole super stiff. I use them for all my 'match' elastics, anything from a No3 up to a No8, but not commercial and carp work.
Carp Kits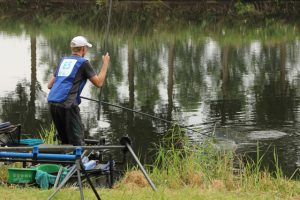 I've never liked power kits on any pole. I think they are heavy and massively hinder the pole's performance. On all the poles I've owned in the past, I've simply used match kits for all forms of fishing… until I got the Acolyte. The Carp kits on this pole, however, have almost zero hindrance on the pole's performance, even when you're fishing at 14.5 and 16 metres with hollow elastics in the pole and a Cad Pot on the end. The kits are strong and hand on heart I can say I've never broken one.
The same applies to the Double 2 kits, which have the same strength and length as the Carp and A kits but feature three parts, meaning you have a short third section with your elastic running through a shorter length kit. They're perfect when targeting F1s when you don't want too much elastic coming out, or if fishing shallow when you want to net fish on a shorter kit.
It's Easy!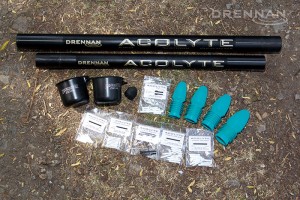 The thing that I found most appealing when I took delivery of the Acolyte poles was how easy it was to get rigged up. The Carp and Double 2 kits come with a quality PTFE slot already fitted in the side, and there are roller bungs that are engineered to click perfectly into place within these without any trimming or cutting. The Match, Carp and Double 2 kits come with a bushed central foam aligner, keeping the elastic central and allowing it to run super-smoothly. When you buy the pole you are supplied with a full set of precisely engineered PTFE bushes. Numerous internal diameters and bore sizes are supplied. The Match, Carp and D kits are all the same diameters too; nice and thick at the end meaning little or no cutting back is needed. This also means that no length is lost from the pole and you're left with a full-length pole.
Once cut back, and without dolly butts, I know for sure that some poles aren't the length they are stated to be. You can simply cut back the kits all the same and place the bushes in that all have the same external diameter.
Matching the bushes are female cupping kit adaptors, allowing you to easily make this the same length too. I simply use the 4.5mm bushes for everything. In my Match kits, however, I use the ones with an internal bore of 1.8mm, and in the Carp kits the version with a bore of 3.2mm. A 6.4mm cupping kit adaptor means one thing… all kits the same length!
A True All-Rounder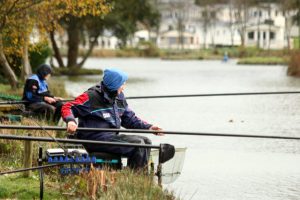 It's fair to say I've put both poles through their paces. My winters are often spent fishing big deep canals, cupping in heavy balls of leam, striking hard, shipping fast and swinging roach. It's demanding, but the Acolyte has coped with ease. In the spring and summer, commercial fishing requirements see me fishing 16 metres for F1s and carp regularly, and the pole remains stiff, balanced, comfortable and responsive throughout.
I really put the Acolyte Carp pole through its paces when I need some brute strength. On gale-force days when most anglers are scared to get the pole out, she's growling to come out of the holdall. At 13 metres I'd put it up against any pole on the market, performance-wise. When you venture to 14.5 and 16 metres, some rigidity is lost, as it is on all poles in that price range. On the strength front, however, I've known nothing like it. A few weeks ago I clung on to 13 metres of Acolyte Carp at Porth Reservoir in a gale, catching skimmers in conditions that I'm sure not many poles would have coped with. I've gained a lot of confidence to use this pole in demanding situations – snag fishing, heavy-duty river work, windy conditions… it's a brute, but performs like a pro.

Learn more about Drennan poles.
For more in-depth reviews like this one, pick up a copy of Match Fishing magazine, or download it for iOS and Android devices.