Alan Scotthorne has had an unbelievable run at his local Lindholme Lakes, including no fewer than three 200lb-plus catches in a row! It was all done with a few crucial rig tweaks and a little bit of help from some very special floats…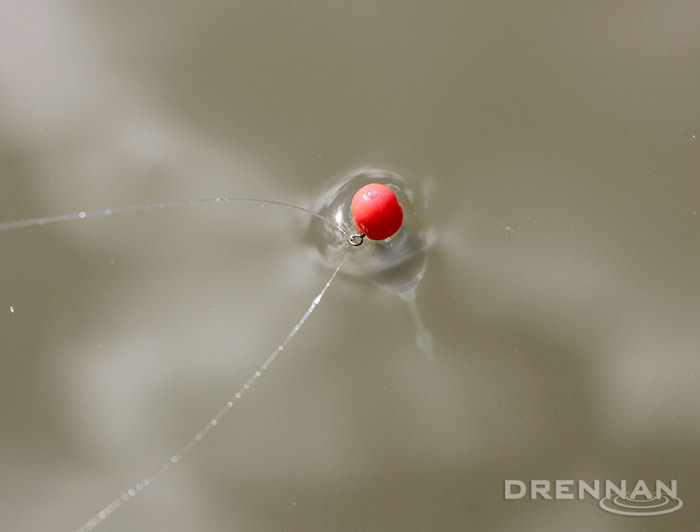 I have had the rare luxury of fishing a good number of competitions at my local fishery, Lindholme Lakes, before my summer international commitments begin again. The fishing really has been fantastic recently with big weights fishing short poles around six metres out and cubed luncheon meat and corn as feed, but now with the weather is improving and overnight temperatures are up to 10 degrees the fish are starting to come shallow.
I just wanted to talk you through one match were I caught 186lb of carp and F1s to win the match and the tactics I used.
When you are fishing regularly at a venue it becomes apparent that the draw is not so important, with weights spread all over the complex. Getting the right methods on any given day is the main decision and even doing them in the right order is difficult enough.
On the Thursday matches you generally get around 20 to 25 anglers so there is plenty of room between pegs and weights are therefore always up on the weekend events. I have been starting on the feeder recently, which gives me a slow start but, importantly, it allows me to feed my pole lines easier by hand or by a catapult while the rod is in the rest.
My feeder was just a small, three-square Drennan cage feeder packed with luncheon meat and a size 16 hook with hair-rigged meat. I had drawn Peg 28 on the bottom bank of Bonsai Lake and started by casting to the island. I then fed two lines short at 11 0'clock and 1 o'clock angles at six metres, again with meat. I also pinged 6mm pellets out to 14.5 metres of my Acolyte pole with the intention to fish shallow on this line.

In the first 40 minutes I had just two small F1s but had seen odd fish swirling on my 14.5m line. This prompted me to have a quick look short for no reward so I was soon out shallow with just 50 minutes of the match gone.
I found that the fish kept coming into the pellets but would spook off as soon as I went out with my rig. Even the noise of the pellets hitting the water seemed to scare the fish in the bright, sunny conditions and with it being so flat calm it all added to the problems of the day. I decided to change to loose feeding meat but every third pouch of bait I still fed a few 6mm pellets, just to keep the bait area tighter. This seemed to help.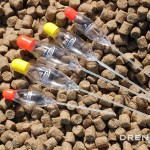 My normal rig of a new blow-moulded 0.2g Drennan Crystal Dibber set 18 inches deep with just a foot of line above it was also changed for a rig with a longer 2ft 6in of line above it. This was so I could flick the rig out past the feed area where the carp and F1s were backing off to.
After these changes I started to nick odd fish more consistently. It was also important to keep the line from pole tip to float as tight as possible or else you missed every bite. I also pushed my three No10 shots right under the float so the meat hook bait was falling as naturally as possible, imitating the loose offerings. Crystal Dibbers are great for this as they have a slight shoulder to hang onto and when fishing as shallow as 12 inches deep the clear plastic float doesn't scare the fish.
As the match progressed and the fish became more confident I did start to catch some fish right in amongst the main feed area but the normal slapping of the rig was a definite non-starter as this just scared the fish away.
We sometimes assume that these fish have low intelligence but, mark my words, when they have been caught in a certain way these fish soon become wary. It keeps us all on our toes to try and work out better ways to fool the fish into taking our bait!
A Hat-Trick Of Successes!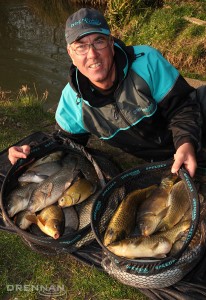 Alan has since gone on to record no fewer than THREE 200lb-plus winning catches at Lindholme using Crystal Dibbers! The first amazing catch was the following Thursday, where he caught 215lb of carp and F1s shallow on pellets across and meat shallow on the short pole from unfancied Peg 78 on Bonsai.
Alan then followed that up with a truly spectacular 700-plus 'stockies' on a top kit fished to hand on the newly opened Match Lake for 231lb, this time using maggot on the hook.
Completing the hat-trick, Alan then made no mistakes from noted Peg 70 on Bonsai with 216lb shallow on meat and pellets, almost 100lb clear of second place!
Learn more about Drennan Crystal Dibbers.