Drennan Bordon's Matt Barnett & Matt Herbert take top two in the second round of the Sensas Southern Canal League.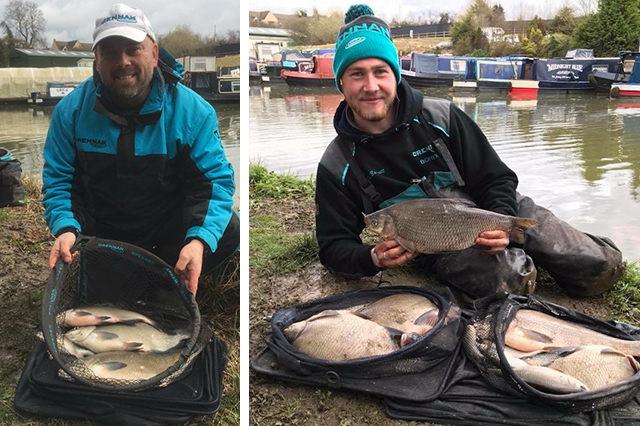 The second round was to be fished on the Oxford Canal at the Rock of Gibraltar.
Matt Barnett drew peg c12 and having never fished this canal before he didn't quite know what to expect. "I set my stall out with three lines,a  top five on bread punch, a second line at 11.5m with groundbait and the third at 16m line tight to the boats."
Matt started at on his bread line, and began catching until boats started to come through. So after about 30mins he went long onto his 16m line towards the boats where he fed neat chop worm and caster in hope of a few skimmers of bonus perch.
"On this line I only had to wait for 2-minutes before my AS3 pole float signalled a bite, which resulted in a nice 4lb bream gracing the landing net.
"Deciding to switch and rest my long line, I then looked on my 11.5m line. Again, first put in, my float berried and I had a 3lb hybrid!
"I carried on swapping for the rest of the match between the two lines ending up with 11kg 380g for a section and match."
Two pegs away, teammate and Bordon's vice-captain, Matt Herbert.
"I drew Peg 14 in the marina which is a section I have not visited for a good 20 years! The peg looked nice, and I knew Dean Barlow had done a feature here earlier in the year catching bream. So after a quick call to Dean, I set up four lines. One left and one to the right, both at 11m, feeding groundbait and worm one side and worm and caster on the other, whilst feeding casters on another at 13m and a bread line at 6m."
After switching from the bread line due to boat traffic Matt went on to catch over his chopped worm line and put together a net of skimmers to weigh 5kg for second in the match and section.