Alan Scotthorne reports back on his fifth-place finish in the latest Guru festival held last week at White Acres in Cornwall.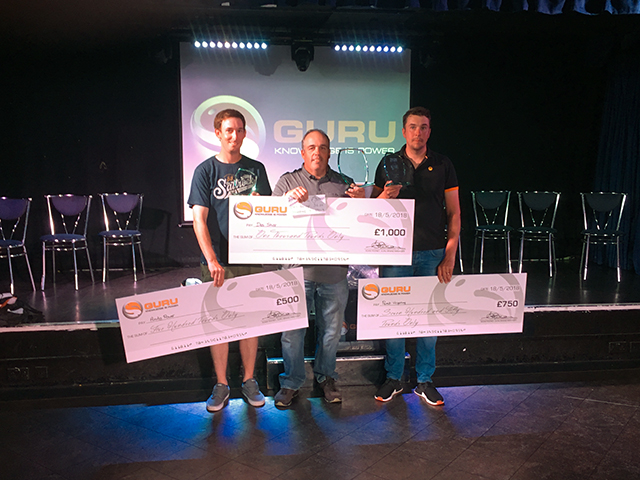 I have just completed my second festival of the year at White Acres and what a close finish it was! I scored maximum points with four section wins over the duration of the week, but unfortunately, my dropped result was only good enough to finish 5th overall. With five anglers all tying on 4 points, the all-important 5th result came into play with Des Ship taking the title dropping a second in the section for another festival win under his belt. Des excels at getting a result from the odd poor draw and this makes him probably the best in our country when it comes to festival fishing. In my opinion, a great angler to have in the Drennan England Squad.
Rather than running through each of the five matches, I wanted to look at just five things that I learnt during the week that helped me to net four section wins.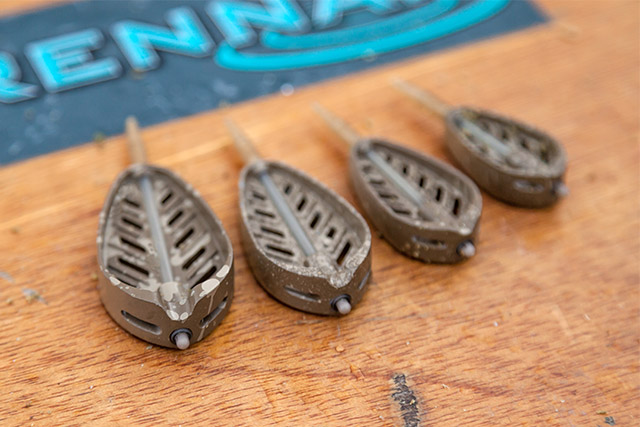 The method feeder always plays some part and lately I have struggled a little with this tactic. I was convinced that the carp were more interested in the softened micros on the feeder than the hook bait. A change to the smallest Method Bomb was like turning a light switch on. Instead of getting lots of liners and indication's, suddenly, I was getting more takes, some as I was tightening up to the feeder! I am positive that this was down to the lack of free offering's and almost forcing the carp and F1s to take the hook bait.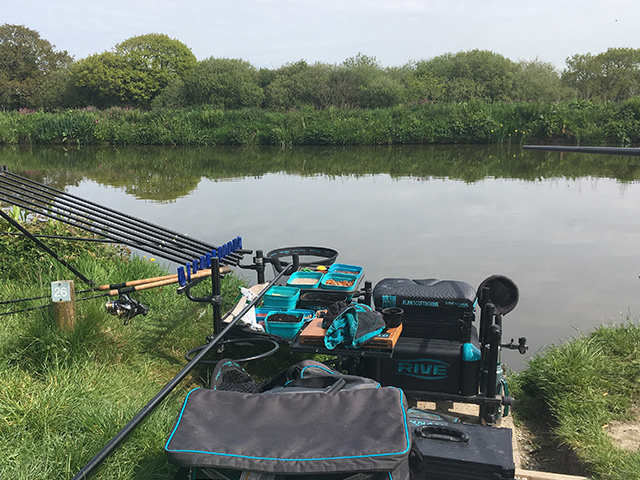 On Twin Oaks, this gave me a great start where most anglers struggled in the early stages of the match. Fishing heavy with a 0.20mm hooklength is also a thing of the past and 0.16mm X-Tough line for hook lengths is amazingly strong and I never got broke once all week. Hookbaits have also been scaled down with a single maggot or a banded 4mm hard pellet being the best, even for the carp. I have never had a lot of susses with wafters or boilies on a flatbed type feeder and I think the fish have seen these on here so many times that they just steer clear of these hook baits.
On Twin Oaks, it was also very important to be really tight to the far bank in just inches of water. The lighter 25g Method Bomb could deliver with very little disturbance. Rods I also feel need to be right to cast a feeder tight to the bank on every cast. I have struggled in the past with softer rods but the stiffer Acolyte 10ft Plus feeder rod performed brilliantly.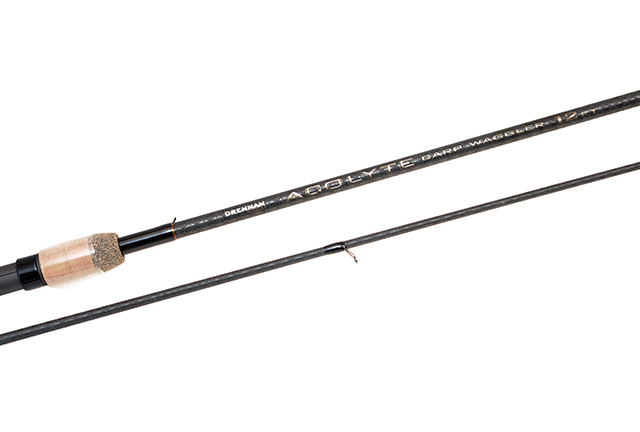 A good draw on peg 25 on the Match Lakes high bank gave me chance to fish waggler shallow with 8mm pellets. On this day, there was very little wind, a must for this type of fishing allowing you to keep the line tight to the float in order to hook bites from the old very wary carp. My rod choice always used to be 13ft, but I have now changed to 12ft Acolyte Carp Waggler rods. These are the perfect tool for the job, allowing for a much faster strike and even with a 4g Pellet Waggler, I could easily cast to the island that's in front of the high bank pegs.
Anglers on nearby pegs really seemed to struggle with reaching the island and this can only be using a too heavier mainline. I have an almost standard set up of 4lb Feeder & Method Mono mainline to a 0.20mm shock leader to help hold the float in place on the line with Float Stops. The floats are fully loaded and I only have a small swivel down the line to attach the hook length to. Most fish I hooked were within a meter of the far bank making having the right set up all the more important.
Feeding this line with 8mm pellets also needs some consideration. Feeding just three pellets in the catapult aids groping of the bait. When the pellets plopped around the float you had a much better chance of a bite and even feeding so frugally, I got through a pint of pellets. Most of my 79lb weight came on this method and helped me to a section win, and even lake win with put a few quid in the coffers. I could see anglers fishing with floats way over the top in size and I am sure they would catch lots more just refining this great method.
With good weather all week, lots of fish came into the margins late in the match and normally groundbait is the way to catching in this area of the swim. For some unknown reason, this just seemed to be the kiss of death and maybe this was because the fish were getting into spawning mode and just needed more particle baits in their diet. With meat limited to just one pint, corn was the best edge bait for me all week. This caught me some valuable fish on Trewaters Lake, catching more than half my 99lb weight in the last hour of the match. Throwing corn makes a lot of noise and fishing two spots either side of my platform within throwing distance was the best way to fish in just two foot of depth.
Again the fish were not easy to catch and burying the hook inside the corn was best with most bites being little fast dips on the float. Throwing six to eight pieces of corn every 60 seconds when not fishing on a line was great for drawing in a fish but then not feeding for a period meant you got a proper bite and didn't foul any fish. Trewaters carp fight harder than any other carp I have ever hooked and I quickly stepped up to pink Bungee and 0.17mm Supplex Fluorocarbon to help tame these fish. I have never been the best at fishing down the edge for carp, but I never felt confident at catching close to my fishing position. With the water now carrying a good colour, some big weights were caught even on a kit and one section. Especially at Bolingey lake and I now feel more confident to fish this close for carp. Fishing corn needs a float with a nice thick bristle and AS4 in 0.03g is perfect for this heavy bait, but still, they needed to be dotted down to spot the fast dips from some of the biggest fish.
Mugging also came into play on all the carp lakes and having a kit rigged with a full length of mainline and a shallow rig set just 10 inches deep needed to be on hand every day. Some anglers seem to catch more regularly than others on this method. Jon Arthur and Andy Powers have made this method work well in the past and they both caught big weights during the week for easy section wins. I only nicked odd fish on it during the week but these fish became very important come the final weigh in. Flicking to swimming fish was almost a waste of time, but spotting a fish just 'lipping' the surface of the lake meant it was more than catchable if you were quick enough.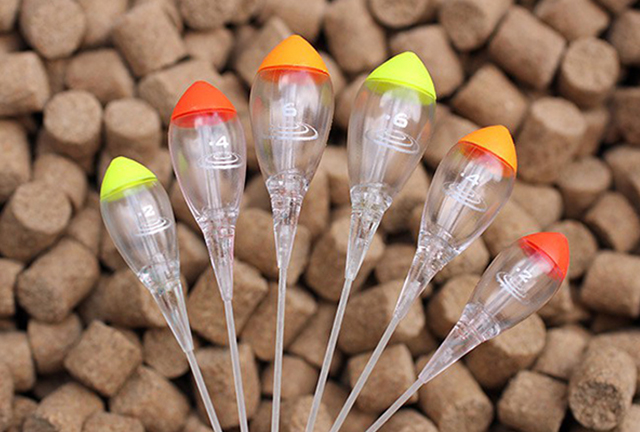 To give yourself a chance keeping a six mil pellet in the band while on the roost meant you could pick it up quickly and maximize the chance of putting the hookbait in front of it in a split second. In-line Crystal Dibbers are great for this method and I like to use a 0.3g with an In-line Olivette which gives you two 'plops' when dropping the rig, the weight and the pellet. This helps to draw the fishes attention and the clear float doesn't spook the fish. Top kits also need to have the end section painted white so as not to spook the fish while flicking to them and I have several Drennan Ghost Kits in my armoury for this type of fishing.
The biggest lesson I learnt during the week was to be aware of what the fish were telling you. By this I mean, for instance on Porth Reservoir, I had to completely change what I was doing after catching very little for two hours. The roach and skimmers were shallow and spotting odd fish topping short, I quickly started loose feeding and set up a shallow rig to fish just three feet deep to go on and win the section with 11lb 6oz of roach in the last two hours. This was the pattern all week and setting everything up was very important as most days ringing the changes caught more than sitting with just one method. Keeping an open mind was the key and fishing to the conditions that presented them is something that you cannot teach but with lots of preparation, you can cover all the options.
I really enjoyed both festivals and had some great banter with the other anglers in my sections on both weeks. Clint Elliot and the team work hard to make it a great fishing experience and I am already looking forward to the festivals in October for some more great fishing.