This is the image of an incredible 10lb 2oz eel which falls just one pound short of the current British record.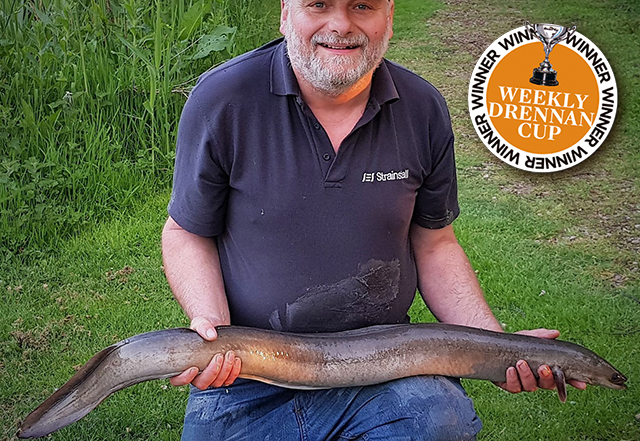 It was banked by 55-year-old engineer Tony Arbery, the son of outright 1990 Drennan Cup Winner, Len Arbery – who spent 48 hours targeting an undisclosed southern Stillwater with lobworm hookbaits in attempt to lure a leviathan into a feed.
Due to work commitments, Tony was unavailable to comment on his momentous catch but his dad was on hand to step in.
Len told Angling Times: "During a 48-hour session last weekend, Tony caught an eel weighing in at a truly impressive 10lb 2oz – which is around 90% of the current 11lb 2oz British record.
"Weighed accurately on a set of Reuben Heaton Specimen dial balance scales, this massive Anguilla stretched the tape-measure out to a somewhat staggering 46.5 inches, and its girth was no less impressive at 11.5 inches!
"When he can get the necessary time off work, Tony has been concentrating on eels this year, having caught five specimens from the water previously, up to a very creditable 6lb 12oz – his previous PB.
"Tony admits the first couple of his big eels caught from the water were accidental captures when targeting tench, but after losing quite a big eel at the landing net he took advice from an eel-specialist friend and increased the strength of his tackle – including line, hooklink and hook, as well as employing a light carp rod."
To handle the potential fight with a big eel, Tony stepped up to an original Jack Hilton Carp Rod coupled with a Mitchell 350 reel loaded with 12lb Drennan Super Specialist monofilament.
His terminal tackle consisted of a simple running link-ledger outfit incorporating a 25lb braided hooklink tied to a size 4 ESP Cryogen Gripper hook.
"Tony's Delkim alarm alerted him to the monstrous eel at around 7 pm," Len added.
"Sitting close to his rods to lessen the risk of deep-hooking, he struck into his prize before the bobbin had reached the butt ring, which is when 'all hell let loose'.
"In fact, the eel fought so hard Tony initially thought he'd hooked into one of the water's rare big carp.
"He reckons this specimen eel is by far the best catch of his 50-year angling career, and a highlight he will never, never forget.
"He told me he's 'still shaking with excitement!"