Drennan RAF team angler Richie Tomala qualifies for second big money final in a week!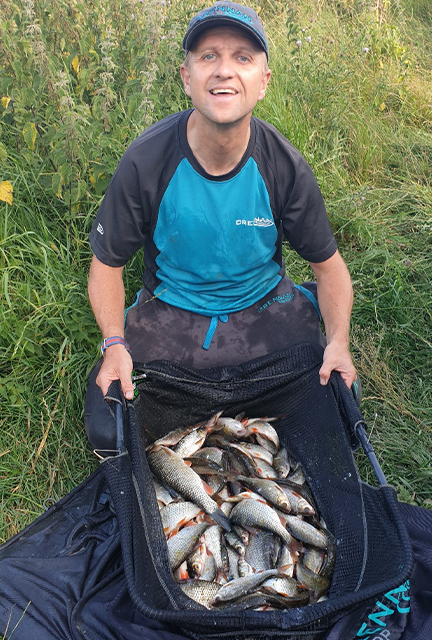 Richie's 18lb 12oz match winning net from the RiverFest qualifier on the River Avon
Drennan RAF angler Richie Tomala recently made the 400-mile round trip to the River Avon at Newbridge for the latest Riverfest qualifier.
"I absolutely love Riverfest having come second in 2015; although the journeys are long, it's great to catch up with so may friends from all over the country and fish a variety of natural venues."
Drawing peg 14 in Zone A, Richie did not fancy his chances, as the area is not a well renowned "framing" peg.
However, things rapidly improved. The first bonus of the day was that he could park right behind his peg; one of the few on the Bristol Avon! Secondly, he could get right down in the water and thirdly he had a fair bit of space around him being next to a Bridge.
Richie decided to attack his peg on his new Acolyte Pro Pole, setting up three different AS 7 pole rigs incorporating 1.5, 2 and 3g floats on a top 4 with 4-6 Aqua Bungee, which is perfect for deep water roach fishing.
"I was really lucky to be able to get into the water and although I had a high bank behind me, it was a very comfortable peg to fish once settled. With a bit of space around me, I decided to go for it, putting in 15 large balls at the start."
Richie made a 5kg mix of Black Lake, Gros Gardon Noir and Brown Crumb, making it slightly over wet to carry straight to the bottom and laced with caster and hemp.
At the start, he elected for the 1.5g rig, starting on the bottom and letting the float run at natural pace. "I started catching small roach from the off with Caster on the hook whilst loose feeding hemp"
After a successful first hour, Richie had caught about 5lb and heard most of the field were struggling. Doing the maths, he knew if he could keep this up, he would do ok but he still felt that 20lb would be needed to qualify as his zone also included some noted bream pegs. As the fish started to back off, he stayed in touch by cupping in a large ball laced with caster.
"switching to the 3g rig also made a big difference, allowing me to "inch" the float through and catch a slightly better stamp averaging 2-3 oz each"
By the end of the third hour, he was catching well and knew he had about 12lb. Reports indicated he was winning the zone with the bright sunshine dashing any hopes of bream being caught. In the fourth hour, Richie lost a bonus 2lb chub at the net that he thought would prove costly but continued to catch roach steadily. A strong last hour, switching to a strung out 1.5g rig ensured he stayed in touch with the fish and in contention.
Richie ended up weighing 18lb 12oz to comfortably win the match and qualify for his third Riverfest final in 5 years.
"Despite the long drive, I really enjoyed the fishing today and felt pleased with my performance; I now can't wait until November for the final at Shrewsbury where hopefully I can go one better than in 2015!"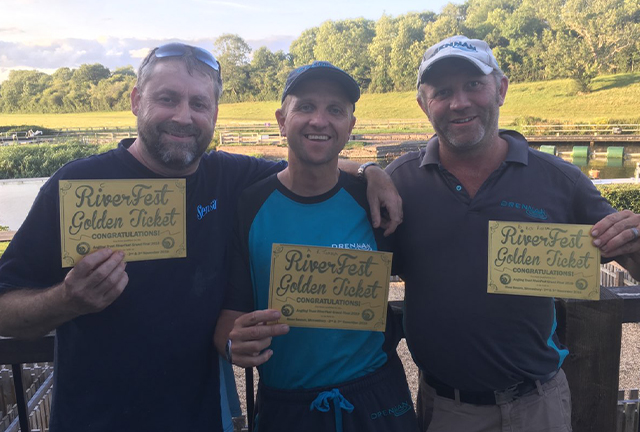 This will be Richie's 3rd time in the final, we wish him the best of luck!
Onto the Feeder Masters qualifier, Richie was buzzing and really looking forward to fishing the Tidal Trent on his last attempt to qualify for the Feeder Masters Final. With some torrential rain over the past week, it was always going to be 50:50 whether or not the match would actually be on as it had an extra 5-6 ft on!
On arrival at the venue, and with a split tide forecast, Laughterton and Torksey was certainly going through hard.
"Looking at the River before the match, I was grateful I had stepped up my gear but was not fussed where I drew as I know flooded rivers are usually levellers".
Richie Drew peg 1 at the Viaduct end of North Clifton; a rarely pegged section and capable of some big weights on a flooded river. Asking Match organiser Alan Henry what he thought; the response was positive "You should win the Match off there today Richie!"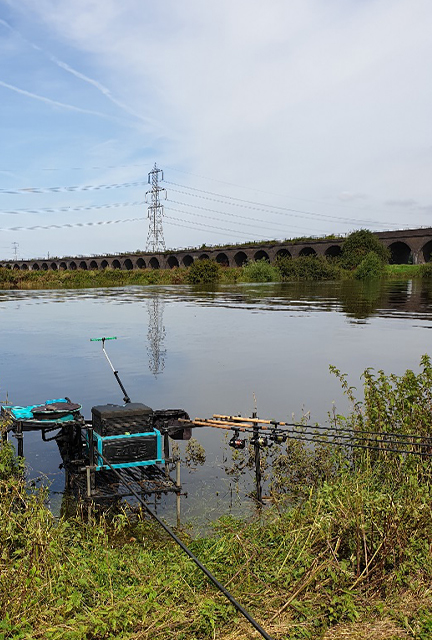 A very sync peg for Richie, but would it produce?
Raring to go, Richie arrived at his peg and indeed was pleasantly surprised. The section was very wide and with 2 hours to go before high tide, the water looked slack and was barely moving right out to 30m with Roach topping everywhere!! The first thing that was obvious was he would need to re-change his tips and step down his gear!! Pluming up with the bomb, he found a gravel bottom all the way out to 30m and realised he could initially hold with just 40g and a 3 oz tip. Knowing it would pull harder on the turn later in the match, he did however elected to set up 3 rods, all Drennan Acolyte Distance Feeders with a 3, and 4 oz tips with 0.12 Nanofil, a 10lb shock leader and 0.17 hooklengths to a size 14 B560. Really fancying to catch some bream, he mixed 3 kg of Gold Pro and Brown Crumb with caster, hemp, dead reds, reds and worm on the bait tray.
At the all in, Richie elected for a 25m line in the slack water and started with 6 large feeder fulls of dead reds and caster. Straight onto the double red, he had a bite immediately and was swinging in his first roach. Second chuck, the rod doubled and he was into a large bream; a real settler within the first 10 minutes! Over the next hour, he had another bream and kept the small fish coming and estimated that he had 12lb. Towards the end of the 2nd hour, another two bream followed and Richie now genuinely started to believe that he could do some damage.
"I heard feeder ace Jamie Harrison and Richard Vaughn were catching further up in my section so new I would need to keep my head down to beat them".
Hour 3 was difficult for most as the river turned but a change to a 5ft hook length kept a few small fish coming. Into hour 4 with the tide now running out, Richie stepped up to a 50g feeder and a 4oz tip and this change had an immediate impact; another 2 bream landed quickly. Into the last hour and with 30lb+ in the bag, Richie believed another few "big" fish would come but frustratingly, the small roach turned up and lots of missed bites soon ran down the clock. Luckily in the last 20 minutes, he generated 2 more bream bites by yanking the line, the bites coming as the line went slack and both fish successfully landed.
At the end of a thoroughly enjoyable match, Richie ended up with 8 bream and a few pound of bits and tipped the scales with a pleasing 41lb 6 oz to win the zone ahead of Richard Vaughn who weighed 30lb 8 oz. Buzzing with the knowledge he had qualified for his 2nd big final in a week, Richie just needed to see if he had done enough to win the match?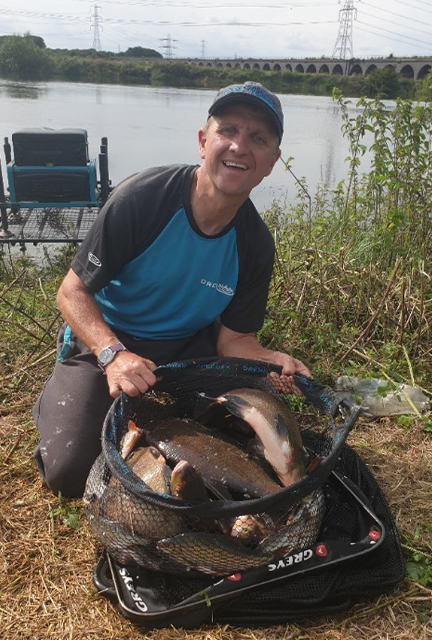 A Bream haul for Richie weighing in at 41lb 6oz
Back at the draw venue, it was confirmed that he had sealed the victory with Andy Dixon coming second in the match and qualifying with 31lb 4oz whilst the 3rd qualifying spot went to Steve Bebby.
Richie said after the match "What a great week, 2 match wins and the all-important qualification; I now just need to convince my Boss to give me some extra time off to practice ahead of the Riverfest and Feeder Masters Finals"!