With a busy work life, time on the bank can be very precious but at times, a short period of time is all that's needed. And that's exactly what happened for Tom Humphreys when he banked this stunning 10lb 2oz tench on a recent outing..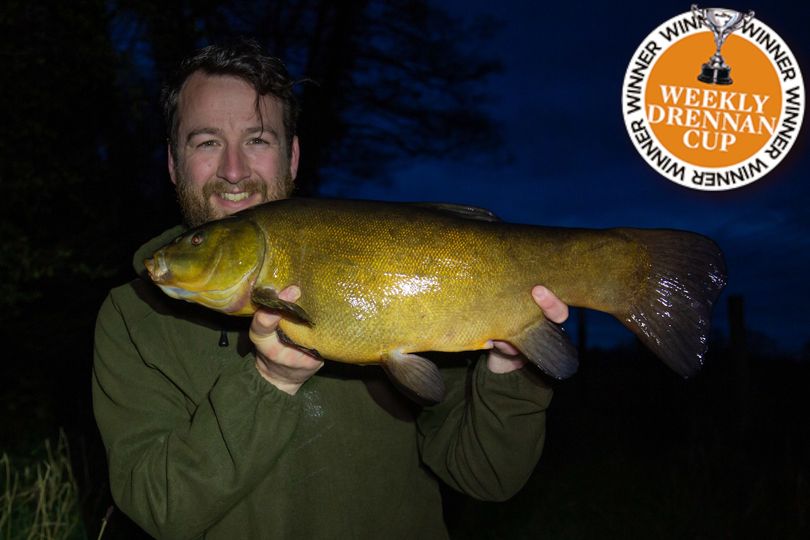 He told us "With time in short supply, I have to make the most of every fishing opportunity, and by taking a leaf out the carp anglers' armoury, I managed to catch this 10lb 2oz tench. I recently started a new job at the Angling Trust, as Angling Development officer for the East of England. I'm loving it, but it's full-on. I cover North Lincolnshire down to Essex and everywhere in-between, which leaves little time for my own fishing.
Keen to capitalise on any spare time, I recently had a brief gap in meetings so decided to spend a bit of time targeting tench on a lovely looking estate lake where I'd baited a spot two weeks prior. In big-carp fishing, there's been a recent boom in people using baiting poles. These are a bit like the poles match anglers use, although they're much slimmer, can go out much further, and have a big spoon on the end, into which you place your hookbait and feed. You ship them out to your desired spot and tip the spoon, enabling pinpoint accuracy.
Generally, these are used for getting into tight spots like overhanging trees and snags, but they also enable you to drop a bait right among your feed on any spot out in the open. I think that being accurate in your fishing really increases your chances, particularly when you only have limited time. So, on my recent session I used a baiting pole to drop my hookbait right over the area that I'd been baiting. This was approximately 30 metres out into open water, over a reasonably soft area of silt in around 6ft of water.
With it being so early in the season, it's difficult to assess how hungry the tench are. We'd just had a cold snap, and the water temperature was right down, so I decided to bait lightly, using boilie crumb leftover from the end of the river season, along with some stinking old hemp, sweetcorn and maggots. My end tackle also took a bit of a leaf out the carp anglers' textbook. A simple blowback rig, featuring stiff coated braid, a size 10 hook, and a maggot clip packed with fake casters and a few real red maggots. The fake casters were buoyant, which gently lifted the hookbait off the silt.
My better half came along for the session, and she turned out to be a bit of a good luck charm! After a few runs from 'bootlace' eels, the rod roared off with something more substantial on the end. After a good scrap, I managed to slip the net under this cracking tench. It weighed 10lb 2oz, and I was a bit jammy to have caught such a cracker as my first tench of the year. Although, judging by the amount of parasites on its fins, it was clear its metabolism had slowed right down, and I was glad that my prebaiting and accurate presentation had paid off.
If you've got your sights set on a big tench this year, why not invest in a baiting pole of some sort? Being accurate can make all the difference, and these bits of kit allow you to drop your hookbait right on the money, every time."
Well done Tom!