Stu Lennox has penned this nice account of a day that he and Tyrone Hull recently spent on the River Thames: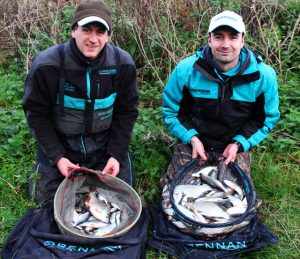 Now that the first few frosts of the year are out of the way and conditions are much more settled, myself and Drennan Bordon team member, Tyrone Hull, decided to visit the River Thames near Lechlade to try and track down some of the excellent silverfish sport on offer.
We decided to fish differing methods and compare results at the end of the day, Ty opting for a pole approach with myself fishing the waggler.
I was able to sneak away a little earlier than Ty and therefore headed to a known hotspot where there is a deeper bowl of water with minimal flow. Fishing the waggler enabled me to target this change in depth about three quarters of the way across. I hoped that this deeper water and lack of flow may hold a better stamp of fish. Ty fished mainly at about 13m in the main body of the river in slightly shallower water.
Upon arrival I fed four large, jaffa-sized balls of Sensas River and brown crumb mixed 50/50 and included some dead pinkies, casters and a small amount of chopped worm. I would then feed red maggot over the top for the remainder of the session.

I opted for a Loaded Giant Crystal with a quick change float attachment fixed between two float stops. I love using these in my fishing as, like today, if the conditions change and you need to step up a float size you do not need to alter the shotting pattern, just remove the float and insert a larger one. Today, due to the increase in wind and surface flow later in the day, I had to switch between a 2g and 3g model to ensure it hit the same spot.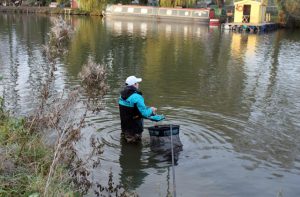 My shotting was a simple four No4 bulk and two No10 droppers. Main line was 3.2lb Float Fish, a 0.10mm Supplex hooklnegth to a size 18 Silverfish Maggot. This would hopefully enable me to cope with any bonus fish in the open water, but retain enough finesse for the smaller fish. As usual, I was set up with my trusty 13ft Acolyte Ultra, which is perfect for silverfish in flowing water. I coupled this with a FD 3000 reel. This combination is light enough to stand and hold all day in the river.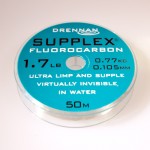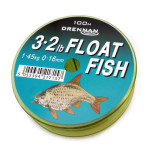 Ty also initially fed groundbait and then concentrated on two main rigs; a light 4×14 float with a strung-out shotting pattern, size 18 Kamasan B511 and 0.10mm Supplex Fluorocarbon hooklength to run over the groundbait and a 1g 'lollipop' to hold steady over the feed and hope for a quality fish or two. This was to a size 14 B560 and 0.12mm Fluorocarbon hooklength.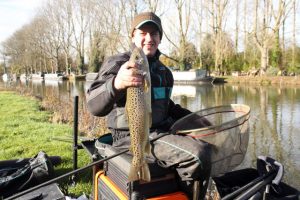 Focusing at 13m in about 4.5ft of water with the light rig, Ty caught fish all day. His first put in with the lollipop rig resulted in a rogue 4lb trout!
Both approaches worked well and at the end of the day we had amassed over 30lb of silverfish between us. Tyrone caught mainly roach, including some lovely fish up to over a 1lb, and I had more of a mixed bag, including some large skimmers I found at the edge of the swim in a slack pocket of water.
Overall, it was a great day and once again demonstrated the varied, enjoyable sport that can be had on rivers such as the Thames.