Stu Lennox demonstrates how to target one of the nation's favourite species with a Method Feeder approach.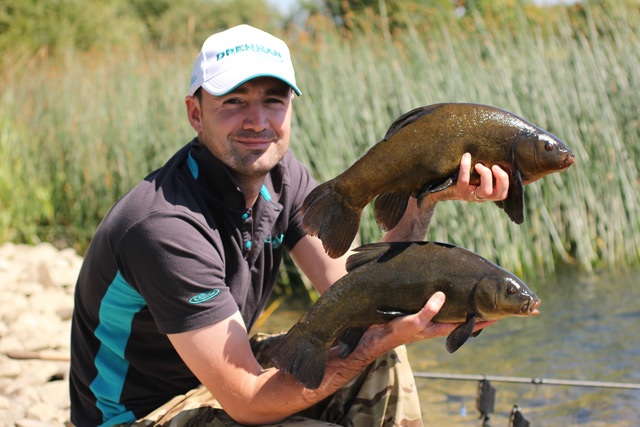 For me, spring is synonymous with tench fishing and catching tench is synonymous with a nice, big weedy pit. One such place is the beautiful Napton Reservoir in Warwickshire. This lovely 17-acre pit is now run by Leamington Angling Association and really looks the part. It contains a variety of species, but it's the venue's large head of tench that I'm targeting today. Tench love weed and you shouldn't be put off fishing for them in amongst the green stuff. With the right approach and tactics there can still be plenty of bites to be had.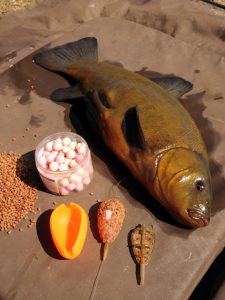 I arrived at the lake at dawn, looking for any signs of fish activity. The lake is split in two by a central causeway and bridge and by walking along this split I could keep an eye on both halves of the lake. I was however, focused on the larger side as I had been told that this is where the majority of people fished and where plenty of tench were caught. There was plenty of early morning small fish activity, but I saw little else until I was half way along, where I spotted three tench crash out in quick succession followed by what I thought was a carp. That was a good enough sign for me, so I quickly barrowed all my gear round to the swim.
Short Session Setup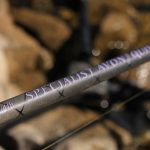 With only a few hours available I wanted to focus on catching a few fish as quickly as possible so I assembled two matching 12ft Specialist Avon Quivers to maximize my chances. It was obvious the bottom in front of me was covered in quite a lot of weed but I was confident that a small Method Feeder with a high-attract hook bait would bring a few bites. In swims like this it's important to is a robust and highly abrasion reel line, so I had spooled up with ESP 10lb Syncro XT Loaded.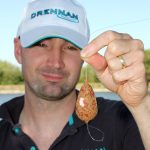 Due to the distance and amount of bait I wanted to introduce with each cast, I opted for a large 35g In-Line Flat Method Feeder. My rig was a short 12cm mono hooklink with either a barbless size 10 ESP Raptor T-6 or a size 16 Power Hair Rigger. I hoped the larger hook would help me to negotiate the tench out of the weed but every now and again I would have a cast with the smaller size 16. I knew there were some nice crucians present, so I hoped a slightly more refined setup may encourage a bite from them. A real beauty of this setup is the ability to swap hooklengths in seconds using the quick-change Method Connector Bead.
Tench Attraction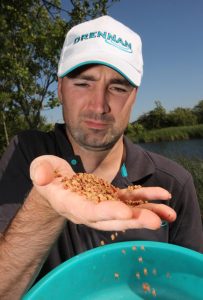 I started off by preparing my pellet mix to mould around the feeder. This is a combination of standard 2mm micro pellets, 2.3mm Sticky Baits Krill pellets and some 2mm bloodworm pellets. I cover these with water for two minutes before draining off all the liquid. These can now be easily moulded around a feeder, either with a squeeze of the hand or using a purpose-designed Method Mould. The finished feed is both colourful, thanks to the contrasting red and brown pellets, and full of flavour.
I also 'double skin' my Method Feeder before casting to ensure the hook is well protected from the weed. To achieve this I squeeze my first layer of pellets onto the feeder, then place the hook bait centrally before hiding it under a second layer of pellet. This effectively covers the entire rig, keeping it safe from strands of weed until a tench digs it out.
High-Attract Hook Baits
There are a number of traditional tench hook baits I could have chosen, but my out-and-out favourite in this type of situation is a 12mm Sticky Baits Signature Wafter in either white or pink. I pre-glug these heavily in a homemade mixture of sweetener and citrus flavours. This bright hook bait stands out when surrounded by weed and the intense flavours leaking off permeate the water and really help the tench home in on the hookbait.
A great tip is to try cutting the hook bait down with scissors or, easier still, cut out smaller cylinders with a bait punch. These freshly trimmed barrels are the ideal size and leak off even more attractors.
First Cast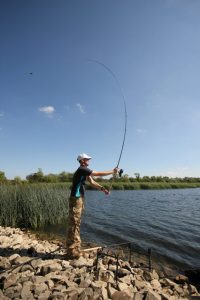 I made my first cast to exactly where I saw the fish crash. As I felt the feeder down to the bottom it landed with a spongy feel which told me it had landed in weed rather than cracking down on a hard bottom. I wasn't too concerned about this as tench naturally live amongst the weed and the Method Feeder setup helps to conceal the hook until a fish finds it. The second rod was cast a few yards away and the rods settled on the alarms with a medium weight ESP Bobbin attached to cope with the undertow.
I didn't have to wait long before the right-hand bobbin rattled up and down before pulling up tight to the rod, which was buckling in the rest! The reel's clutch was set tight so the fish couldn't plough too deeply into the weed, so I had to be on the rod quickly to stop it being dragged in. I lifted into the fish and raised the rod high in the air to keep as much line away from the weed as possible. The fish moved from weedbed to weedbed but the strong main line was enough to keep it under control and it was soon in the net. A beautiful dark olive tench of around 4lb was soon laying in the landing net and the rod was recast.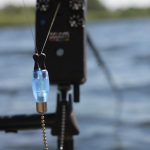 The other rod was also soon away as another tench tried to find sanctuary in the weed. Steady pressure and a high rod was again enough to keep it moving and the second fish of the session was soon landed. This sequence repeated itself several times as a string of hard-fighting tench all made their way to the net. As you would expect in a swim like this, a couple of fish managed to evade capture and throw the hook, but by using strong tackle and staying alert I stacked the odds well in my favour.
An Extra Kick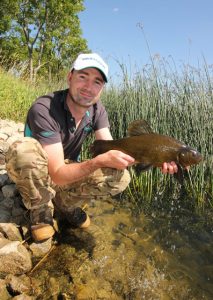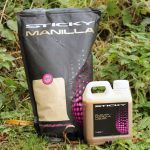 As the sun steadily rose the bites started to dry up. In an effort to trigger another couple of fish I decided to introduce a little bit of bait. I mixed up a little bit of Sticky Baits Manilla Active Mix with some Cloudy Manilla Liquid, added a couple of handfuls of feed pellets and quickly fed eight large Spombs of this cloudy mix over the catching area.
This increased plume of attraction definitely seemed to spur the fish back on the feed as a tench was soon trying to drag my rod in, followed by it's twin brother seconds later! Sadly that was all I had time for but I had already had a busy morning's sport. So, the next time you target tench, rather than avoiding the weed, fishing a Method Feeder amongst it could bring some equally consistent action your way!
---
Venue File

Napton Reservoir
Location: Tomlow Road, Napton On The Hill, Warwickshire, CV47 8HX
Controlling club: Leamington Angling Association
Tickets: Members only
Website: www.leamingtonangling.co.uk