After nearly five months of not fishing, Richie reports back on the three-day 'Terrie Tapp Memorial' Festival at Furzton in Milton Keynes.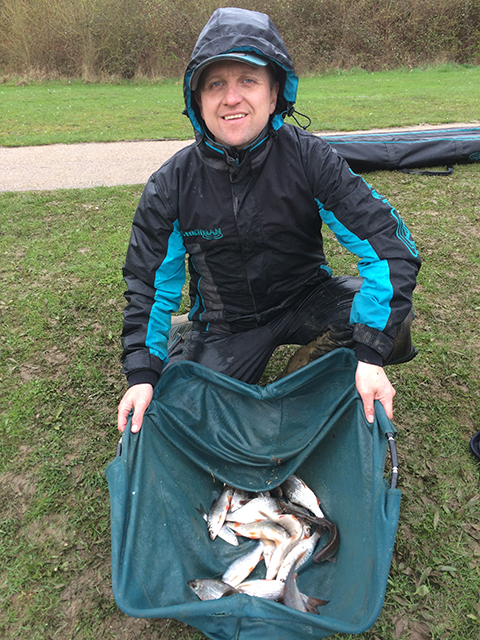 Attended by 45 anglers this big money festival is superbly organised and the format for the festival is simple, three sections of 15 rotating daily; an open draw on day one deciding your rotation. The overall results are on accumulative weight, but the super pool is run on points, keeping it interesting throughout. Having fished this last year with Drennan RAF teammate Mike Dalziel, I knew Furzton can be a strange place when its cold and long-range feeder tactics would probably be required.
Having also spoken to Phil Bardell before the match, I also knew it had been fishing rock hard and low weights would dominate. To that end, I deliberated whether to leave the pole at home. I'm glad I didn't, but more of that in a bit. Ultimately, I did initially opt for a feeder approach, setting up four feeder rods two Drennan Acolyte 12ft Plus rods for work at 40-50metres and two Dutch Masters 14ft 2in rods for long range work at 75-100m.
---
Day 1
It had poured down the night before and with the venue being in a 'bowl', it was evident a lot of very cold, dirty water had gone into the lake adding to the very long winter. The pre-match chat was that only 'C' section was predicted to catch any decent weights and the favoured rotation would, therefore, be "C-A-B" with initial predictions of those drawing "A-B-C" probably being out of it come Sunday.
So into the draw I went and you guessed it, I drew 'A' section. Not the best of starts! Speaking to Bud he did, however, mention I was on one of the better pegs in the section drawing Peg 6. Onto the bank, the danger men in my section were Joe Carrass and Dave Bagley, both drawing relatively well with Phil Bardell and Daniel Webb a little to my right.
Opting to only take feeder rods, I elected to fish two lines. The first at around 40 meters I used a conventional roach mix of Black Lake with maggot/pinkie. For the second line at 75 meters I went for a fishmeal mix of F1 Black and Black Lake but opted for traditional feeder methods with worm and caster. Starting on the short line using the Drennan Acolytes 12ft Plus (great soft rods for bream fishing but with a massive amount of backbone) the going was tough from the off. Nobody across the lake appeared to be catching. Two pegs to my left, Joe Carrass had elected to chuck the method to the horizon from the off and wait it out so I knew it would be tough.
Eventually, Joe Carass and Dave Bagley started catching and I knew I would need to go long if I had any chance of keeping up. Reaching for the Dutch Master I slowly started to get the odd indication at 75 meters. I finally hit into a reasonable fish only to have the braid snap halfway on a snag! Halfway through, it was evident the entire lake was fishing hard with only two pegs producing on the point in 'C' section and the bulk of 'A' and 'B' section really struggling. I therefore knew that just a few fish would matter and every bite would count. Gradually I started to catch a few small fish; roach and skimmers. With about two hours to go, I hit into a big bream on the worm and knew this fish would count. Feeling like an age to get it in from 75 meters, I was delighted to see it slide into the net and estimated it to be around 5lb; a real boost on a hard day.
By now Joe Carass was definitely ahead on the method but Dave Bagley was giving him a run for his money. Whilst Phil Bardell and Daniel Webb had caught a few, I felt I was in third and that's the way it remained. Paying the top three in each section daily, I was lucky to get my first 'pick up' with 2kg 740g, Dave Bagley finishing second on 3kg 240g and a master class in long-range feeder fishing by Joe Carass winning the section with 3kg 600kg.
Across the rest of the venue, it had been grim; Bud took 'C' section and the match with 6kg 550g of quality roach whilst James Place was 2nd with 4kg 570g. 'B' section was rock-hard with the likes of Brian Clark and Joe Roberts struggling for bites. The section was won by Dave Martin with one fish for 1kg 860g and unbelievably 760g was third. I ended the day in 7th overall soI knew it was time for a rethink.
---
Day 2
Unlike the Friday which had been cold, windy and overcast, Saturday was a scorcher with light winds and clear blue skies, not what we wanted on an already hard bream venue! With this in mind, I elected to get the pole out and try to plug away at a few roach, Drawing 'B8', an area that had only thrown up a few grams the day before, I knew this would be a gamble as it relied on me catching on the pole and the others struggling.
Within minutes, Joe Carass had landed his fist bream and I thought I had made a mistake. I had elected to fish my Acolyte at 14.5 meters using just 2 balls of Black Lake with worm juice and sprinkling a few pinkies over the top with a 4 x 18 float in 6-7ft of water. Gradually I started to catch a few dumpy roach, not a lot but at 2-4 oz each the weight started to build. Whilst Friday was hard, Saturday was much worse and apart from Joe Carass who was storming ahead, it was clear I was onto something. Whilst it was still a risk given just a single bream could wipe out my weight, I persevered and ended up with 15 fish for a credible 1kg 570g; a relative "mega" weight with 10 anglers in my section not breaking a kilo. It was also enough to secure a section 2nd and another pick up behind the unstoppable Joe Carass who comfortably won the match with 6kg 700g demonstrating his formidable talent. Drastically 'C' section had produced nine dry nets and only the pegs on the point produced fish, Simon Ellis had top weight with 3kg 680g with some lads unfortunately on their second blank! 'A' section was just as bad with Terry Davis winning with 2kg 430g and the likes of the ever consistent James Place weighing just 560g. Overall my gamble had paid off and going into the last day I was 5th overall with Joe Carass leading Michael Buchwalder in 2nd and James Place in 3rd but literally nothing separating the top 12 anglers. It would all come down to the last day!
---
Day 3
Going into the last day on 'C' section it was evident from the previous two days that you needed to draw pegs 1-5 to stand any realistic chance. Joe Carass was first to daw and disappointingly for him he drew the wrong end on peg 14. I drew peg 7 which had also blanked the previous 2 days – great! With the weather turning back to wind, rain and colder air, I once again set my stall out on the pole feeling if I could just plug away then I would probably end up in the top 5 frame. With the way it looked, Joe and Bud were just a little too far ahead, so I was realistically fishing for 3rd unless the bream did show- unlikely! With 5 section points I also knew I was close in the superpool. With an element of luck on his side, whilst Joe Carass was feeding his pole line he saw a carp stick its head out on the far bank margin, it did it again and Joe actually fell in trying to get up the bank to set up his big feeder rod. A few minutes later he was landing a 20lb Carp (Only counted as 3lb) but with a few more in succession and with Bud and James struggling, Joe had it sewn up. Geoff Valence had found a few Bream on the point in my section so again I knew I was fishing for a section and hopefully Festival 3rd . Luckily for me, my approach once again paid off and with most electing to go all out on the feeder, I caught roach steadily on the pole finishing with 2kg 100g. As expected this was enough for another section pick up finishing 3rd. I now just needed to see what had happened across the rest of the lake. Luckily for me, 'A and 'B' sections had once again fished hard with my main rival James Place weighing a hard-earned 170g. This left me in 3rd overall and with 8 points, 2nd in the superpool.
---
Overall, this had been a fantastic festival and I was thoroughly pleased with the way I had fished on my return to match fishing, particularly my decision-making process. It was, however, Joe Carass's weekend with an outstanding performance: 3 section and 2 match wins! Well done mate.
The Festival had also raised a generous £900 for charity. Whilst I now look forward to the Irish Classic in a few weeks, I once again thank Pete Patton and Bud for organising such a great event.
Overall Results
1st: J Carass – 17kg 100g (Match Fishing Magazine)
2nd: M Buchwalder – 9k 10g (Preston Innovations)
3rd: R Tomala 6kg 410g – (Drennan RAF)