Today is the glorious June 16th when Britain's rivers are finally open for coarse fishing once again. Martin Bowler has been patiently waiting to wet a line and lends some valuable advice for targeting a prized river specimen.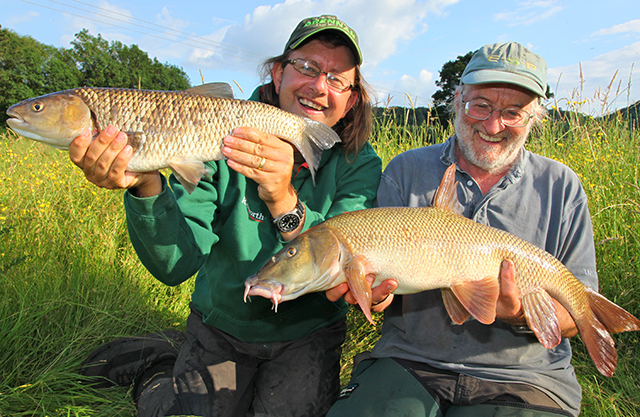 A river never sleeps nor does its fish and on the glorious 16th the fish are ravenous!
Standing in a set of chest waders my feet were firmly planted on the gravel bottom while the force of the flow tries its best to move me, but by leaning upstream slightly I could negate this pressure and get on with the reason I was here.
A rod with a bait dropper sat in one hand while the other delved deep into the bait pouch around my midriff, scooping out a handful of freshly cracked hemp and its nutty aroma suddenly overwhelming the scent of the countryside. Six payloads were dispatched onto the same bed I was standing on but a further 12 feet out in deeper, more powerful water that would simply wash me away. With the aid of polaroids I could however still see the bottom and within minutes four chainmail-clad chub arrived, with their grey contrast impossible to miss. Even if I did the gulping mouths would have given the game away.
For the next five minutes, these were my only guests until I was certain more shadows had begun to appear, their coloration making them difficult to spot against the stones. Staring a little harder and allowing my eyes to adjust it was like tuning an out of focus TV and I mouthed the word 'barbel'. Then, as if to give me confirmation, one turned side on and flashed its big white belly. A feeding orgy could now commence with puffs of silt heading downstream as the bottom was dug up in a bid to get every seed.
For me, the traditional opening day of the coarse season gives every angler a fresh start when any failures of the past are banished and it's time to believe that the next 12 months will be the best ever, where the float never sits still and the rod tip is regularly wrenched over. So don't worry if you had a miserable winter – the canvas is now clear and it's time to return, full of optimism.
Preparation prevents a poor performance and many angling success stories are decided in the garage long before a line is wetted. Catching fish is rarely luck, especially on a consistent level, so check your tackle and ensure lines are changed, so the 16th doesn't become a nightmare. With my initial focus on barbel, I use three breaking strains depending on the swim and river – 10lb, 12lb and 15lb. The latter may seem over gunned for a trip to the Avon, but not if your local river is the Trent. A good tip before re-spooling is to leave the monofilament in a bucket of water overnight as during this period the line will soften and load on the spool much better.
Whatever rig you select, make sure the hook is sharp. The current fad in carp fishing of using a mini vice and file to keep the point sharp at all times is well worth investing in. However once the metal skin, ie Teflon, has been broken the rusting process will commence but by running candle wax over it this is slowed considerably. These tiny attentions to detail probably wouldn't cost you a fish in isolation but add them all together and it's the reason why 5% of the anglers catch 90% of all the fish.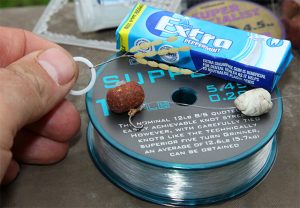 Regardless of the species, I target my rigs are never complicated and the same can certainly be said with barbel. The current mecca is the River Wye and here I have found the Method Feeder to be the best approach. Elsewhere when using pellets or boilies a simple bolt/hair rig will suffice in the first couple of weeks of the season but it's vital still on intimate venues to use a back lead to pin the taut mono to the bottom.
Stalking may also be possible on such venues if the river is running clear, allowing you to select the biggest fish and here a tactic showed to me by the late, great Terry Lampard is fantastic for chub or barbel. A simple paternoster is constructed using only just enough swan shot to hold station, the reason for this is you will be striking and this is impeded by a heavy-weight. The hooklength is long to minimise the chance of your target brushing the mainline and onto it, a couple of inches from the hook, is a float stop to which a piece of chewing gum is moulded. Being light in colour this acts as a visual indicator and when the fish sucks in the bait it will lift telling you to strike. If however a smaller specimen is responsible you simply ignore it and allow the rig to be spat out. The odds are now in your favour for the biggest fish and with little edges like this, it's little wonder that 'Lamps' caught so many!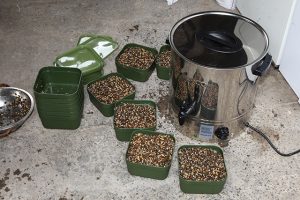 Good bait and correct selection are also crucial elements to a successful start and while maggots are a brilliant particle generally there are too many small fish present to make it a viable option. Hemp and caster, however, are a different option and hopefully the tackle shop will take care of the latter for you. Hemp will also be available but to save money I prefer to buy sacks from a seed merchant and prepare it myself. For this, a Burco hot water boiler is a great investment. I soak the seed overnight before heating it up and allowing to simmer for half an hour. Then I leave for another night before decanting the seeds into suitable containers and freezing if not required straight away. I also pour the liquor into bottles instead of wasting it which too can be frozen, using it when I want to make up groundbait rather than using just water. During the warmer months, barbel and chub love the high oil content afforded by pellets and fishmeal boilies and once again I buy in bulk to get a better deal. This, however, doesn't mean you should forsake quality and I only use the best as a rancid, out-of-date bait will ensure a blank.
All the best advice in the world is worthless if you don't locate your quarry and while generalising is a dangerous thing in angling I think it's fair to say the majority of fish at this stage of the season will be found in the more oxygenated water. Weir pools afford this as do faster shallow runs, so a walk of the stretch you intend to fish the day before is a worthy investment of your time. It's a simple jigsaw puzzle but the pieces still have to be put together, something that requires a little effort. I guarantee if you do the barbel and chub I spotted on my pre-season jaunts are ready and waiting for you!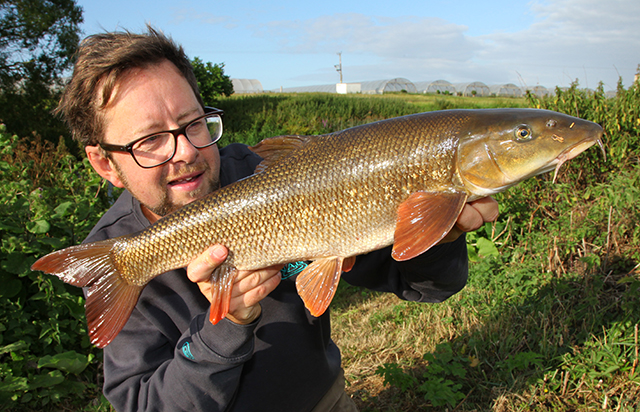 Top 5 Tips
Invest a little time walking the banks as guessing the swim after three months away is a risky business.
Catching fish is rarely luck – attention to details make a huge difference over a season.
If you want to save money buy hemp and pellets in 20kg quantities as it's far better than scrimping on the quality.
Summer barbel love fishmeal boilies and to increase their oil content I soak them directly in this liquid.
If you choose to try the Method Feeder cast every 15 minutes because once the groundbait is washed off the frame the tactic stops working.