A decisive switch to a Feederbomb lead to a string of quality tench for Ian Brooker, topped by this 8lb 7oz specimen.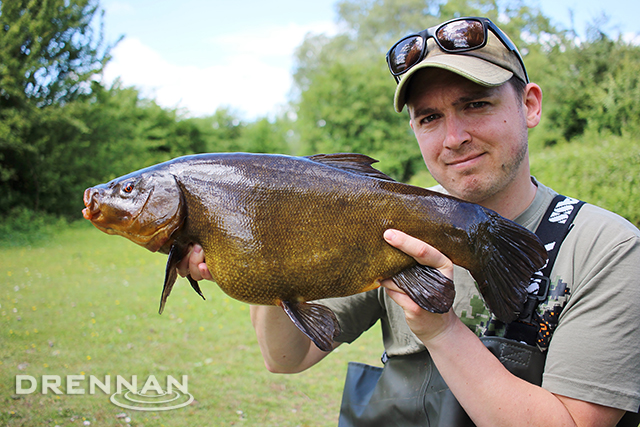 I have fished this particular gravel pit for a few seasons now, it's a lovely overgrown lake with crystal clear water, gravel bars, huge weedbeds and a good head of tench.
My normal tactic has been to Spomb out quite a large bed of mixed particles onto a gravel bar at around 65 yards and fish Flat Method Feeders over the top. For some reason the further out you fish on this venue, the more you seem to catch. However there is a balancing act, due to the range you risk losing more fish in the dense weed beds so you have to use strong tackle – 10lb ESP Syncro main line and 2lb Tench & Bream rods. I've tried a few other presentations but the Method Feeders have always taken some beating, they are incredibly efficient at hooking fish, don't tangle, cast well, give perfect presentation and don't seem to get stuck in the weed as much as other types of feeder.
This year has been very different though. The first two sessions were complete blanks. I then caught six nice tench on the feeder, but felt I really should have caught more. Then another blank followed despite what seemed like perfect conditions.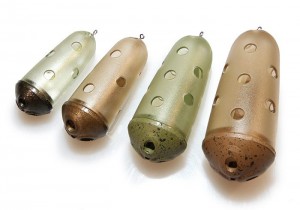 I decided to have one last go, but a change was needed. I decided to fish one rod on the Method and two with 45g Feederbombs fished helicopter style. I used a short 4in 10lb Supplex Fluorocarbon hooklength, size 12 Specialist Barbel hooks with a Pushstop to hold a couple of pieces of worm on the hair. I put out a bed of hemp, small pellets, dead maggots and casters at 50 yards, a little closer than normal due to the recent weed growth.
Despite a slow start I eventually ended up with over 10 tench, all on the Feederbomb and worm, while the Method rod remained motionless. The majority were over 7lb with the best fish weighing a very pleasing 8lb 7oz; my biggest from this pit. Not big by national standards but plenty big enough for me.