Stu Lennox had a nice surprise yesterday on the River Thames at Medley when a near-17lb carp put in an appearance. Here's how he caught it.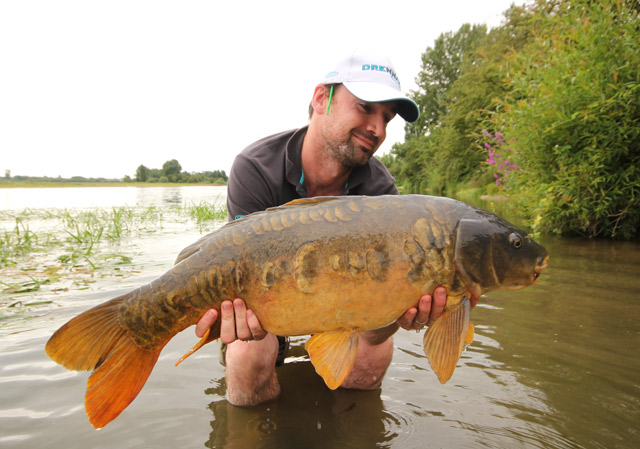 I was planning on a couple of days chub fishing in Suffolk but when those plans were cancelled at the last minute I had to find a short-notice replacement. Luckily Dean Barlow let me tag along with him for a couple of days on the Thames around Oxford.
The first day was hemp and tare fishing for roach at Appleford, which is something I have never done before. While I learned a lot and had a great days fishing, the specimen hunter in me was always hoping for that one bite that brought something special to the net.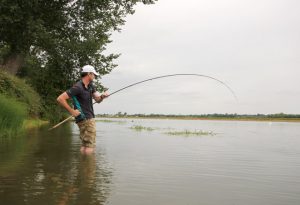 Therefore the following day when we arrived at Medley for some bream action I made sure the first thing I did was cast out a 'sleeper rod' aimed solely at catching a quality fish. I was mainly hoping for a large bream or possibly a rogue chub. Whatever happened I knew if I got a bite on that rod it would have to be from a decent fish!
I hair-rigged a couple of 10mm boilies to a size 8 hook. An ESP Curve-Shanx on this occasion, although I later swapped to a Cryogen Gripper as the beaked point offered more protection from the various snags and stones I would encounter.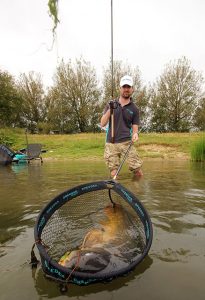 I wanted a pungent bait to leak off attraction downstream and attract fish from all round, so my baits had been steeping in a liquid tuna glug for several days and smelled ripe! I catapulted about 20 to 30 baits onto a clear area I found in the streamer weed, attached a mesh PVA bag of half a dozen baits, dunked the whole thing into the liquid tuna and made my first cast.
About an hour later the tip absolutely ripped round and the alarm started to shriek! I hit into the fish and it powered off upstream. I had absolutely no idea what I had hooked but my initial thoughts were a large chub or possibly even a barbel that had got lost.
The fight was frought as it moved from weed bed to weed bed, but when it finally rolled in front of me I could see a stunning big carp! My 18in Speedex net was just about big enough and it went in at the first time of asking.
At a few ounces under 17lb it really was a beautiful fish. I bet it had a few tales to tell of how it eventually found its way into this stretch of river.
Stu used a 12ft 1.25lb Series 7 Specialist Avon rod with 12lb ESP Syncro XT Loaded, 20lb Tungsten Loaded hooklink to a size 8 ESP Gripper or Curve-Shanx hook.