Alan Scotthorne reports on his recent success on the two-day Sensas festival in France: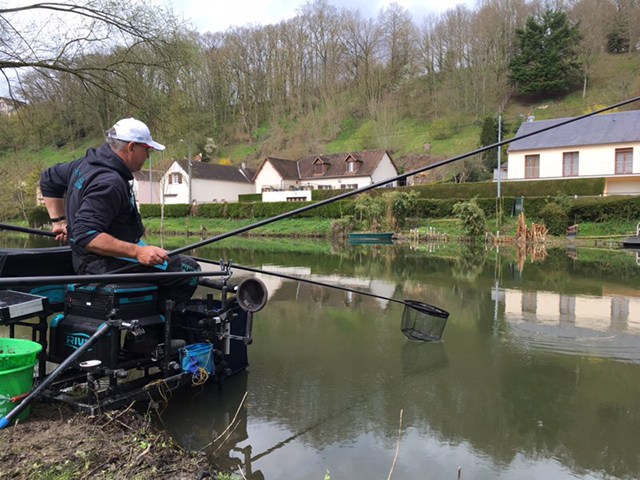 This is the fourth time I have visited Châteaudun for the Sensas festival and with one top four finish and one top ten, I was keen to improve on those results. With some good prizes on offer and eighty top anglers from France, Germany, Belgium and England attending I needed to be on top of my game.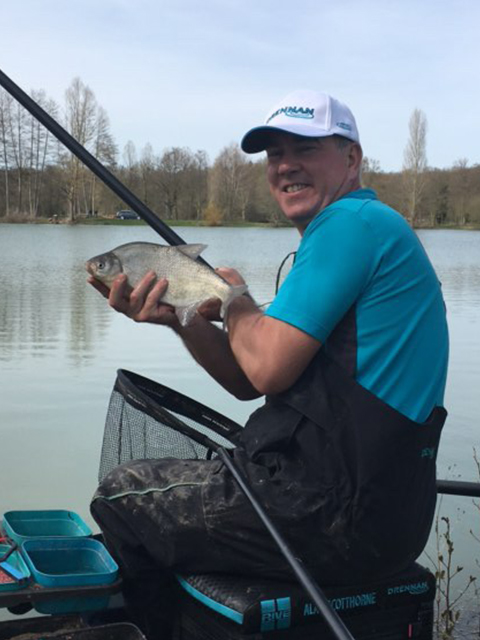 The match is split between the lakes at Châteaudun and River Loir close by, so on Friday, I decided to have a practice on the lakes where slider fishing would probably pay a part in the match. I managed to catch a few fish on both running line tactics and also on the pole that day and was surprised how well the lakes responded with the weather in France being the same as what we have been experiencing in England in the run-up to the match. With temperatures now fast approaching 20-degrees it was a real pleasure to fish in.
My first draw was to be on the river, and from recent reports that had also been fishing quite well during practice. I drew on the picturesque section at Montigny-le Gannelon, a section that almost reminded me of Evesham with a nice steady flow and colour that just looked right to catch plenty of fish. All the talk was that you would need to catch bream with static bait on a flat float to win most sections. After a chat with Sean Ashby who was further up the section, I decided on a more catch everything approach with running rigs that would be better with smaller skimmers and roach being present on this section in the past.
I chose to fish with 4g and 3g Sensas Edmund flat floats for presenting a still bait on the deck. For my running floats, I used floats from 1g up to 2g, 6rigs in total. My favourite floats for this type of fishing are the Drennan AS8's which have interchangeable bristles and carbon stems, ideal for fishing at the pace of the current and with nice size plastic bristles, perfect for bloodworm hook baits.
Groundbait also needed some consideration, so I mixed two bags of 3000 Sensas Canal Black and a bag of 3000 Gardon Fine Mouture and a separate mix of three litres of fine soil to a 2kg bag of Sensas Terre de Somme with a little grey leam added in to help it bind. From these two mixes, I made a 70/30 mix for the long pole line at 13-meters and also a line at just 6 sections of my Acolyte Pro pole with just the groundbait mix to target roach. On the long pole line, I threw six big balls with just 50ml of joker added and I cupped in ten of the mix with 150g of joker plus a few casters and dead maggots a couple of meters down so I could run over the baited area. I also cupped in six 250ml pots of just groundbait with 100ml of joker in it as a line to catch roach and also somewhere to go to rest the long pole line if I needed to during the match.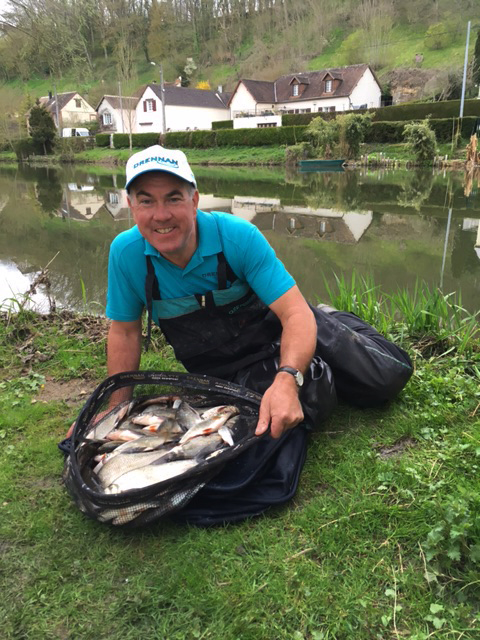 I started the match on a 1.5g AS8 with single bloodworm mounted on a size twenty barbless Silverfish Maggot hook. I started to catch roach from the off with the odd skimmer up to 10oz. I have been using these hooks for some time now and find that the bait is much livelier on the hook than when I use a barbed hook and I have the utmost confidence that I lose very few fish and defiantly get more bites with better bait presentation. I had a really enjoyable match catching a few fish short and swapping around the running floats on the long line and I caught steadily all day, topping up when bites slowed via a pot.
At end of the match, I had fed around 600g of joker and 400m of maggots and casters, catching a few fish on single maggot through the day. I hoped I had done enough to win the section, but next peg Kevin Lacaze had also caught well above me. When the scales arrived my 10kg 722g was just enough, with Kevin weighing a creditable 9kg 942g for second in the section. With a section win in the bag, I was really looking forward to the next day on the lakes.
The following day I drew on a lake called La Dunoise that which is known for its big head of catfish. It was also a lake that I had not fished before and was a little disappointed to draw the middle of the section on a peg that had been last the day before with just over 3kg. The end pegs had produced 13 and 15kg so it looked like I was up against it from the start. Once on the peg, I felt a little more confident as I was sat on a very slight point and fish were topping.
Having not had a lot of experience fishing for catfish, so I spoke to Sean and John Desque for a few pointers. I decided to fish at six sections for catfish and then a long pole line for skimmers. Groundbait was simply two bags of 3000 Sensas Fine Carp and one 3000 Gardons Fine Mouture which is a sticky mix to which I can add lots of bait to for the greedy catfish. For the long line, I fed just Sensas Double Leam and Joker in the hope of avoiding the cats and catching a few skimmers.
Rigs wise, I went very positive, with a 2g and 3g AS8 floats with a bulk and three No.8 shot blocked above a 150mm hook length of 0.12mm Supplex Fluorocarbon to size 14 Silverfish Maggot hook. For the long pole line, I set up again the same floats but in a 1g and 2g sizes for skimmers, again with the same hook, but in a size 20. With a good few fish topping, I also set up a shallow rig with a 0.03g SF2 float with a strung out shotting pattern in case I needed to fish shallow.
Starting short, I fed six balls by hand packed with joker casters maggots and chopped worms and fed just potted three of double leam and joker on the long skimmer line. With a 3g rig, I started to catch catfish steadily, around 3oz each on a section of worm and topping up with a small ball every cast by hand packed with bait. In the first hour, I caught around 30 and kept a similar pace for the next two hours. Sandra my wife was keeping an eye on the section and I was holding my own, but either end pegs where catching well.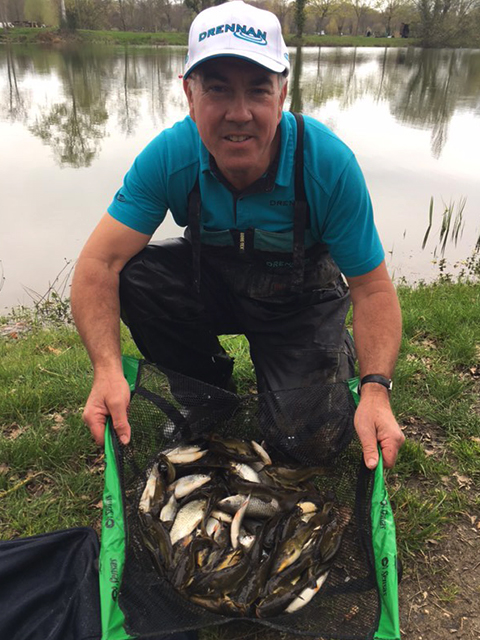 With 2 remaining I began to struggle, so I started to lose feed maggots. With one hour 30 minutes remaining I made the change to fish shallow. I started to catch rudd and a few roach fishing just over a meter deep in the three meters of water. Very quickly I was back on track, catching a fish every cast. I did keep throwing an odd softball of groundbait with jokers in to help to keep the fish up in the water. Single maggot was the best hook bait by far and by stepping up to a size 18 I could swing fish to hand with number 5 elastic to up the pace.
Again, I managed to nick a section with 10kg 875g. Overall, there were three anglers tied on two points with my weight advantage I was second overall and a podium finish.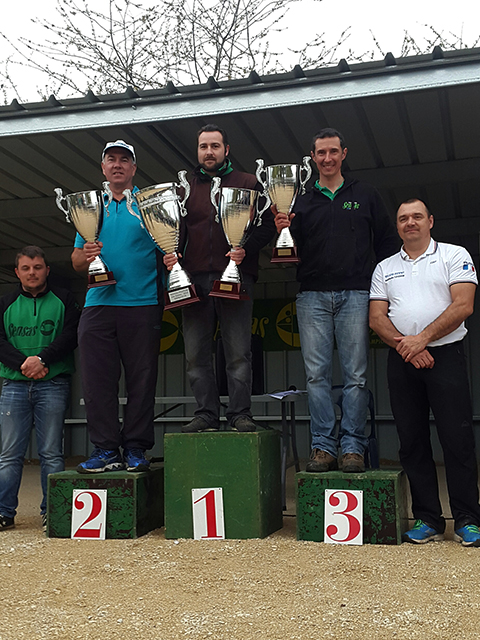 Congratulations to French angler Arnaud Dupin with a great 27kg catch on the river to take the title. Also, I would like to say well done to Sensas for running yet another great match on a venue that seems to improve year on year.