Congratulations to Steve Hemingray on winning the 2018 three day Drennan Silverfish Festival held at White Acres!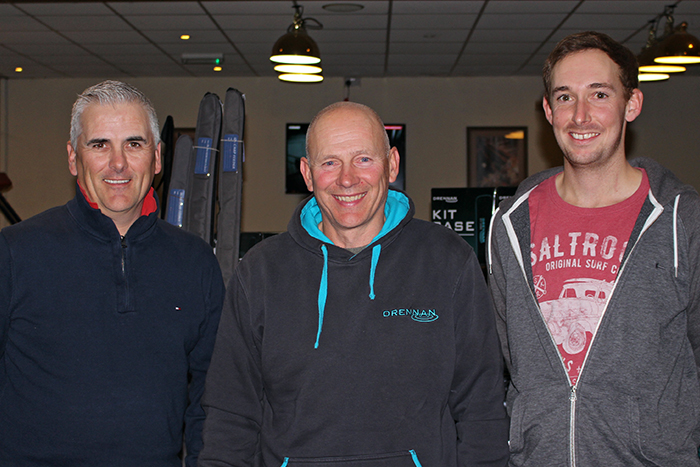 For the first time the event was run over three days. The Lakes used in this year's competition were Pollawyn, Sycamore, Jennys, Acorn, Canal, Trelawney and Twin Oaks. Over the three days anglers found themselves on different lakes each day, which tested their skills and adaptability.
This year the weather was incredibly mild for the time of year, but strong winds made presenting a bait challenging on a number of the lakes, which made the weights of fish being caught even more impressive.
The weights on many of the sections were incredibly tight, and on some sections only a single pound separated first and second in the section, which made for a nervous wait until the scales arrived.
Steve Hemingray who topped a very strong field, won his section on all three days and weighed in 134lb over the three days, which is brilliant fishing for the middle of November. Andy Power, who won the event last year, pushed Steve all the way and was the only other angler to win their section on all three days.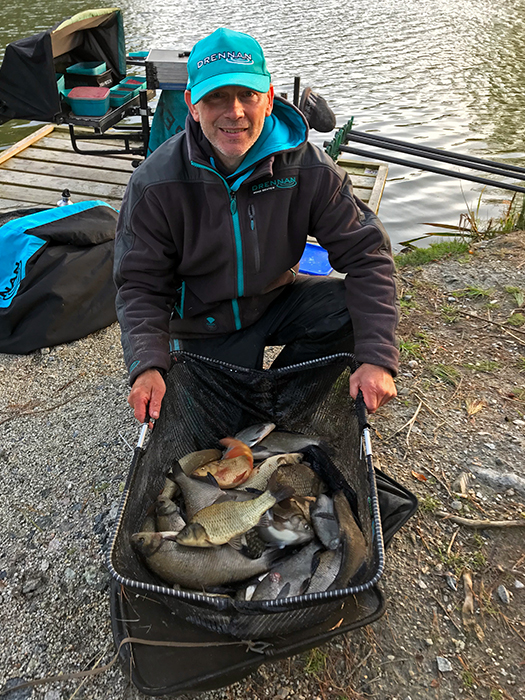 Steve got off to a great start on day one after winning his section on Trelawney from peg 26 with an impressive weight of 69lb 2oz. He fished three lines, two at 13m with groundbait and maggots where he caught skimmers and carrasio in the first two hours before moving down the edge for the remainder of the match catching skimmers and F1s.
On day two, Steve drew peg 29 on Pollawyn and fished a similar match fishing groundbait and maggots along with worms to catch 28lb 12oz of skimmers and F1s by rotating between his lines.
On his last day, Steve drew peg 4 on Acorn and continued his winning streak netting 37lb 2oz of skimmers, F1s and roach. Due to the wind, Steve chose to fish slightly shorter at 11m, 6mm and down the edge with groundbait, worms and maggots.
"For the whole of the festival, I exclusively used the new SF1 & 2 floats. They offer great stability with the nickel-titanium steel stems which help the float settle quicker, especially in the smaller sizes.
"For my skimmer rigs, I used 0.12mm Double Strength to a 0.8 Supplex Fluorocarbon hooklink and a size 20 Silverfish Maggot hook. The F1 rigs were very similar and also featured 0.12mm Double Strength, but with 0.10 hooklengths and a Silverfish Pellet hook."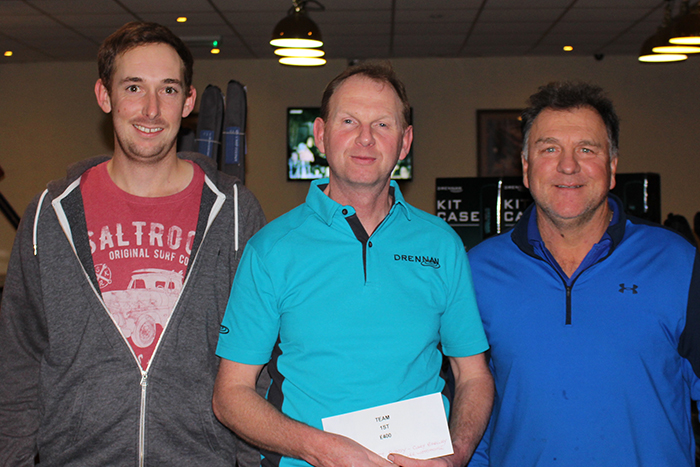 On the team front, Gary Barclay's team consisting of Scott Puddy, Lee Woodhouse and Andy Power scooped top spot with a combined total of 58 points.
On behalf of Drennan International, event organiser, Gary Barclay would like to thank all 84 anglers for supporting the event again this year.
A special thank you also goes to Clint Elliott and his team for all their help in ensuring the event ran smoothly, and for weighing in everyone so quickly over the three days.
---
Individual Overall Results
1st: Steve Hemingray – 18 points – 134lb 16oz
2nd: Andy Power – 18 points – 127lb 1oz
3rd: Steve Waters – 17 points – 114lb 6oz
4th: Steve Hutter – 17 points – 106lb 10oz
5th: Steve Winter – 16 points – 102lb 3oz
6th: John Harvey – 16 points – 98lb 9oz
7th: Paul Sanderson – 16 points – 96lb 1oz
8th: Gary Barclay – 16 points – 79lb 15oz
9th: John Weeden – 16 points- 78lb 8oz
10th: Alan Scotthorne – 15 points – 128lb 8oz
11th: Scott Russel – 15 points – 100lb 5oz
12th: Des Shipp – 15 points – 94lb 14oz
13th: Derek Hammond – 15 points – 77lb 2oz
14th: Andy Dare – 15 points – 76lb 10oz
15th: Simon Mottram – 14 points – 115lb 8oz
16th: Steve Harwood – 14 points – 96lb 1oz
17th: Tony Troth – 14 points – 80lb 5oz
18th: Dean Barlow – 14 points – 77lb 12oz
19th: Scott Puddy – 13 points – 110lb 15oz
20th: Tom Potter – 13 points – 101lb 8oz
21st: Andrew Crocker – 13 points – 93lb 12oz
22nd: Martin Howard – 13 points – 93lb 8oz
23rd: Grant Albutt – 13 points – 89lb 1oz
24th: Nick Jones – 13 points- 87lb 14oz
25th: Jon Arthur – 13 points – 87lb 10oz
26th: Rob Perkins – 13 points – 83lb 14oz
27th Neil Mallinson – 13 points – 882lb 3oz
28th: Peter Bowles – 13 points – 80lb 5oz
29th: Jake Fowles – 13 points – 78lb 4oz
30th: Troy Weaver – 13 points- 75lb 2oz
31st: Mark Bowerman – 13 points – 74lb 5oz
32nd: Darren Davies – 13 points – 73lb 2oz
33rd: Chris Vandervleit – 13 points – 70lb 2oz
34th: Mark Charnell – 13 points – 66lb 3oz
35th: Phil Speakman – 12 points – 104lb 7oz
36th: Nick Speed – 12 points – 97lb 9oz
37th: Mick Wilkinson – 12 points – 93lb 4oz
38th: Mark Harper – 12 points – 72lb 1oz
39th: Dan Varney – 11 points – 82lb 1oz
40th: Brad Titmas – 11 points – 78lb 1oz
41st: Dale Shepherd – 11 points – 75lb 9oz
42nd: Darren Scott – 11 points – 74lb 7oz
43rd: Ian Baker – 11 points – 72lb 12oz
44th: Colin Bartlett – 11 points – 65lb 11oz
45th: Ryan Gibson – 11 points – 63lb 11oz
46th: Lee Woodhouse – 11 points – 55lb 7oz
47th: Glenn Lawrence – 10 points – 75lb 6oz
48th: John Williams – 10 points – 69lb 4oz
49th: Mike O'Gorman – 10 points – 62lb 2oz
50th: John Shirley – 10 points – 60lb 15oz
51st: Matt Herbert – 10 points – 57lb 8oz
52nd: Arnolds Liakevacaus – 10 points – 57lb 7oz
53rd: Ian Young – 10 points – 56lb 7oz
54th: Charlie Vallender – 9 points – 88lb 2oz
55th: Ian Paulley – 9 points – 68lb 2oz
56th: Jof Rodgers – 9 points – 63lb 6oz
57th: Clint Elliot – 9 points – 62lb 4oz
58th: Billy Gault – 9 points – 57lb 12oz
59th: Sandra Scotthorne – 9 points – 55lb 6oz
60th: Maurice Prijs – 9 points – 51lb 15oz
61st: Andy Partridge – 9 ppoints – 51lb 3oz
62nd: Jim Lawrie – 9 points – 41lb 12oz
63rd: Stuart Harrop – 9 points – 39lb 15oz
64th: Tony Cassidy – 8 points – 59lb 15oz
65th: John Beesley – 8 points – 56lb 12oz
66th: Barry Carr – 8 points – 52lb 9oz
67th: Martin Rodgers – 8 ppoints – 49lb 13oz
68th: Roger Marlow – 8 points – 49lb 6oz
69th: Vince Brown – 8 points -47lb 4oz
70th: Sod Xeni – 8 points – 44lb 14oz
71st: Alex Dockerty – 8 points -39lb 15oz
72nd: Mathew Edwards – 7 points – 59lb 11oz
73rd: Joe Roberts – 7 points – 54lb 14oz
74th: Thomas Buzas – 7 points – 51lb 10oz
75th: Chris Harvey – 7 points – 38lb 3oz
76th: Graham Ault – 6 points – 76lb 2oz
77th: Paul Yates – 6 ppoints – 75lb 13oz
78th: Dave Burton – 6 points – 47lb 13oz
79th: Paul Glenfield – 6 points – 45lb 13oz
80th: Paul Hanlon – 6 points- 41lb 9oz
81st: Charlie Somerton – 6 points – 40lb 5oz
82nd: Pete Thomas – 5 points – 55lb 3oz
83rd: James Andrews – 5 points – 46lb 5oz
84th: Mark Garnet – 4 points – 19lb 7oz