Last weekend's sunshine saw the fish feed exceptionally well at Messingham Sands with several silverfish weights of over 100lb recorded!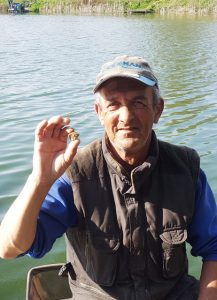 Steve Ellis is well known for raising a few eyebrows with his positive approach to match fishing and one look at the weather forecast for the weekend saw him mixing some paste up for the Drennan Silverfish League match on Tripp.
The Former Division 1 National Champion certainly doesn't lack confidence in using this approach for silverfish. Indeed, two years ago he had an amazing 199lb of skimmers in a match on the Swan Pond and proved its worth once again on Saturday. Drawn on peg 15 he fed micro pellets with paste on the hook for a 115lb catch of skimmers, F1s, crucians and ide to total 115lb!
Carl  Swetnam finished second by fishing maggots over groundbait for a real mixed bag of fish totalling 103lb from peg 13. The same method provided him with a win the following day from peg 3 on the same lake, this time with 124lb on a day when carp dominated the top places.
Most of the matches last week enjoyed good turnouts as conditions persuaded more of the warmer weather anglers on to the bank. Thursday saw 46 competitors line up on Islands Lake for the open match, which was won by Mick Crosby with 78lb of carp from peg 54.
The Easter Match fishing programme at Messingham Sands also looks to be well supported with plenty of people booked on to the Teams of Five event on Good Friday and the Bank Holiday Pairs on Monday.
Drennan Silverfish, Saturday, Tripp Lake
1 Steve Ellis, Scunthorpe 115-03
2 Carl Swetnam, Rotherham 103-11
3 Dave Mountford, Grimsby 84-08
4 Danny Taylor, Crowle 78-13
Tripp Winter League, Sunday
1 Carl Swetnam, Rotherham 124 -06
2 Andy Bryant, Grimsby 116-07
3 Steve Ellis, Scunthorpe 103-04
4 Gary Hansford, Grimsby 100-13
Saturday Open, Swan Pond
1 Simon Gale, Grimsby 69-05
2 Paul Turner, Rotherham 64-08
3 Keith McNee, Hull 60-01
4 Pete Riley, Scunthorpe 59-11
Sunday Open, Little Swan
1 Don Hudson, Scunthorpe 72-09
2 Dave Over, Grimsby 52-00
3 Simon Draton, Upton 47-12
4 Mike Smith, Grimsby 26-07
Tuesday Open, Islands Lake
1Tony Woods, Grimsby 86-01
2 Phil Lywood, Scotter 73-00
3 Les Waldron, Grimsby 62-15
4 Stewart Buckley, Scunthorpe 60-01
Wednesday Open, Swan Pond
1 Mark Lidgard, Brigg 120-14
2 Don Hudson, Scunthorpe 90-04
3 Gary Hansford, Grimsby 72-14
4 Wayne Thompson, Hull 71-09
Thursday Open, Islands Lake
1 Mick Crosby, Scunthorpe 78-06
2 Colin Batchelor, Scunthorpe 71-09
3 Les Waldron, Grimsby 65-10
4 Andy Loades, Grimsby 57-10
Friday Open, Tripp Lake
1 Ian Coatham, Scunthorpe 87-02
2  Andy Bowers, Grimsby 84-04
3 Jet Harris, Grimsby 68-11
4 Paul Hewitt, Scunthorpe 67-04