Drennan RAF's Baz Bright reports from the five-day festival in Ireland;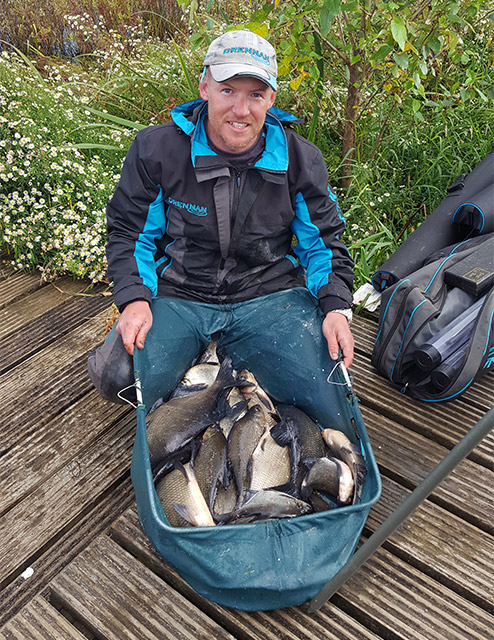 This friendly festival sees anglers from all over the UK and Europe come to compete. A 5-day festival with daily payouts for 1st-3rd in section, top 10 overall, and biggest fish/weight, there was certainly plenty to fish for.
The venues to be fished were the 'Pump House' and 'Rocks' sections of Loch Scur, Kiltybarden on Loch St John, Holy island on Loch Allen and the Mudflats on the river Shannon.
Day 1, Pumphouse, Loch Scur.
Pegs 1 to 3 in the 10 man section were rumoured to be the place to draw, so when number 8 stuck in my hand I wasn't too impressed. Having caught nothing on the pole in the first couple of hours (the same for pegs 5-10), I spent the day on the feeder catching small skimmers and a bonus 1kg 250g hybrid for 4kg 300g and 3rd in section. 8kg of pole caught fish on peg 3 won. Not a disaster, but I couldn't afford to drop many more points.
Day 2 Rocks, Loch Scur.
Again, pegs 1 to 4 were favoured, followed by 9 or 10 and you definitely did not want 5-8. So I was some what miffed to find myself on 8. Again, very little was caught on the pole in the middle numbers, so the middle pegs spent the day feeder fishing whilst the other pegs caught lots of small fish on the pole. Peg 3 won again with 7kg odd on the short pole. Pegs 1 and 9 both had 4kgs 500g on the long pole and my 3kg 200g was enough for 5th and hopefully my dropper for the week.
Day 3 Kiltybarden, Loch St John.
For a change, high numbers 8 to10 were favoured, as the early numbers were having lots of trouble with pike. Drawing peg 2, I decided on a pole and whip attack, as I hadn't really had much chance to fish it yet. What a mistake to make. I had 30+ decent fish taken, including hooklengths and of the 192 fish I managed to land, about 120 had been chased in by pike.
A passing photographer even got a video of a pike taking my float as I flicked it in on the whip. I have never known anything like it. I managed to put together 4kg 500g and 4th in the section. At this stage, any thoughts of a festival top 3 had gone. Favoured pegs 9 and 6 produced the goods with 9kg 200g and 6kg.
Day 4, The mudflats, river Shannon.
Pegs 1 and 2 were producing 13kg+ on the whip whilst pegs 9 and 10 were the favoured feeder pegs. I drew peg 7 and decided to keep things simple with one rod for 26 meters, one for 42 meters. A slow start saw me with 2 small roach in the net after one and a hlaf hours, whilst pegs 8 to10 were catching steadily on the feeder. However, a few tweaks and changes saw a few small bream and hybrids make an appearance, before a steady last hour where I added 7kgs to my net. My 18kgs ended up winning the section followed by 8kg and 7kg weights. This weight ended up being the top weight on the day for the festival and was
My 18kg ended up winning the section, followed by 8kg and 7kg weights. This weight ended up being the top weight on the day for the festival and was top individal weight for the entire week!
Day 5, Holy Island, Loch Alle.
On the final day I really needed a good draw and good points to end on a high. Holy Island was another peggy venue, where pegs 10 followed by 7, 6, 5 and 4 were favoured. I was not surprised then when I found myself on peg 1. A howling gale and 6inch waves made my mind up for me today. I choose to fish a feeder at 35m and follow them out, I caught steady all day, finishing at 50m and my 120 odd fish weighed 7kg. However, others managed to start at 20m and finish at 30m and I ended up 3rd in the section behind 7kg 600 and 7kg 900 weights.
This left me with 11 points with a 5 point dropper.  At the results that night I was shocked to find my 11pts was good enough for a joint 7th place, finishing 8th on weight. However, after the results, it appeared there was some point controversy; with a lad on 9pts not making the top 10. After counting and recounting, they slotted him into the top 10, giving him an extra payment so people behind him didn't have to give back their money, happy days.
So eventually, after a long week, a top 10 finish, section win, couple of thirds and top individual weight saw me at least return home with something in my wallet.