Simon Aldred's 11lb 11oz tench with a lovely photo to match!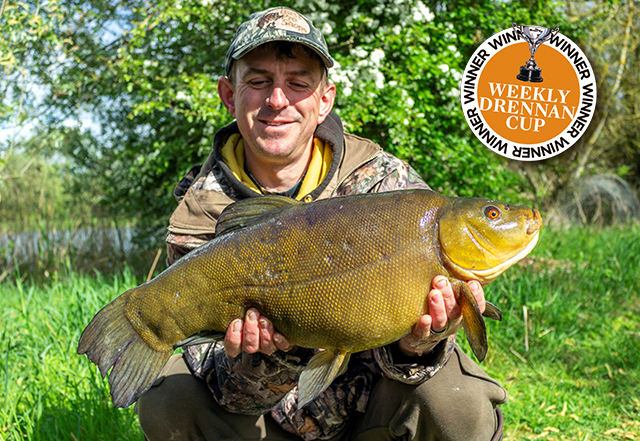 I had planned on being at the lake by 5.00 but as is all too usual now, work delayed my plans. I eventually arrived at 7.45 so the race was on!! Aware it was going to be dark very soon I hastily set up camp and got the rods in the water.  1 to my left margin and 2 out towards a silty area at the bottom of a gravel bar. I put 8 spombs of sticky baits krill boilly and pellet out over the pair by the bar sat back and enjoyed a beer as dark set in. At 2.30 the right hand rod was off. I climbed out of the bivvy to a cold wind picked up the rod and landed a 7lb 1oz which warmed me up a little. Back out went the rod and back into the warm bivvy. At 6.30 the left rod dropped back, I lifted the rod to nothing so rebaited and out it went. At 9.30 the left rod ripped off, the rod bent into the fish which seemed  heavy compared to the usual 6-7 lb fish in the lake. When the fish finally came into sight in the gin clear water I couldnt believe how big it looked. I slipped the net under her and put her on the scales. 11lb 11oz of pristine hard fighting Tench.
I called a couple of lads from round the lake to witness what had graced my net. A fish that a day before was just a dream!
On the second morning I also managed fish of 8.14 and 9.6.
Fish where caught on inline rigs with 15lb mantis and Korda wide gape hooks and Sticky Krill boillies and pellet.