Congratulations to Matt Herbert for winning the recent two-day silverfish festival at Royal Berkshire Fishery near Windsor.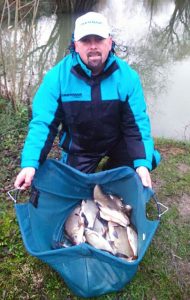 The in-form Drennan angler had a great start to the event after winning the match with 25lb 14oz of big roach and skimmers. He drew Peg 15 on Lake 3 and rotated several swims between 11 and 14.5 metres out. Caster proved to be the best bait on the day.
Strong winds and heavy rain made sport more difficult on Day Two but another lake-winning performance sealed the top prize. This time he drew Peg 9 on Lake 2 and caught best by fishing a metre short of the island with caster and red maggot for 19lb 10oz of quality skimmers. That gave him a perfect two section wins and a 45lb 8oz total.
Overall Result:
1st Matt Herbert (Drennan Oxford) 45lb 8oz
2nd Michael Buchwalder (Preston) 39lb 12oz
3rd Brett Cooper (Drennan Bordon) 36lb 14oz