After narrowly missing out on the first qualifying heat for the Preston Pole Fishing Pairs Final, Simon Willsmore and Darren Davies made no mistakes on the second qualifier.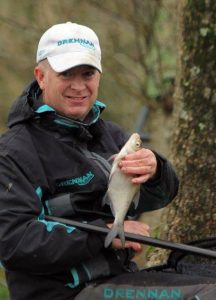 Here's Simon's account from their second match at Barston Lakes:
Last Saturday saw the the 2nd round of the Preston Pole Pairs competition. The 2016-17 competition is different to last year's league format. This year, three pairs qualify from each match in a series of qualifiers and go forward to a big money final at Woodland View in Droitwich.
Myself and fishing partner Darren Davies decided to book in for four matches; two at Barston Lakes and another two at local venue Gold Valley. We went pretty close in the first qualifier at Barston a couple of weeks ago, catching a 110lb combined weight, and were keen to try and do a bit better in the second round using the experience gained.
The first match saw us use chopped worm and groundbait as our main attack, but Darren found potting in live maggots long worked late on for some extra fish. So we decided on a two-pronged approach for this round, we would pot in maggots long at 14.5m from the start but initially Kinder pot groundbait and worms at 13m and start on that line. We also had half a kilo of joker in reserve to kickstart the peg late on.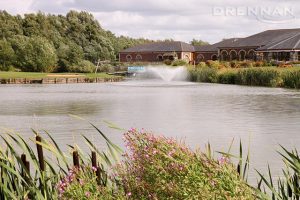 Both of us used Spotted Fin Sweet Superblend as it is really good for skimmers and we have both caught a lot of fish on it in the last year. With the weather going cold we added 30% brown crumb to tone it down and add some natural food value. All fish love brown crumb and especially skimmers, our target fish.
Our matches panned out slightly differently. Darren drew peg 114 on the road bank which is a decent area and I drew peg 43 on the river bank, also a good area. The weights had been bigger on the road bank in the first round and we had got a great peg on that side, so we knew we were in with a chance and very confident in our tactics.
I had a slow start to the day on my shorter 13m swim. Basically, I didn't have a bite! But when I went out to 14.5m after 45 minutes I started to catch an odd skimmer and bream. Although I wasn't catching many fish they were a good size with a handful on 2lb-plus fish coming to the maggots.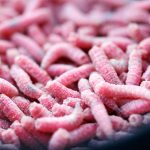 While I was plodding away on this longer line I tried to keep potting in small balls of groundbait and worms plus some additional joker with a view to coming back on this line later on. I could see Darren catching well and a mid-match phone call confirmed maggots were doing the business for him too.
My match at this midway point started to go a bit sideways as I couldn't catch from either line and my area of the lake seemed to be fishing very hard. I was very patient during this part of the match, trying not to force my peg but it wasn't working.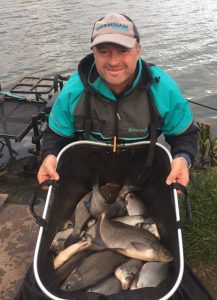 With an hour and 45 minutes remaining it was make or break time. I decided to pot in three big balls of groundbait with 200ml of joker in at 13m with a view to leaving it for 30 minutes to settle and look to catch some fish late on from this line. The last hour is often the best time on a lot of matches, especially difficult ones, so I set my peg up for a grand finale… and it worked!
A late run of good bream on bunches of bloodworm, including one right on the whistle, gave me a 28lb total. Combined with Darren's 38lb we were through, taking 3rd place on the day and a place in the Final. We both had the bonus of picking up our sections as well, so it was a happy van on the drive home.
For rigs, we both used Drennan AS6 pole floats. I used 0.14mm Supplex to a 15cm 0.10mm Double Strength hooklength and Kamasan B911 F1 in a size 16 to Preston No5 elastic. Darren used 0.12mm Supplex Fluorocarbon hooklength to a size 18 Silverfish Pellet and Aqua Bungee.

Post-match Conclusion:
Go with a solid plan, but always have a backup method of feeding. Feeding small amounts of bait initially gave the option of going positive later on. This is perhaps not the normal way to fish when using joker for skimmers, but it worked well on the day. I could possibly have fed a large bed of groundbait at the start containing joker, considering that's what I caught on at the end, but I am not so sure that would have worked. Either way, all's well that ends well!