Alan Scotthorne – Lindholme midweek Winter Feeder League
 I have just finished fishing the Lindholme feeder league run by feeder fishing guru Nick speed on a Tuesday. A competition that has slightly different rules to the normal feeder fishing matches that just allow all bait to be fed via a feeder. On this league you could fish a bomb or straight lead as I would call it and loose feed via a catapult. This adds another dimension and often as the water temperature drop bomb fishing definitly gets you a few extra bites when the fishing gets harder. We started the league with twenty-seven anglers, but you can also fish these matches as opens and so some weeks we had a few anglers join in for some great fishing. All the matches were fished on Loco lake, Beeches and Strip which all respond well to feeder work.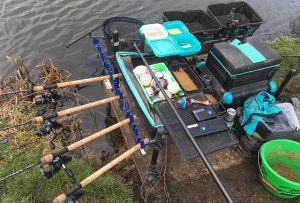 I managed to win this league reasonably comfortably catching 425lbs over the six matches that you needed to count. We did fish twelve in total but with just six counting it was possible to miss odd matches and still do very well. The target fish where carp and F1s and without boring you by talking through each of the matches that I caught a good weight on, I wanted to point out a few things that I learnt through the twelve matches. I must say I don't often fish feeder only matches, and I must admit I rely did enjoy getting myself up to speed on this type of match.
The first thing I needed to address was my rods and I normally use 10ft Acolyte Plus and Ultras for this type of short-range feeder work. I acquired a couple of shorter 9ft Acolyte Pluses and a 9ft Ultra for the bomb that I found much better for land the fish more quickly with them surfacing closer to the bank. I was also shocked how well the 9ft plus dealt with big carp and on one match on Loco lake I had a carp of 18lbs and one 16lbs that really put the rods to a good test. Fishing with light one-ounce tips in all the rods was a big advantage with good bite detection but also the liners didn't dislodge the method feeder when there were lots of fish present in the swim.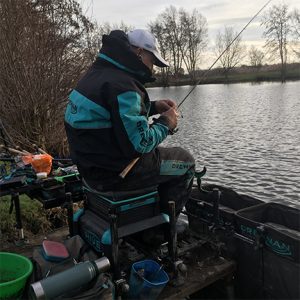 I use 4000 bait runners for all my feeder work and loaded these with the new Drennan Specimen Camo XT line in 5lbs 0.20mm diameter. This I was definitely impressed with, it sinks extremely well and is very durable even casting up to 50 meters I felt it was never going to let me down. If you are looking for a good feeder line give this a try.
  I have never used the distance measuring sticks, this I felt I needed to get into so I acquired a set and after this league I will never be without them again. They had several advantages. On Loco the best starting distance was 40meters and each time I sticked up and clipped up to this distance as starting point with the method feeder. Of course, if you hooked a big carp and had to off clip it was easy just to stick back up to the 40meter mark again. The other advantages I found was fishing to the sunken island on Loco that is set 50 meter from one bank and 52 meters from the other opposite side . a great reference if I draw these pegs again. On Beeches lake I drew peg 7 twice and knew that the best distance for the method feeder was 30m past this the lake bed is weedy and snaggy. All these are good findings for other matches if I draw these pegs again. All these points add up to the measuring sticks being a great advantage.
For method feeders I used a selection through the course of the matches starting with a conventional method feeder with Groundbait, pellet combination and the last few matches switching to a small Hybrid type feeder with pellets. Hooks I felt were mega important and I started off with size 18 Drennan hair riggers but as the fishing got harder, I swapped to Drennan Silverfish hair riggers. The later I found just fantastic. Fine and very strong and easily capable of landing big double figure carp these were a real gem of a hook coupled with the 9ft Acolyte feeder rods were just brilliant. They are super sharp and in one match I caught 100 small F1s for 83lbs to win on the day and I think I only pulled out of three all match.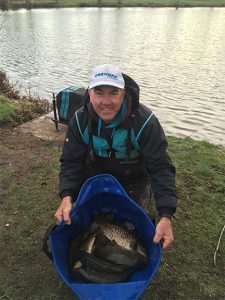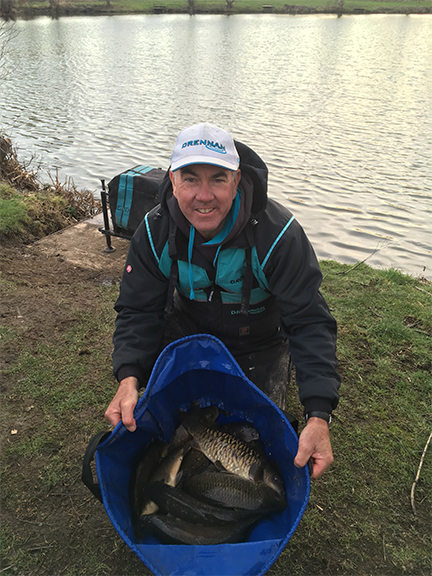 When feeder fishing, I have always preferred to back wind the reel when playing carp and F1s and this was a big change for the better, I think. I started to use the clutch on the reels and kept the anti reverse on all through the match. What I have found is that nearly every F1 you hook makes a very fast run as they come to the landing net. Using the clutch took the stress out of playing them. What I found best was to just to set the clutch, so it only worked when the fish went on this close run. If you had the clutch set so it ticked off on the retrieve this can produce unwanted line spin. I monitor the clutch making regular adjustments to avoid this. I cannot think I got broken off on any fish I was playing in all 12 matches and this was all due to playing them better with the clutch settings.
Hook lengths I kept simple 0.12mm Drennan Supplex Fluorocarbon for bomb work and 0.13 and 0.15mm for carp and F1s on the method feeder. I am that confident in this line I don't use anything else now for carp fishing on both feeder and pole. Hook bait varied from Dumbbells, Wafters and soft pellets that I found best for the smaller F1s.
  Through the league I had a couple of match wins and three seconds and I think everybody enjoyed some great fishing. I would book on early for this match next winter as I can only see it growing in numbers and thanks must to go out to Nick and owner Aron for putting on some great matches and Shimano for sponsoring the event.