Congratulations to Alan Scotthorne for winning the Evesham Festival Wychavon Championship… again!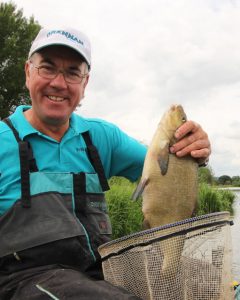 Alan drew peg 46 on the famous White House Bend and caught bream and skimmers on the pole with bloodworm and pinkies over groundbait. This was in fact the same peg on the River Avon where he won from back in 2012. Conditions were also very similar, with extra rain giving some much needed colour and pace to the river.
It was good to see two more Drennan anglers in the main frame in the shape of Wayne Swinscoe and Darren Davies. Wayne was two pegs away from Alan and caught a mixture of roach and good skimmers for 14lb 7oz. Darren had a quality net of roach boosted by a bonus bream from peg 25.
The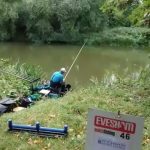 previous day was the Hobgoblin Individual Championship and once again Alan Scotthorne was on the winner's podium. On a much clearer and more difficult river, his 7lb  12oz was enough for 3rd overall. Fellow Drennan Team England squad member Callum Dicks won the match from end peg 73 with 10lb 12oz.
Bank Holiday Monday saw 14 teams of five competing for the Match Fishing Team Championship and it was Daiwa Dorking who stole the show off a highly fancied draw with a runaway 61 points. Drennan Barnsley Blacks were 2nd on weight over Matrix Image with 43 points. Drennan Oxford were just a single point behind and finished in equal 4th spot on weight with Matrix Trentmen.
Wychavon Individual Championship: 

1st Alan Scotthorne (Drennan, Sensas) 17-3-0 (peg 46)

2nd Leigh Gardener (Shakespeare) 15-8-0 (peg 1)

3rd Wayne Swinscoe (Drennan, Bait-Tech) 14-7-0 (peg 44)

4th William Raison (Daiwa, Old Ghost) 12-0-0 (peg 3)


5th Darren Davies (Drennan) 11-14-0 (peg 24)
Hobgoblin Individual Championship:
1st Callum Dicks (Maver) 10-12-0 (peg 73)
2nd Rob Wootton (Shimano, Dynamite) 8-6-0 (peg 35)
3rd Alan Scotthorne (Drennan, Sensas) 7-12-0 (peg 50)
4th Matt Derry (Sensas) 7-0-0 (peg 2)
5th Bill Blowing (Gloucester) 6-10-0 (peg 1)
Match Fishing Team Championship:
1st Daiwa Dorking 61pts (26lb 9oz)
2nd Drennan Barnsley Blacks 43pts (20lb 9oz)
3rd Matrix Image 43pts (16lb 8oz)
=4th Matrix Dynamite Trentmen 42pts (16lb 10oz)
=4th Drennan Oxford 42pts (16lb 10oz)