Saturday saw a complete change in the weather conditions after last weeks arctic blast and for the first time this year, it actually felt like Spring.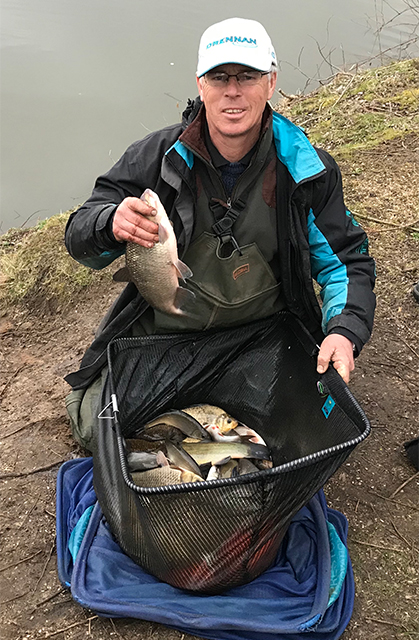 The rise in water temperature saw fish feeding confidently all around the Islands Lake and the lowest weight recorded was over 20lb with an average of 36lb per angler.
The winner, Kevin, drew peg 8 and fished 4mm expander pellets on both pole and waggler for a real mixed bag of fish. His winning catch consisted of skimmers, ide, roach, crucians, F1s, tench, goldfish and a few good-sized roach/ bream hybrids made for a really interesting days fishing and provided a comfortable 12lb margin over the ever consistent Dennis Pattinson who came second with 57lb 11oz.
Dennis fed an astonishing 8 pints of maggots to catch mainly roach, skimmers and ide on the pole from peg 27 and he felt that there were enough fish in his peg to have fed even heavier.
Third-placed Pete Riley got off to a  flying start on peg 10, catching skimmers from 6oz to 3lbs on 6mm expander pellets from the off and he looked like being a runaway winner until his catch rate slowed down in the last couple of hours, finishing the day on 50lb 8oz.
1st: Kevin Johnson (Messingham) – 69lb
2nd: Dennis Pattinson (Grimsby) – 57lb 11oz
3rd: Pete Riley (Scunthorpe) – 50lb 8oz
4th: Alan Gregory (Scunthorpe) – 48lb 13oz