Simple waggler tactics have accounted for one of the biggest hauls of rudd ever recorded by an angler in the UK.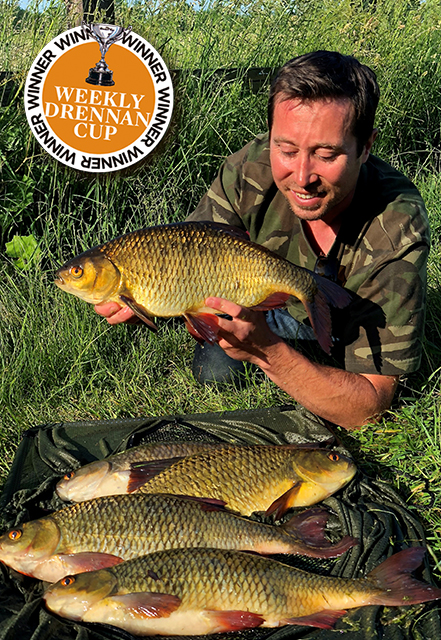 The five specimen silverfish totalled nearly 16lb in weight and were banked by Airfield Lakes Fishery owner Richard Wilby from a private five-acre irrigation reservoir in Cambridgeshire.
Richard's impressive catch boasted rudd of 2lb 15oz, 3lb 1oz, 3lb 2oz, 3lb 4oz and 3lb 6oz – and all fell to sweetcorn hookbaits fished just feet from the bank.
Angling Times spoke to the former UKCarp deputy editor about his achievement and how he came to fish the water for its specimen rudd.
He said: "The lake is crystal clear and has a very low stock of carp and a handful of big rudd, but when an angling friend of mine told me that a couple of these were caught by mistake by the carp boys, that really got my attention.
"After a few phone calls and favours I was lucky to get invited to come down and fish it.
"I did several laps of the lake and couldn't find any rudd – I knew it was low stock, but it felt like a big task to see a fish let alone catch one."
Richard's luck soon swung in his favour however when the arrival of a northerly breeze saw a single rudd break the surface, and over the course of the next hour ten more rudd proceeded to reveal themselves.
"The surface water was blue with a massive mayfly hatch and the handful of big rudd in the lake were like trout taking them," Richard added.
"I started to spray corn as far as I could catapult them in the breeze and put on a loaded Drennan waggler to try and reach them.
"The first bite soon came, the rod doubled over but i lost the fish in the thick marginal weed.  "I felt sick, as I knew it was a clonker.
"But just like that everything went to plan and the rudd then came in very close.
"I could see them and I patiently fed maggots and corn to get them feeding confidently.
"In the next hour I banked five huge rudd, all of which were the fish that I could see in the water – perhaps the lake's whole stock!
"I went to the lake hoping for my first 3lb rudd and ended up with a session of a life time.
"The fish were immaculate and huge, and to see one of my favourite species in that size and condition was a real buzz.
"I must thank Dale, Dave and James for their help in getting me to fish this incredible lake."