Simon 'Busta' Aston had a trip to remember at Linear Fisheries after banking 36 tench to over 9lb. Here's his account of a red-letter session.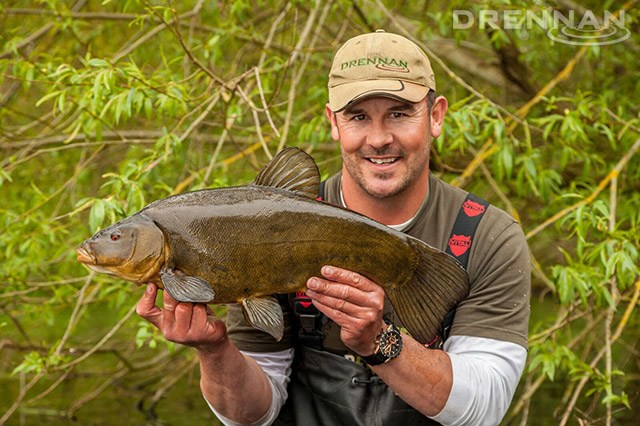 After a session or two catching a few bream I thought timing and weather was perfect to embark on my first tench session of the season and there's no finer place to start than the country's leading day ticket complex, Linear Fisheries in Oxford.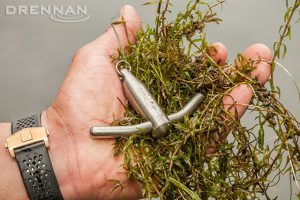 After the five-hour trek down the motorway I was soon admiring the lakes in their full spring bloom. I couldn't believe the difference between my Durham home and Oxford in terms of how much growth the trees had on them. Even the irises were starting to flower! A quick lap round Manor Lake to find some likely looking swims followed before settling into a lovely looking spot not too far from the car park.
The afternoon sun beamed down onto the water, revealing two cracking bars; one at about 40 yards from the bank and the other about 70. They were clearly visible from a Google Earth image I already had on my phone. I chose the closer of the two bars for the simple reason it would be far more comfortable achieving the distance when the forecast winds picked up the following day. Literally the first cast with my marker rod setup and my spot for the weekend was located!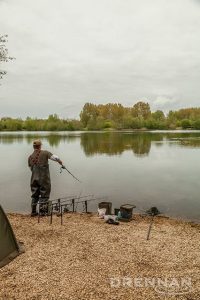 With the bar consisting of fine clean gravel and of ample size to place three well presented rigs, I was confident of some action. Tactics were standard bolt-rigged 70g flat maggot feeders with a short 4 or 5 inch hooklink of 10lb ESP Soft Ghost and a size 10 Drennan Boilie hook for my worm rig. The other rig was identical, apart from I'd be using three fake maggots on it. This medium-gauged hook pattern gives maximum hooking potential due to its offset eye and curved barb. Not only do you connect with almost every bite, the hook also stays sharp far longer than any hook I've ever used when fishing over a gravel bottom.
For baiting up I changed my approach from previous trips to Linear due to the ban on spodding maggots and casters. The rules now state these can only be used via a feeder. My plan was to deliver a couple of pints of mixed micro pellets and fresh hemp along the bar to hopefully attract a few tench at first light. The pellets were Sonubaits Krill, Bloodworm, F1, Code Red and my new all-round favourite from their range 24/7. The above were all mixed together and flavoured in the sweet smelling 24/7 oil four days prior to my session.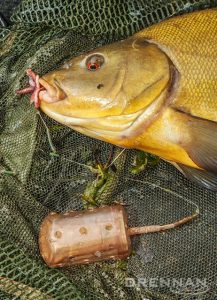 Once the particles were liberally spread parallel  across the bar and left to simmer all three  rigs were clipped up and marked precisely on the money. All that was left to do was erect camp and set the traps…
Two of the three feeder setups were hair-rigged worms and the other was fake maggots. All three were  filled with chopped dendrabaenas and flavoured red maggots. Apart from the odd carp crashing out no bites came that evening, despite recasting every 20 minutes or so. It wasn't until dawn the following morning that the little red-eyed green monsters would play ball – and boy did they do just that!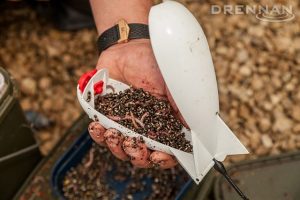 An absolute screaming savage take followed immediately after my first recast at first light. In fact I'd not even clipped on the bobbin before the line tightened in my fingers and whizzed off the clutch. No need to strike then, Busta! The carbon from my 12ft Distance Tench & Bream rods buckled over and the first of many tench was hooked and subdued in under five minutes. After a spirited little scrap I was soon cradling a lovely looking male tench weighing around 5lb.
Before I'd even rebaited, the right hand maggot rig was away! It was at this point I knew it was going to be a classic spring tench session and one that doesn't come around very often.
Judging by the way this fellow was plodding around in open water I knew it was of different calibre to the first. A series of lunges in a bid to reach a nearby bed of Canadian pond weed had me twitching a little bit, but steady pressure and patience soon had her under control and into the waiting landing net.
What a lump she was. At 8lb 10oz, a classic Oxfordshire tinca was soon posing with its proud captor before been quickly released. The sun was only just starting to rise above the horizon and I'd already had a lovely brace. I couldn't have been happier!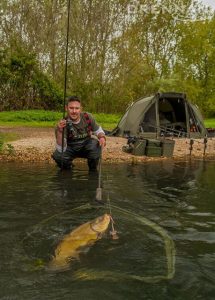 After another six or seven smaller samples, sport dwindled as the morning sun lit up the sky. It was time to introduce another two pints of particles and let the swim settle while breakfast and a well-earned brew were made.
The wind had now picked up and began blowing steadily into my bank. This change soon had a good number of tench rolling right over my baited area. One by one, the rods were rebaited and cast back to the fizzing hotspot. I'd not even had chance to finish my cuppa and both rods baited with fresh worms were simultaneously in action. My heart was racing at this point but I kept my composure and landed a stunning brace of 8s.
The rest of the morning and early afternoon carried on in similar fashion; casting, catching and rebaiting with more pellet and hemp.
At 6pm that evening the wind died down and the lake went totally flat. I could now clearly make out the tiny fizzing bubbles that are synonymous with feeding tench. I was praying that sport would continue and one of the lake's proper uns would drop its guard. Sat patiently, I watched on as fish started to roll constantly but apart from the odd liner no bites developed.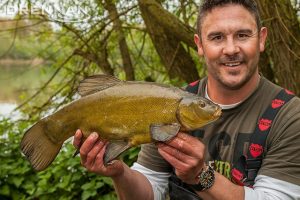 Another 20 worms were finely chopped up and Spombed out using a midi Spomb to reduce the  disturbance. This little tactical change triggered their responses as no sooner had I recast one of the worm rigs I was into a very powerful fish indeed!
My initial thoughts was it being a 'mud pig' as the unseen beast rolled as soon as I set the hook. Then the fish powered right through my left hand rod and into the adjacent swim. All I could do was hope the hook would hold and the fish would stay attached. Epic side strain was applied to steer the fish from imminent disaster, but the fish had other ideas, weeding me solid.
Donning my waders I went into the margins in a bid to gain a better angle to free my prize. With the rod compressed to its limit for a good few minutes, she finally nodded and the fish became unstuck. The carnage of tangled rods and snagged fish were soon forgotten as a monster tench reluctantly swam head first into the net. "Get in there you belter!"
Once on the mat I could get a bird's eye view of just how big she actually was. The sling was hooked up to the scales and zeroed and a weight of 9lb 5oz was confirmed. I could of cracked open a bottle of Bollinger and celebrated the amazing capture right there!
What an amazing trip it was to be. By the end of my session my total tally of tench reached 36. Of those, 11 were 8lb+ and 13 were 7s. A red-letter tench session to remember for years to come.
I'd just like to thank the team at Linear Fisheries for a truly memorable trip that won't be forgotten in a long time.