Ryan Hayden caught this lovely female tench at the weekend after preparing the swim for over an hour prior to fishing.
The keen specialist angler revisited a small gravel pit at the weekend to fish for tench and was greeted with masses of weed covering the majority of the lake.
He selected a swim on the far side of the venue with the wind blowing directly into it. The weed here was not as bad, the tree-lined bank kept this area in shade for most of the morning and as a result, the weed was not as prolific.
"I had a good lead around the swim to locate any clear areas, but after 15 minutes all I could find was a small area which was not quite as weedy. I decided to rake this area of less dense weed and create my own clear spot to present my rigs effectively.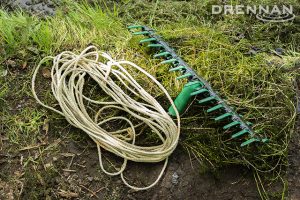 "Many anglers see raking as a huge disturbance that spooks all the fish in the vicinity. This might be the case in some situations, but I have found that raking a swim will actually attract fish and not just tench. Tench are naturally inquisitive and they will return and investigate to gorge on the vast amount of natural bait turned up during raking.
"Raking is also key for presentation when tench fishing, especially if you are fishing with relatively small hooks and baits such as maggots. Clearing the bottom allows you to present your rig with confidence, knowing that your hookbait will not be masked or caught up in any weed or debris.
"After raking a swim I like to introduce a reasonable amount of hemp, dead maggots and casters, before casting my rigs carefully over the top. Bites can come almost instantly after raking, but on this particular day it was nearly noon before a 6lb 15oz tench picked up my hookbait."
Rigwise, Ryan used a simple helicopter rig presented on 12lb main line using two Grippa Stops to hold a short 10lb Supplex Fluorocarbon hooklength with a size 12 Super Specialist Barbel hook and Pushstop to which he pushed through a single worm. Because of the heavy weed he opted to fish with MK2 2lb Specialist Distance Tench & Bream rods for the extra fish playing power they offered.