Drennan Bordon's Dave Lewis topped last weekend's Avon Valley Winter League practice on the Basingstoke Canal with the help of some sizeable  perch.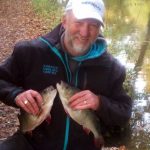 Leaves were a hindrance for the 53 anglers, pegged from Glen Road to Barley Mow, but there were still plenty of fish to be caught.
'Welsh Wizard' Dave was pegged at Chequers and caught 10lb of roach plus four big perch to 2lb 8oz on worm and a 19lb 4oz total. His Bordon team mate Peter Kay (pictured) was third with 11lb 15oz, again boosted by four big perch.