This multi-purpose 12ft Specialist Avon Quiver rod is a great all rounder with a 1 1/4lb test curve and two entirely separate top joint systems.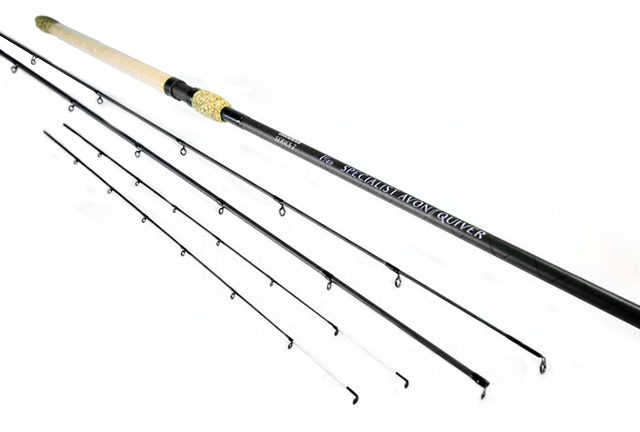 This slightly softer-actioned 1 1/4lb test curve design is the lightest of the three 12ft models. The rod is supplied with a choice of two top joints; a classic Avon style top and a quiver top, meaning the rod can be used for a wide range of methods. Slow taper 2oz glass and a 3oz glass Feeder Tips are supplied, both with night sight white painted tips for good visibility, even in low light. Additional softer Feeder Tips from the range can also be purchased.
With its standard Avon section fitted it is ideal for feeder work for large roach and rudd or fishing small live baits or lobworms for quality perch, yet still, has enough power to tackle hard-fighting tench or chub.
With the Quiver top joint in place, it works extremely well on rivers with feeders and bombs when improved bite detection is required. At 1 1/4lb and with a nice, progressive, through action, it is light and delicate enough to show bites and is not over-gunned when playing finicky fish such as quality roach, even on small hooks and relatively light lines. At the same time, it does have just enough backbone so you can lean into fish and remain in control.
The rod is fitted with a full cork handle, screw-down reel seat and full SiC line guides. It is recommended for use with main lines of 4lb to 8lb and with casting weights up to a maximum of 2.5oz.
Two equal length sections allow the rod to be made-up and stored in a rod sleeve ready for the next session.
Features:
12ft (3.66m) Length
1 1/4lb test curve
High modulus carbon blank
Avon top section
Quiver top section
Supplied with glass Night Sight Feeder Tips of 2oz and 3oz
Full cork handle
Screw down reel seat
SiC line guides
Ideal with reel lines of 4lb to 8lb
Recommended casting weights up to 2.5oz