The Series 7 Puddle Chucker 12ft Competition Feeder is a beautifully balanced model that will allow you to fish for anything from roach and bream to chub, barbel and carp.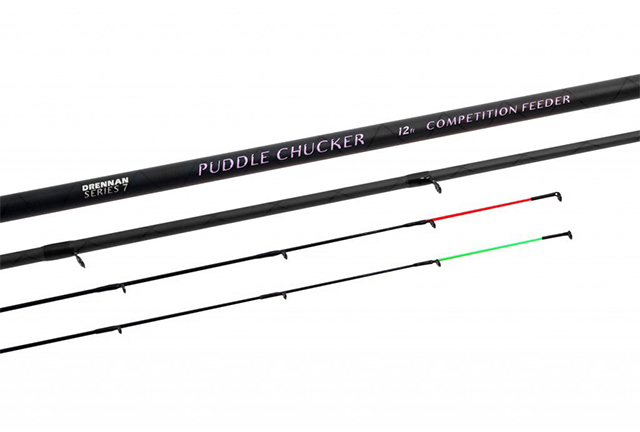 This rod is very similar to the 12ft Puddle Chucker Carp Feeder but has a softer, even more through action. 12ft is the optimal length for really versatile feeder rods and for a powerful feeder rod the blank feels extremely light and well-balanced.
Accurate, long-distance casting of big feeders and Method feeders is no problem, yet the fish playing action remains soft and forgiving. This helps to subdue large, hard-fighting fish and reduces the incidence of hook pulls, particularly on a short line around the net. When playing big fish, the rod adopts a lovely progressive curve which acts as the perfect shock absorber.
Ideal reel lines from 3lb to 6lb. It comes supplied with interchangeable 2oz and 3oz slow taper glass Feeder tips. Casting weights are anything from lightweight bombs to big feeders.