The 15ft Drennan MatchPro Ultralight is ideal for deeper swims, fishing at range and targeting silverfish of all sizes.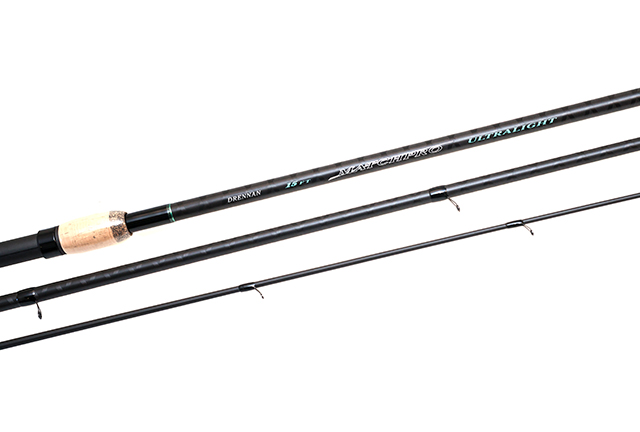 At 15ft (4.57m) this ultra high modulus carbon blank has a Fuji reel seat and full SiC guides, is remarkably well balanced and exceptionally light for such a long rod.
The extra length provides much-improved line and float control at distance. This allows you to keep more line off the water, to control a float better web trotting at long range and to pick up line more effectively on the strike.
Although the extra length makes the blank a little more mellow than the 13ft and 14ft Ultralights, it retains a high level of rigidity ad a good, fast action.
The cushion tip allows hooklengths down to below 2lb (0.10mm) to be used and there is also enough power to fish 4lb (0.15mm) line straight through.
The 14ft MatchPro Ultralight is so light and well balanced that even when working a float on fast water it can be fished for long periods without fatigue.
Recognised as some of the best and highest quality float rods available, Drennan MatchPro Ultralights are available in 11ft, 12ft, 13ft, 14ft and 15ft lengths.
Features:
15ft (4.57m)
Versatile match-style float rod
Offers optimum float control in deeper swims
Recommended reel lines from 3lb to 4lb
Hooklengths from 1.5lb (0.09mm) to 4lb (0.15mm)
Crisp and responsive
Light and well balanced
High rigidity with a fast tip action
Fuji reel seat
SiC guides
Super high modulus carbon
Three-piece construction