Originally designed for commercial carp venues, Diamond Crystals® have 2.5mm diameter, buoyant, Hi-~Vis Tips.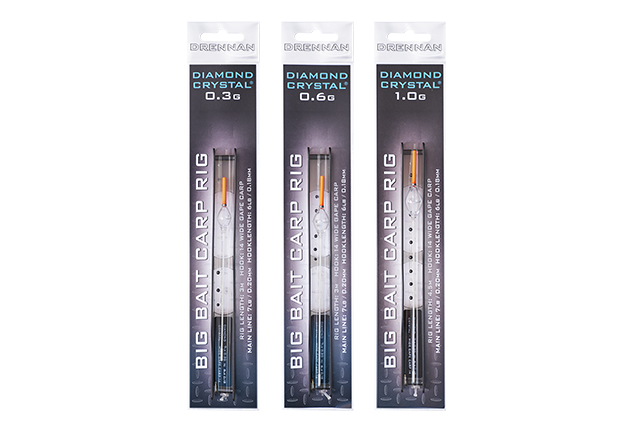 The stainless steel side eye at the base of the tip is formed in a full circle to eliminate line damage.
The miniature blow-moulded body is a versatile shape ideal shallow margins or open water. Less showy than solid balsa or foam-bodied floats, it is ultra-light but extra tough and long term durable.
In combination with the size 14 Wide Gape Carp Hook, the rig is perfect for larger baits such as pellet, meat, sweetcorn and maggots.
Features:
Diamond Crystal 'Big Bait' Carp rigs with hi-vis 2.5mm diameter hollow glow tips.

 

Available in 0.3g & 0.6g at 3M rig lengths and in 1.0g at 4.5m rig lengths.
Robust, unobtrusive clear blow moulded body, with secure, full-circle coiled eye.

 

7lb [kg?] Main line & 6lb [kg?] hook length to a size 14 Barbless Wide Gape Carp hook.
 Long fibre glass stems for extra stability.

 

Perfect for larger baits such as Pellet, Meat, Sweetcorn etc.