The Drennan D-S7 Combat Carp is a true-length 14.5m pole with an impressive blend of strength and finesse.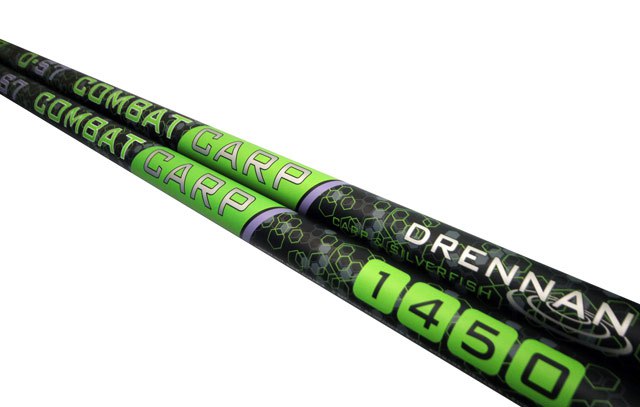 Although primarily designed for hard-fighting carp and commercial fisheries it is still impressively light, responsive and well balanced for catching lots of silverfish as well.
Top Kits
This quality 14.5m pole comes with a total of five top 2 kits and a Cupping Kit. This includes a Standard Kit, two Carp Kits, a Double 2 Carp Kit and a Double 2 Ghost Carp Kit. The unique Double 2 Kits effectively allow you to elasticate just the top one and a half sections. This creates a shorter elasticated top kit without actually reducing the fishable length of the pole.
One of the Double 2 Carp Kits also comes with a light grey Ghost Tip to help make your pole tip less conspicuous in clear water.
Each Carp Kit is also fitted with Side Pull Slots and comes with a complete set of Roller Cone accessories, allowing you to take full advantage of the ultra-smooth Side Pull System.
As with all Drennan poles, you can customise the top kit package to suit your own requirements and the venues that you fish. Just mix and match five or more spare kits.
Extras
The pole also comes with two reversible mini extensions, five Skid Bungs, EVA nose cones, a selection of Super Slick PTFE bushes, Roller Cones, Side Pull Beads, an extractor rod, a Polemaster Pole Pot, cupping kit adaptors and a Drennan Visi Case.
The entire pole package comes in a stylish 4-6 Tube Drennan Holdall.
The Package:
14.5m pole (Including Standard Drennan Top 2 Kit)
2 Spare Top 2 Carp Kits
1 Double 2 Carp Kit
1 Double 2 Ghost Carp Kit
Top 2 Cupping Kit
2 Mini Extensions
5 Roller Cones
Extractor Rod
5 Skid Bungs
EVA Nose Cones
36 PTFE Bushes
6 Intermediate Bushes
40 Side Pull Beads
250ml Pole Pot
Extra Cupping Kit Adaptor
Drennan Visi Case
Drennan 4-6 Tube Holdall
Average Weights & Lengths
14.5 weighs 1,365g; Fishable length 14.5m
13.0 weighs 990g; Fishable length 12.8m
Tip section: 1.45m
Top two: 2.89m
Top three: 4.53m
Top four: 6.17m