The eagerly awaited Acolyte Carp is here! Purpose built for carp and commercial fisheries, this state-of-the-art pole has been designed in conjunction with five times World Champion, Alan Scotthorne.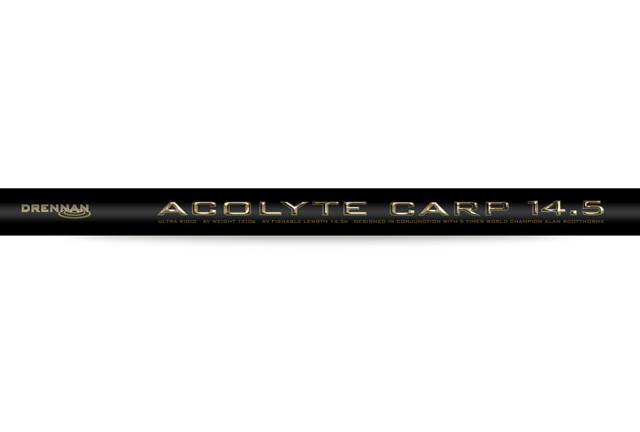 Although this is a different animal to the Acolyte, it is still built on the same high-spec mandrel (so, again, a true 16m length without the need for extra extensions), which ensures it is still impressively slim with all of the advantages that offers. A careful blend of ultra high modulus (UHM) carbon and resins have helped to create a pole that is easy to fish with all day at maximum length.
Although not indestructible, it is extremely strong and powerful enough for the rigours of catching bags of hard fighting carp. Importantly, this pole still remains stiff enough to react to bites quickly and performs exceptionally well, even with a pole-mounted pot on the end and a short line between the pole tip and float. The strength and rigidity of the Acolyte Carp also lends itself particularly well to 'slapping' or 'helicoptering' a pole rig – which is a technique often used to catch carp up in the water on commercials.
An Exceptional Package
The pole is available in three lengths: 13.0, 14.5 and 16.0m and with an exceptional spares package, including a total of six Carp Top 2s, an extra-rigid Cupping Top 2 and a pair of reversible mini extensions which fit the No5 section back to the 16m butt section. All Acolyte Carp pole kits also use a new No1 Carp Plus tip section. This is an upgraded version of the original Carp No1, which was designed for the top-of-the-range Acolyte pole. This gives even greater security especially when using modern puller systems.
The pole is ready to fish without cutting back should you choose to fit traditional small-bore PTFE bushes, but we deliberately supply larger diameter bushes for use with both light and strong elastics. The smaller PTFE bushes supplied only require the tip to be cut back about 10cm. These bushes have an external diameter of 4.5mm and a choice of two internal bore diameters; 3.2mm for up to Yellow/Pink Carp Bungee and 1.8mm for light solid elastics. The biggest PTFE bushes supplied have a 5.4mm external diameter which requires only 18-20cm of the tip cutting back. Again, there is a choice of two internal bores; 4.1mm for Pink/Red Carp Bungee and 1.8mm for light solids.
The advantage of this system is that you can keep your top kits the same length, no matter what diameter of elastic is used. A larger diameter cupping adaptor is also supplied so you can also ensure your cupping kit is the same chosen length as your top kits. Along with a selection of Skid Bungs, EVA nose cones, pole pot, five sets of different sized PTFE bushes and a handy Visi Case, perhaps its greatest additional offering is that each top kit comes with factory fitted Side Pull Slots and Drennan's latest Roller Cone accessories!
The Side Pull System
The white 'Side Pull Slots' are made from a super-slick PTFE material. Their elongated shape is designed to soften the angle of pull and works more efficiently than a simple round hole. When the optional Roller Cone system is fitted, this improves the performance of the PTFE slot even further.
The clever Roller Cone device deserves a special mention, as it has been designed and engineered to the highest standards. The cone itself is moulded to fit neatly up against the Side Pull Slot for perfect alignment and to maintain its position inside the pole section. Its roller wheel is machined so it has an ultra smooth surface and is mounted on a miniature stainless steel spindle, which has again been machined in the Drennan engineering workshops. The end result is a quality of build that is ultra-smooth, silent and trouble free!
Top Kits
You get a total of six top kits with the standard 13.0, 14.5 and 16.0 packages. This includes four Carp Kits and two of the latest Double Top 2 Kits. Each top kit is factory fitted with the latest Side Pull system. Extra top kit packages can also be easily arranged with your tackle dealer.
Standard Packages:
13.0 Acolyte Carp:
4x Carp Top 2 Kits
2x Double Top 2 Kits
Cupping Top 2 Kit
2x reversible mini extensions
Drennan Match Holdall
4x Skid Bungs
Polemaster pole pot
30x PTFE bushes
EVA nose cones
Spare cupping kit adaptor
Extractor Rod
6x Roller Cones
Side Pull Beads
Visi Case
14.5 Acolyte Carp:
4x Carp Top 2 Kits
2x Double Top 2 Kits
Cupping Top 2 Kit
2x reversible mini extensions
Drennan Match Holdall
4x Skid Bungs
Polemaster pole pot
30x PTFE bushes
EVA nose cones
Spare cupping kit adaptor
Extractor Rod
6x Roller Cones
Side Pull Beads
Visi Case
16.0 Acolyte Carp:
4x Carp Top 2 Kits
2x Double Top 2 Kits
Cupping Top 2 Kit
2x reversible mini extensions
Drennan Match Holdall
4x Skid Bungs
Polemaster pole pot
30x PTFE bushes
EVA nose cones
Spare cupping kit adaptor
Extractor Rod
6x Roller Cones
Side Pull Beads
Visi Case
Weights & Lengths
(All measurements are based on averages)
13.0 weighs 895g; Fishable length 12.6m (uncut)
14.5 weighs 1,210g; Fishable length 14.3m (uncut)
16.0 weighs 1,530g; Fishable length 16m (uncut)
Tip section: 1.45m
Top two kit: 2.89m
Top three kit: 4.47m
Top four kit: 6.05m
Features:
Amazingly stiff giving a quicker response time
True length
Utilises a unique ultra high modulus carbon and resin blend
Spare Section Codes:
PTACLCK002 - Top 2 Kit Standard
PTACLCK102 - Top 2 PLUS
PTACLCK202 - Double 2 kit PLUS
PTACLCS101 - Top section PLUS
PTACLCS201 - Double 2 D1 Upper
PTACLCS202 - Double 2 D2 Lower
PTACLCS002 - No2 Section
PTACLCS003 - No3 Section
PTACLCS004 - No4 Section
PTACLCS005 - No5 section
PTACLCS006 - No6 section
PTACLCS007 - No7 Section
PTACLCS008 - 13.0 Butt
PTACLCS009 - 14.5 Butt
PTACLCS010 - 16.0 Butt
PTACLCS011 - Short Extension Small
PTACLCS012 - Short Extension Large