The Acolyte is simply the best top-flight pole Drennan has ever produced! Designed in conjunction with five-time World Champion, Alan Scotthorne, it is a better balanced, stiffer and a better all-round package than any previous Drennan pole.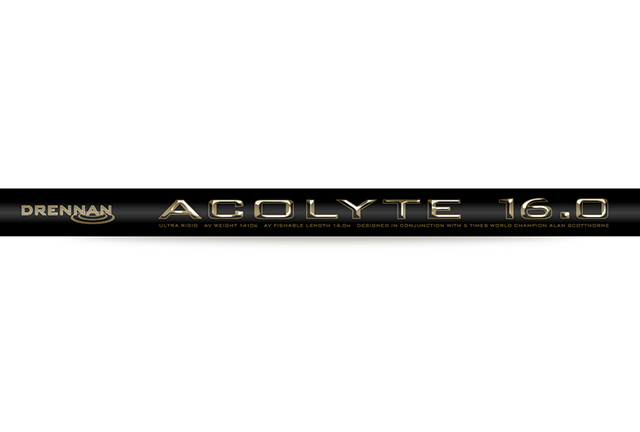 A perfect blend of lightness, strength and durability make the Acolyte a joy to use for both carp and silverfish. The action is amazingly stiff and is created by utilising a unique UHM (Ultra High Modulus) carbon and resin blend. This gives the angler a much quicker response when striking which helps to hit more bites. Even at the full 16 metres there is little or no 'droop' and, as bounce and recoil have been almost eliminated, the pro­cess of lifting into bites is much faster and more positive. This means that there is almost no chance of the pole tip slapping the water's surface on the strike!
The Acolyte compares more than favourably with any other top-flight pole on the market today. Although it is not an out-and-out heavy-duty 'crunching' pole, it has still been designed with commercial fisheries very much in mind. It will therefore easily handle sensible match-carp setups, rigs and tactics.
Top Kits
When purchasing an Acolyte pole, you can choose the exact top kit package that suits the fishing you do.
This means you can choose between traditional A Kits, Carp Kits, Double 2 Kits or a combination of the three to suit your needs. Each kit is fully take-apart and approximately 2.89m long.
The standard Acolyte A Kits are our ultra light 'match kits' and ideal for light to medium elastics and perfect for general silver fish applications. They can also be used with the lightest grades of hollow elastic for F1s and small carp.
For heavier elastic, hollow elastic and out-and-out carping we recommend the stronger Carp Kits. These are exactly the same length as the A Kits and designed to cope easily with Pink and Red Carp Bungee or equivalent. They also incorporate Side Pull Slots so you can take advantage of our Roller Cones and Side Pull System for ultra smooth fish playing. These stronger kits are only fractionally heavier so will not radically upset the balance of the pole, even at 16 metres.
Double 2 Kits are another option. These are the same length as the Carp Kit and A Kit but the No2 section is in two halves with a Side Pull Slot fitted in the top half. This allows you to use less elastic in your top kit without losing any fishable length. This means all your top kits are still the same length, which is a great feature that most other 'short or F1-style kits' on the market do not offer.
True Length
Drennan poles are designed to be as true to the stated length as possible and need little or no cutting back. The No1 tip section of the Acolyte is wide in bore and a full 1.45m long. A wide-bore tip is important as it allows the elastic to run efficiently and reduces friction and wear.
Many other makes of pole still come with a largely redundant tip section that is too thin and flimsy and has to be severely cut back before elasticating – or removed completely! This 'accepted' practice is not only an expensive waste of carbon, but it also means you no longer have a full-length pole, which could potential see you fishing up to a full metre shorter than you expected!
You also have the option of elasticating just the No1 section (ideal for light elastics and silver fish) or a full top-two kit (the accepted norm for carp and commercial fisheries).
PTFE Bushes
Every top kit comes with a full set of PTFE bushes so you can tailor them to your own exacting needs. All bushes are natural, pure PTFE and clearly labelled with their size and use.
The No1 section can be fitted with either of the two smallest natural PTFE bushes without the need for any cutting back whatsoever. These two bushes both have a 3.5mm diameter; one has a 1.8mm internal bore for thin elastics and the other has a 2.3mm bore for thicker elastics. Between them, they will take all light solid elastics up to and including Green 6-8 Carp Bungee. These perfectly match the cupping kit when it has the large Polemaster cup fitted.
For bigger elastics, we recommend trimming back the No1 section a minimal amount (approximately 10cm) so that it will accommodate a larger 4.5mm PTFE bush (supplied). Again, there is a choice of two internal diameters; a large 3.2mm for hollow elastic up to Pink Carp Bungee and a narrower 1.8mm bore for thinner elastics.
This allows you to use both thick and thin elastics without having top kits of different lengths. A wider 6.4mm cupping kit threaded adaptor is also supplied to ensure your cupping kit is also the correct length.
Nose Cones
All of the No2 kits (except the cupping kit) are fitted with dense EVA Nose Cones with optional PTFE bushes that can easily push-fit inside. These intermediate bushes help to centralise the elastic and help it to function better. If you have elasticated both sections, these nose cones also help to protect your elastic when a top kit is folded away for storage.
Cupping Kit
A very strong and super stiff Cupping Kit is also supplied. This is three sections long (approximately 4.47m and equivalent to many other pole's top four sections!) and made of different materials to the other sections. Many venues will only require you to use the top two sections, but the extra No3 section is perfect for use on deeper venues.
Being so strong, it is also good practice to use the full cupping top three when feeding heavy balls of leam and soil, which can both put immense strain on a pole.
The Cupping Kit comes pre-fitted with a threaded adaptor which will fit a 250ml Polemaster pole pot (Two of these are supplied). Should you wish to trim the cupping kit back even further, a larger 6.4mm diameter threaded adaptor is also supplied.
Sections
The Acolyte is a 10-section pole. At 13.0, the pole stores all in one (8 sections) with the 14.5 and 16.0 sections carried separately. Protective tubes are also supplied. The pole can be extended to 17.5 metres with the purchase of an additional 16.0 butt section.
The male joints of every section are reinforced with woven UHM carbon. This considerably prolongs the life of the joints. There is also a generous length of reinforcement on the female joints to help prolong the pole's life. The 13.0, 14.5 and 16.0 sections also benefit from extra long reinforcing at the female ends to give protection from your arm and elbow.
All sections have a special low-friction finish coupled with a matt coating on the 13.0, 14.5 and 16.0 butt sections. This enhances shipping and makes it much easier and quicker to ship in and out in all weather conditions.
Weights & Lengths
The closed weight, or combined weight of all the sections used, actually doesn't help demonstrate how incredibly well balanced the Acolyte is. However, people still want to know these details, so they are clearly stated on each butt section. Balance is more important as this affects the weight that you feel when holding a pole at a specified length. It is perfectly possible to have two poles of the same length that both weigh exactly the same, but one feels much lighter than the other when extended. This is because it is better balanced and is due to the distribution of the weight of material used.
As pole section joints can vary fractionally, there will be a minimal variation in average fishable lengths. However, at 16 metres we do expect you to achieve an average fishable length, within a tiny tolerance, of 16 metres. It is amazing that so many other makes of pole only actually reach their stated length when an extension is fitted!
Extras
The standard package also comes with two extra No3 sections (equivalent to many other pole's No4 sections) and two very useful mini extensions. These two short sections are reversible and will fit every section from the No5 right up to the 16.0 butt section. The 62cm reversible mini extension fits the No5 and No6 sections. The larger 72cm mini extension fits the No7, 13.0, 14.5 and 16.0 sections.
The whole package is supplied with a full-sized 10/12 tube deluxe Rod Holdall. This should easily accommodate the pole, extensions, top kits, umbrella, banksticks, landing net pole, rod tubes etc.
Also included is a full set of protective Skid Bungs (36mm, 40mm, 44mm and 48mm) that fit all key sections as well as the short extensions. There is also a pair of large 250ml Polemaster pole pots, PTFE bushes for the top kits, PTFE bushes for the No2 sections and an extra cupping kit adaptor. An EVA Nose Cone is also supplied for the male joint of the No4 section.
Standard Package:
16m Acolyte pole (includes standard A Kit inside the pole)
8x spare Top 2 A Kits
1x Cupping Top 3 Kit
2x spare No3 sections
2x reversible mini extensions
10/12-tube Rod Holdall
4x Skid Bungs
2x Polemaster pole pots
PTFE bushes
EVA nose cone
Spare cupping kit adaptor
(9x A Kits and a cupping kit in total)
Carp/Commercial Package:
16m Acolyte pole (includes Carp Kit inside the pole)
14x spare Top 2 Carp Kits
1x Cupping Top 3 Kit
2x spare No3 sections
2x reversible mini extensions
10/12-tube Rod Holdall
4x Skid Bungs
2x Polemaster pole pots
PTFE bushes
EVA nose cone
Spare cupping kit adaptor
(15x Carp Kits and a cupping kit in total)
Custom Packages:
Please note, you can also tailor the top kit package with a mixture of top kits to suit your exact needs. Speak to your local Drennan stockist for more details.
Weights & Lengths
(All measurements are based on averages)
13.0 weighs 825g; Fishable length 12.6m (uncut)
14.5 weighs 1,110g; Fishable length 14.3m (uncut)
16.0 weighs 1,410g; Fishable length 16m (uncut)
Tip section: 1.45m
Top two kit: 2.89m
Top three kit: 4.47m
Top four kit: 6.05m
Features:
Amazingly stiff giving a quicker response time
True length
Utilises a unique ultra high modulus carbon and resin blend
Spare Section Codes:
PTACLS001 – No1/Top section (A1)
PTACLS002 – No2 section (A2)
PTACLS003 – No3 section (A3)
PTACLS004 – No4 section (A4)
PTACLS005 – No5 section (A5)
PTACLS006 – No6 section (A6)
PTACLS007 – No7 section (A7)
PTACLS008 – 13m butt section
PTACLS009 – 14.5m butt section
PTACLS010 – 16m butt section
PTACLS101 – Cupping top section (C1)
PTACLS102 – Cupping No 2 section (C2)
PTACLS103 – Cupping No 3 section (C3)
PTACLS011 – 62cm short extension
PTACLS012 – 72cm short extension
PTACLCK002 – Top 2 Carp Kit
PTACLCS001 – Carp Kit No1/Top section (Carp 1)
PTACLCS002 – Carp Kit No2 section (Carp 2)