Supplex is a fantastic material for float and feeder fishing main lines, pole rigs and hooklengths.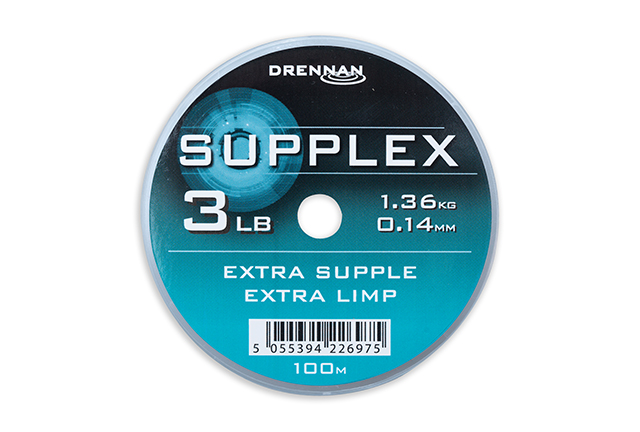 Supplex has the best of both worlds. It is incredibly supple, (that's how it gets its name!) but at the same time, it is tough, long life, abrasion resistant and not prone to damage, including shot damage.
---
"In more than 40 years of business and 50 plus years of angling, I've never seen a reel line as good as this." - Peter Drennan

"Drennan Supplex is the best mono I have ever used. It's ultra fine and strong, damage-resistant and so slick and supple it even improves casting." — Alan Scotthorne, five times world champion.
The Range:
100m Spools:
3lb (0.14mm/1.36kg)
4lb (0.16mm/1.8kg)
5lb (0.18mm/2.27kg)
6lb (0.20mm/2.72kg)
8lb (0.23mm/3.63kg)
10lb (0.26mm/4.54kg)
12lb (0.28mm/5.45kg)
50m Spools:
1.1lb (0.075mm/0.50kg)
1.4lb (0.085mm/0.63kg)
1.7lb (0.093mm/0.77kg)
2.0lb (0.107mm/0.90kg)
2.5lb (0.117mm/1.13kg)
3.0lb (0.129mm/1.36kg)
3.8lb (0.15mm/1.72kg)
4.9lb (0.16mm/2.22kg)
5.8lb (0.18mm/2.63kg)
6.9lb (0.20mm/3.13kg)
8.9lb (0.23mm/4.03kg)
10.7lb (0.26mm/4.85kg)
Features:
Incredibly supple
Tough
Abbrasion resistant
Clear